Christmas is just around the corner, and the perennial question arises: stick with last year's style or venture into something entirely new?
With the myriad of Christmas decorating trends, it's easy to feel overwhelmed.
That's precisely why I've crafted this guide to the 7 best Christmas trends ideas for 2023.
I'll introduce you to the most timeless styles, providing you with the insights you need to make the best choice for your home.
I'll also offer you inspiring looks and a corresponding shopping list.
So, are you ready to explore these 7 best Christmas trends 2023?
'Tis the season to make your holiday home truly shine!
I have provided a direct paid link wherever possible, at no added cost to you, so that you can easily shop and decorate.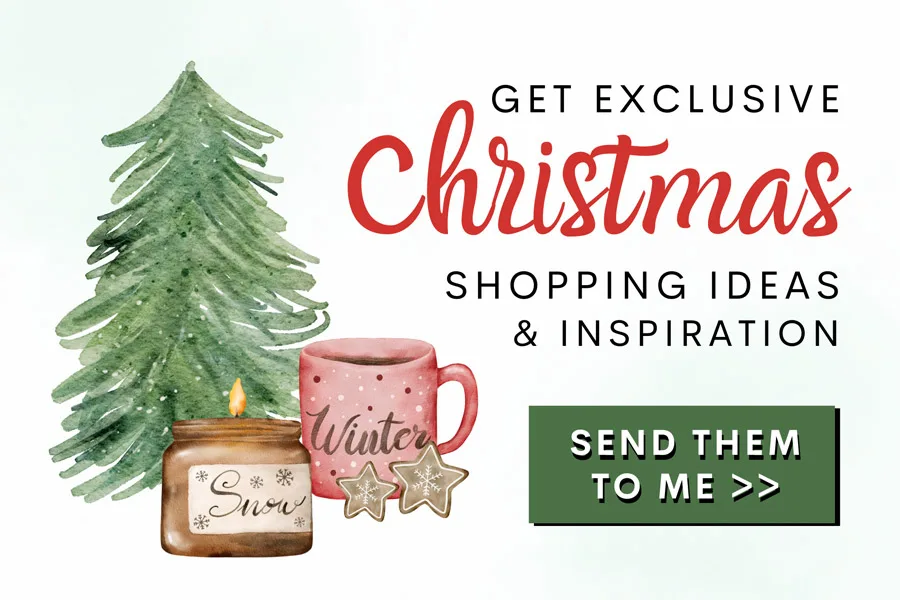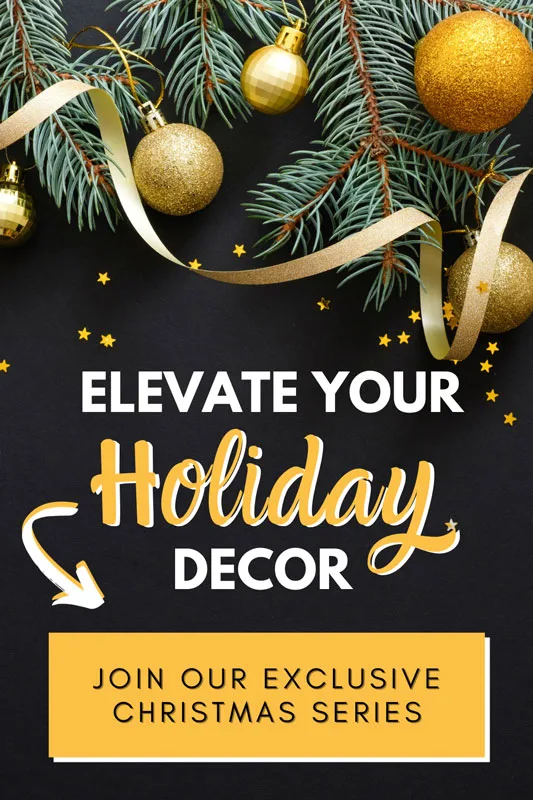 I. Vintage Christmas Ideas for Decorating
When it comes to embracing the vintage Christmas style, it's all about capturing the timeless charm of yesteryears.
Think back to the cherished decorations your grandparents used, and you'll get a sense of the enchanting world of vintage Christmas decor.
To create this warm and nostalgic retro atmosphere, consider these key elements:
Vintage-style ornaments are the heart of this decor.
Delicate glass baubles, glittering tinsel, and hand-painted figurines in classic holiday shapes like snowmen, angels, and Santas are staples.
Remember those colorful paper chains you used to make as a child? They are making a delightful comeback in vintage Christmas decor.
These simple but charming decorations can be hung along mantels, door frames, or draped around the Christmas tree.
Don't forget metal accents like antique-style bells, tin signs, and lanterns.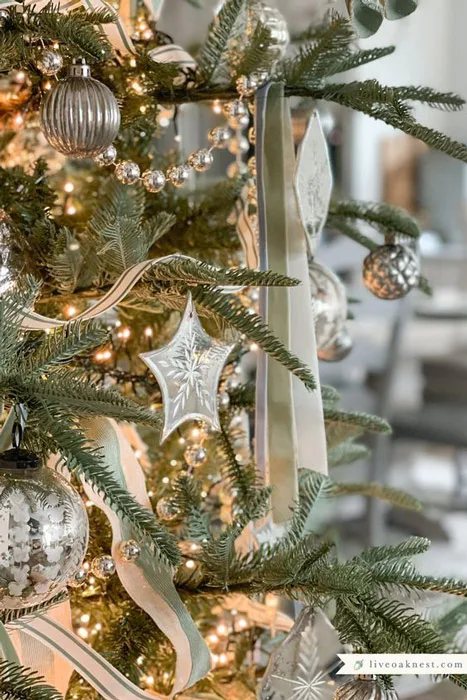 II. Cottagecore Christmas Decor
Cottagecore is all about embracing the simplicity of rural life and the beauty of nature.
Here are some ways to infuse your Christmas decor with this cozy and down-to-earth style:
Start by incorporating natural materials like pinecones, twigs, and dried flowers into your decor.
Use them to create wreaths, garlands, and table centerpieces. These elements bring the outdoors inside and add a touch of countryside charm.
Cottagecore celebrates craftsmanship and the handmade. Consider crafting your own Christmas ornaments using materials like clay, fabric, or paper.
Hand-painted wooden ornaments and personalized stockings are also excellent additions.
Incorporate soft and tactile textiles throughout your decor. Think cozy knit blankets, plaid throws, and embroidered pillow covers.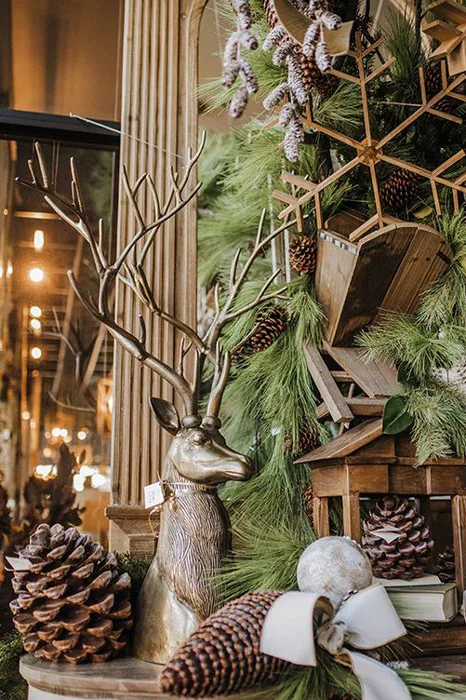 Soft, warm lighting is essential for creating a cottagecore ambiance. Use fairy lights, candlelit lanterns, and string lights to infuse your space with a gentle, cozy glow. Consider placing candles in vintage-style holders for added charm.
Cottagecore embraces the vintage and antique. Scour thrift shops for vintage-inspired items like teacups, old books, and quaint picture frames. These treasures can be used as decorations or displayed on a holiday-themed mantelpiece.
Here's how to achieve that preppy flair in your home:
Start with a classic color palette of red, green, and white. These traditional Christmas colors form the foundation of preppy decor. Consider adding a touch of navy blue or gold for an extra layer of sophistication.
Embrace the timeless charm of tartan patterns. Incorporate tartan plaid into your decor through table linens, ribbon accents, or even gift wrap.
Choose ornaments with a polished and refined appearance. Opt for glass baubles, metallic accents, and ornaments in geometric shapes.
Don't underestimate the power of ribbon and bows. Incorporate grosgrain ribbon in your decor, whether it's tied around the tree, used in wreaths, or wrapped around presents.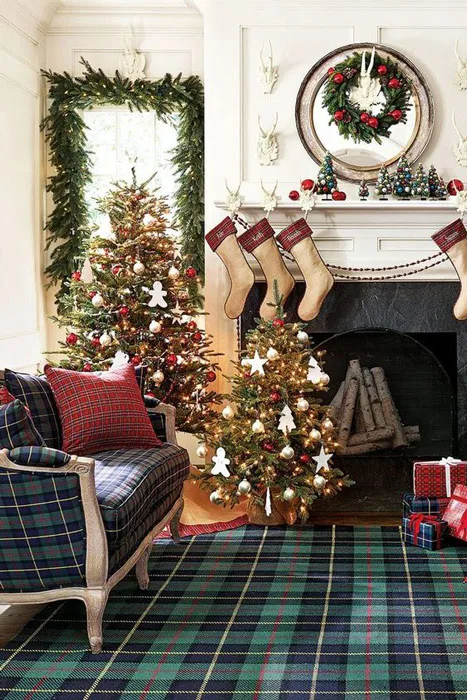 If you want to take your preppy decor to the next level, consider adding nautical elements. Seashell ornaments, rope accents, and maritime-inspired decor pieces bring a touch of coastal elegance to your Christmas theme.
IV. Traditional Christmas Ideas
When you close your eyes and envision the quintessential Christmas scene, you're likely picturing a traditional holiday decor.
This style captures the heart and soul of Christmas with its timeless elements and cherished symbols.
Here's how to infuse your home with the warmth and nostalgia of a traditional Christmas:
Traditional Christmas decor revolves around a classic color palette of red, green, and gold.
Incorporate fresh evergreen elements throughout your home. Adorn your mantle with garlands of pine, hang wreaths on doors, and fill vases with holly branches.
3. Ornaments with History
Traditional ornaments often have sentimental value. Mix heirloom ornaments with newer ones. Decorate with glass baubles, wooden ornaments, and delicate angels.
4. Nutcrackers and Figurines
Nutcrackers, wooden soldiers, and figurines of Santa Claus are iconic elements of traditional decor. Place them strategically around your home.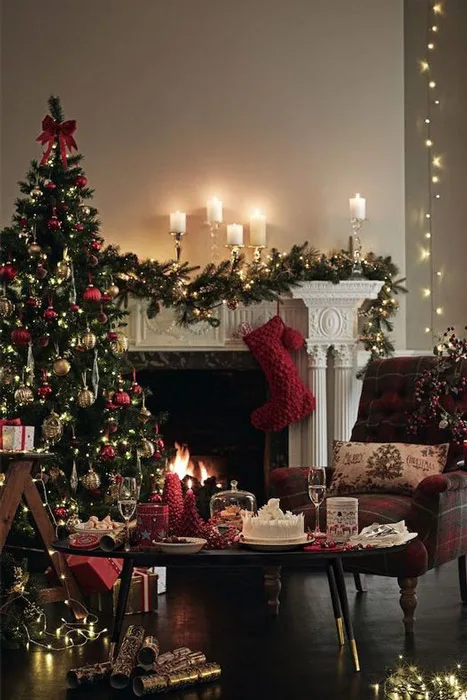 The soft glow of candles enhances the traditional ambiance. Use candlesticks on your dining table, place tealights in windowsills, and light up your fireplace for a cozy atmosphere.
6. Stockings by the Fireplace
Hanging stockings by the fireplace is a cherished tradition. Personalize them with the names of family members.
Consider setting up a Christmas village display, complete with miniature houses, shops, and tiny figurines.
V. Farmhouse Christmas Decor
Farmhouse style has taken the interior design world by storm, and it's no different when it comes to Christmas decor. A farmhouse Christmas exudes simplicity, warmth, and a touch of rustic charm.
Here's how to infuse your holiday season with farmhouse flair:
1. Natural elements & Neutral Color Palette
Start with natural elements like wooden accents, burlap, and rustic metal. Farmhouse decor often leans towards a neutral color palette with whites, creams, and various shades of brown.
Incorporate vintage pieces like old sleds, vintage lanterns, or even galvanized metal containers.
Utilize burlap and linen fabrics for stockings, tree skirts, and table runners. Their natural textures fit perfectly with the farmhouse theme.
The farmhouse spirit is all about DIY. Create your own ornaments and decorations using reclaimed wood, twine, and other natural materials. It's a fun way to involve the whole family in the decorating process.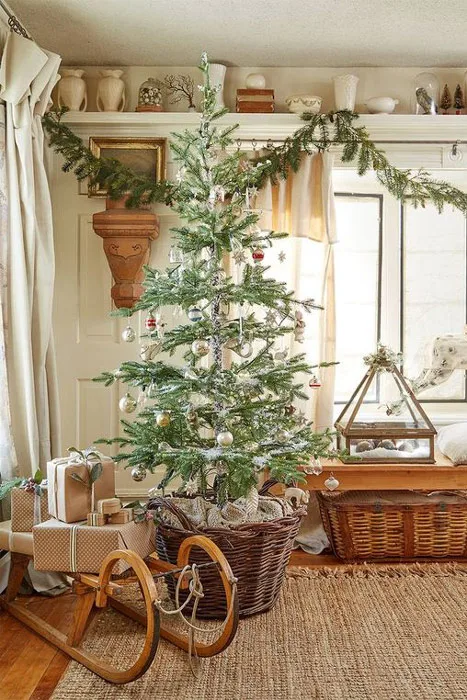 Add cozy lighting with warm white string lights and candles in rustic lanterns.
VI. Moody Christmas Decoration Ideas
For those who appreciate a departure from traditional Christmas decor, the moody Christmas style offers a bewitching alternative. This trend evokes a sense of mystery, allure, and the cozy comforts of winter nights.
1. Deep and Rich Color Palette
Moody Christmas decor thrives on deep and rich color palettes. Think midnight blues, forest greens, burgundies, and charcoal blacks.
Set the mood with an array of candles. Choose an assortment of elegant, unscented candles in various sizes and heights. 
Place them in vintage candleholders or modern minimalist designs.
Incorporate natural elements like pinecones, branches, and dried flowers into your moody decor. 
These rustic elements add texture and depth to your arrangements while connecting your decor to the wintry outdoors.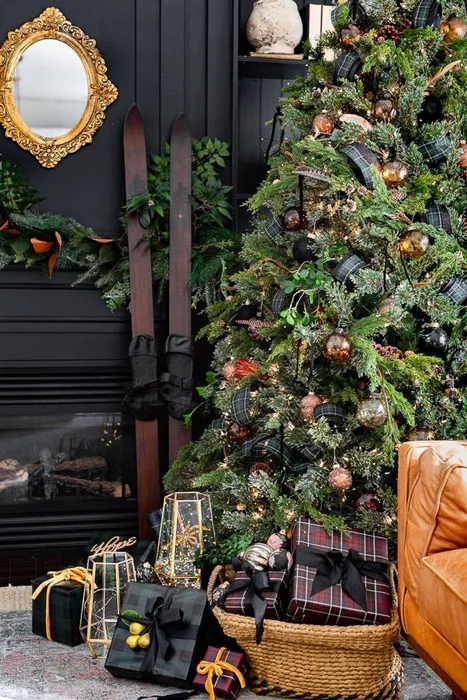 4. Velvet and Plush Textures
To enhance the moody atmosphere, introduce sumptuous textures such as velvet and plush fabrics. These materials work well for throw pillows, blankets, and upholstery.
For a truly moody atmosphere, consider using dimmed lighting or colored light bulbs. These will further enhance the mysterious and enchanting vibe, making your moody Christmas decor truly one-of-a-kind.
VII. French Country Christmas Decorations
If you know me, you know I'm all about French Country Christmas decor. I'm French, and I adore this combination of elegance and rustic charm.
Here's how you can capture the essence of French Country Christmas in your home:
1. Embrace Natural Materials
French Country decor celebrates natural materials like wood, stone, and wrought iron. Incorporate these elements into your Christmas decor through wooden ornaments, stone candleholders, and wrought iron accents.
Opt for a color palette that includes soft, muted tones like whites, creams, pale blues, and sage greens. These colors evoke the tranquility of the French countryside and provide a serene backdrop for your holiday decorations.
Hunt for antique or vintage decorations to infuse your space with the charm of yesteryears. Look for old-fashioned ornaments, weathered wooden signs, and delicate porcelain figurines.
Adorn your space with fresh greenery like cedar, pine, and holly branches. These natural elements provide a touch of rustic beauty and fill your home with the fragrance of the outdoors.
Add elegance with lace and linen accents. Consider using lace table runners or linen napkins to enhance the French Country feel.
Now, it's your turn to choose the style that resonates most with your personal taste and bring that magical holiday ambiance into your home.
Actually, I'd love to hear about your favorite Christmas style or any unique decorating ideas you have. Share your thoughts and inspirations in the comments below.
May your holiday season be filled with warmth, joy, and the beauty of your chosen Christmas style!