Ah, Christmas, that wonderful time of the year when our homes transform into cozy havens of warmth and joy.
While the living room often takes the spotlight with its twinkling Christmas tree and crackling fireplace, let's not forget the bedroom – your personal sanctuary during this magical season.
But how do you turn your bedroom into a snug and festive retreat, you ask?
Well, that's what we're here for!
In this article, we'll dive into the delightful world of cozy Christmas bedroom decor, exploring everything from bedding and textiles to lighting, ornaments, and even the possibility of a charming Christmas tree by your bedside.
Ready? Well then, let's unwrap the magic of cozy Christmas bedroom ideas!
I have provided a direct affiliate link wherever possible so that you can easily shop and decorate.
I. Bedding and Textiles for a cozy christmas bedroom
Your journey to create a cozy Christmas bedroom begins with one essential element: bedding and textiles.
These are the canvas upon which you'll paint your holiday dreams.
So let's explore some ideas for selecting cozy bedding and Christmas textiles.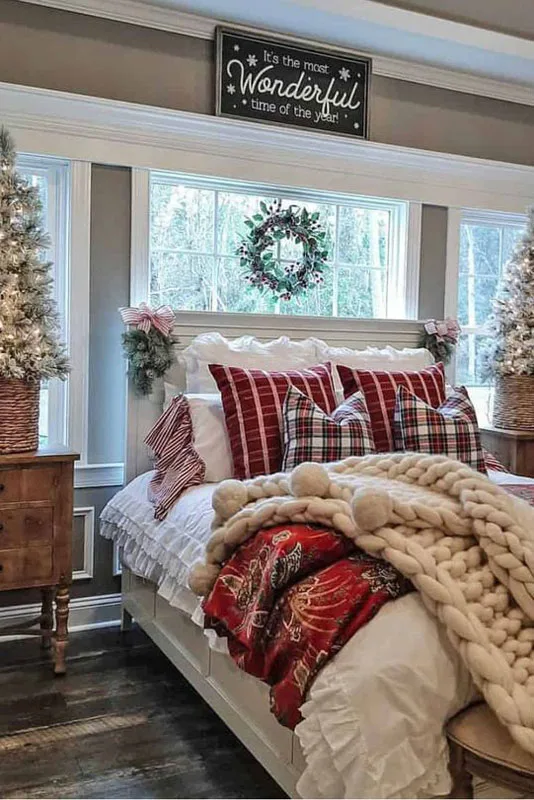 Your journey to create a cozy Christmas bedroom begins with one essential element: bedding and textiles.
These are the canvas upon which you'll paint your holiday dreams.
So let's explore some ideas for selecting cozy bedding and Christmas textiles.
Faux fur pillows provide a soft, welcoming touch.
Toss a few on your bed in neutral tones for an elegant look or go bold with red or green for Christmas spirit.
Knitted blankets are synonymous with coziness.
Lay them at the foot of your bed or drape them over your favorite chair.
Opt for patterns that remind you of holiday sweaters or solid colors that complement your Christmas theme.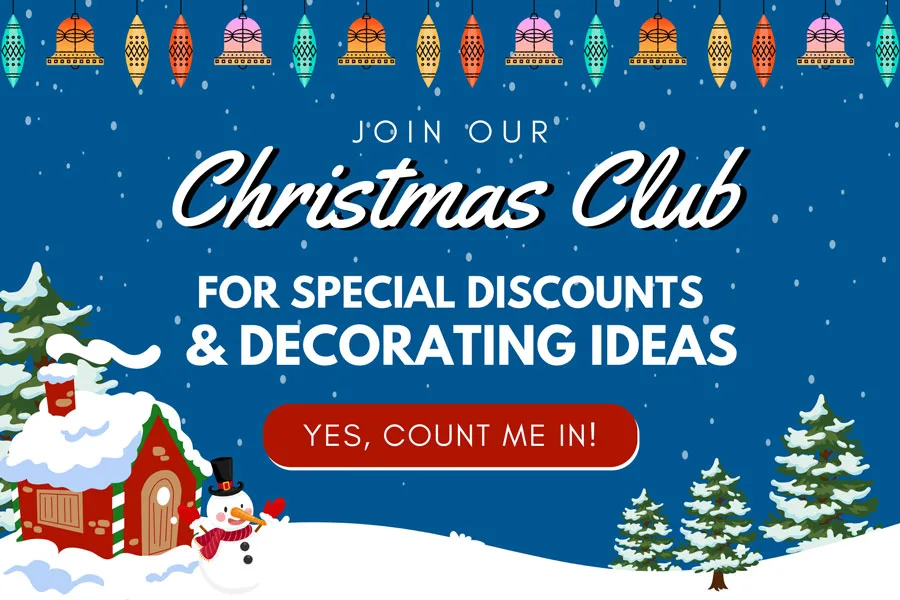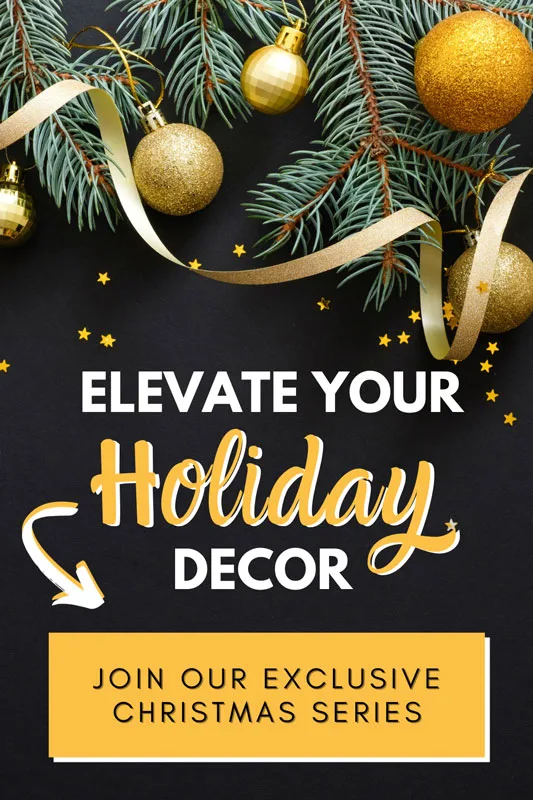 4. Layering for Texture and Comfort
Create an ultra-cozy Christmas bedroom by layering different textiles for added texture and warmth.
Pair your snug duvet with soft flannel sheets, and don't forget a plush, high-quality mattress topper.
Layering textures like this not only keeps you warm but also creates a visually inviting atmosphere.
II: cozy christmas bedroom ideas: Lighting and Candles
Now that we've cozied up your Christmas bedroom with bedding and textiles, let's focus on lighting and candles to set that perfect festive mood.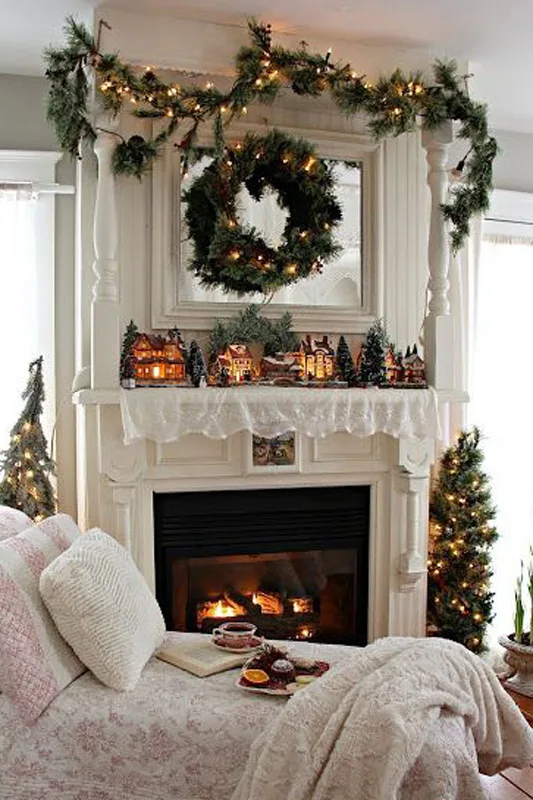 Soft, ambient lighting is the secret sauce to create a cozy Christmas bedroom.
Consider using table lamps with warm-toned bulbs or wall sconces that emit a gentle light.
Dimmer switches can be your best friend, allowing you to adjust the brightness.
String lights, those tiny, twinkling wonders, are a must-have for any Christmas bedroom.
Drape them along your headboard, frame a window, or create a canopy effect on your ceiling.
They infuse your space with a starry, magical ambiance that's perfect for the season.
To take the cozy factor up a notch, add scented candles to your Christmas bedroom decor.
Choose fragrances like cinnamon, pine, or vanilla to fill the air with the comforting scents of the season.
Place them on your bedside table or in decorative holders around the room.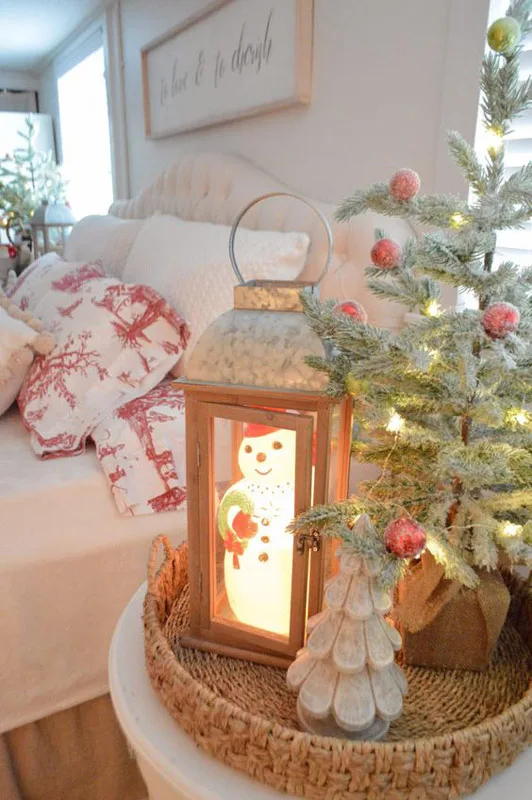 III. Wall Decor and Ornaments to enhance your cozy bedroom decor for christmas
Ready to transform those blank walls into a canvas of holiday cheer?
Wall decor and ornaments are like the ornaments on a Christmas tree – they bring the whole room to life.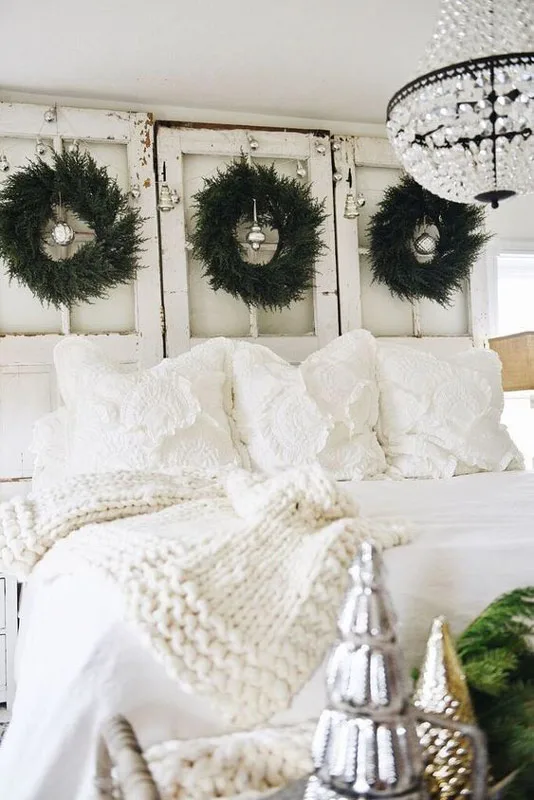 Deck your walls with beautiful Christmas wreaths.
Opt for classic evergreen wreaths adorned with red ribbons or go for something unique like a grapevine wreath with twinkling fairy lights.
Hang one above your bed or on any empty wall to add a touch of welcoming elegance.
Transform your bedroom walls into a gallery of cherished memories by replacing your regular photo frames with special ones for Christmas.
Frame your favorite family holiday photos or snapshots with Santa.
3. Christmas Ornaments as Wall Art
Think outside the box and use Christmas ornaments as wall decor.
Hang a collection of delicate glass baubles in a decorative pattern or string them together for a unique garland. You can even create a charming ornament tree mural.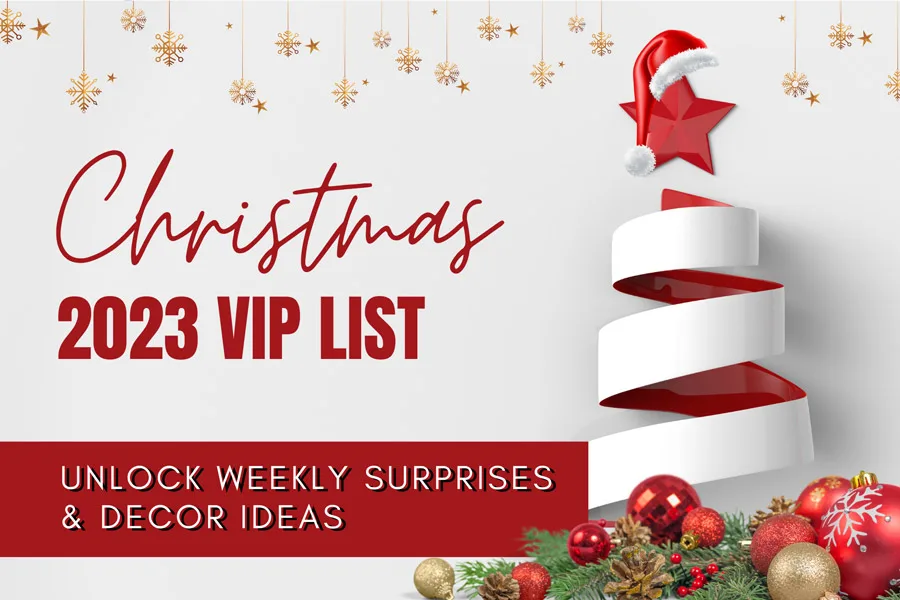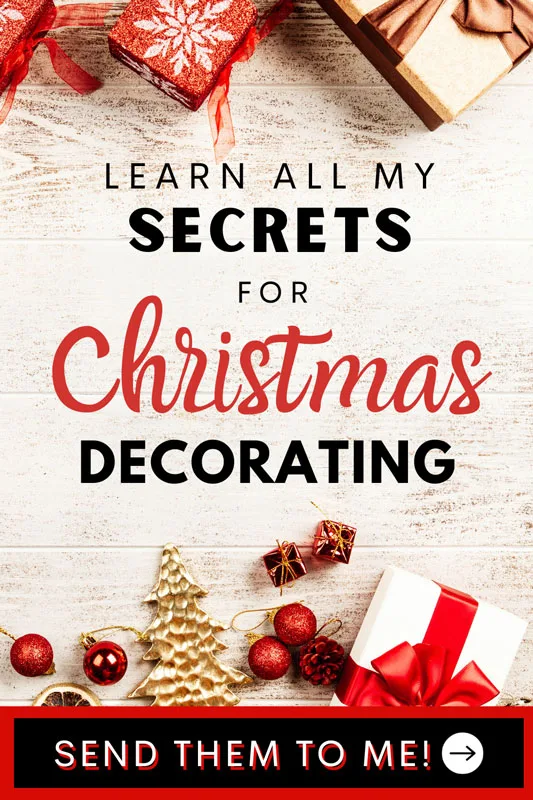 IV. Christmas Tree in the Bedroom
Ah, the centerpiece of any Christmas decor – the Christmas tree.
But have you ever considered bringing it right into your bedroom? Let's see.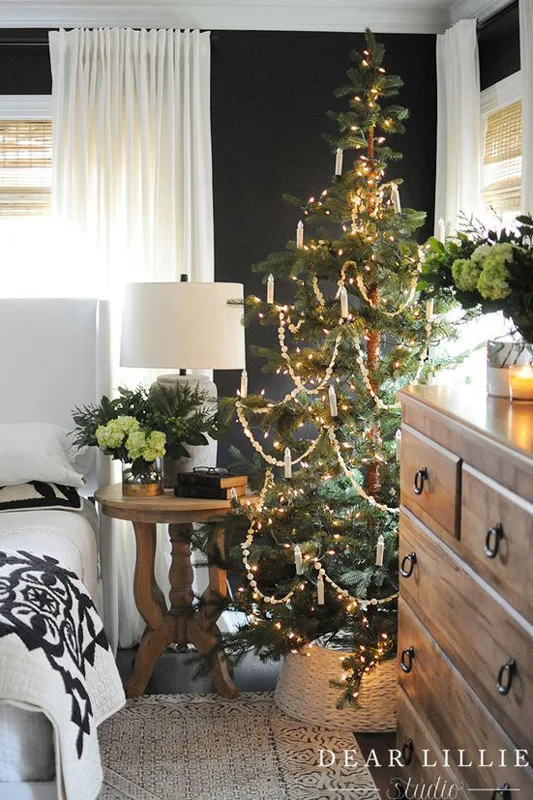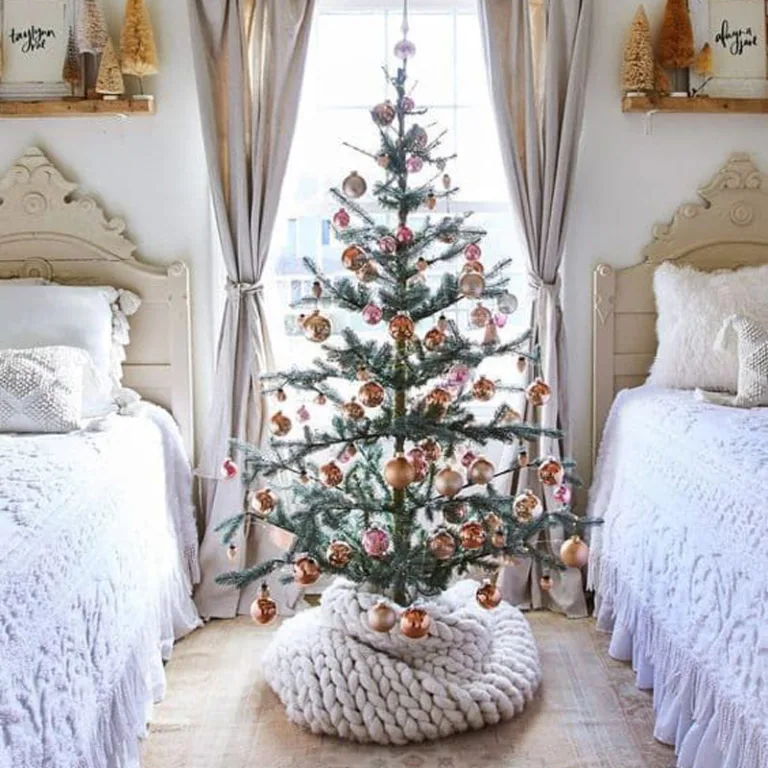 1. Miniature or Full-Sized Tree?
The first decision is whether to go for a miniature Christmas tree or a full-sized one.
This largely depends on the available space and your personal preference.
Mini trees are fantastic for smaller bedrooms, while a full-sized tree can be a striking feature in larger spaces.
Once you've chosen your tree, it's time to decorate it in a way that complements your bedroom decor.
Here are some suggestions:
Color Scheme: Consider a color scheme that matches or complements your bedroom's palette. Traditional red and green, elegant gold and white, or even cozy plaid can all work wonders.
Lights: String lights are a must. They add a warm and festive ambiance to your room. You can also go for themed lights, like snowflakes or stars.
Ornaments: Select ornaments that reflect your personal style. For a cozy bedroom, plush, fabric, or wooden ornaments can be great choices.
Tree Skirt: Don't forget a tree skirt! It not only completes the look but also protects your floor.
Gifts: Place a few wrapped gifts beneath the tree.
Remember, your Christmas tree should harmonize with the overall ambiance of your bedroom.
It can be a lovely addition to the room's decor, creating a festive and cozy space where you can truly savor the magic of the season.
V. DIY Ideas for a cozy Christmas Bedroom
Now, want to explore some imaginative ideas to craft unique decorations?
Add a dose of creativity to your cozy Christmas place!
Create one-of-a-kind Christmas tree ornaments that resonate with your bedroom's theme.
A great cozy Christmas bedroom idea is to try crafting wooden snowflakes, fabric stars, or personalized baubles for example.
2. Customized Pillow Covers
Design and sew your own Christmas-themed pillow covers.
Pick fabrics that match your bedroom's color scheme or theme.
Consider adding festive appliques, embroidery, or even hand-painted designs.
Craft a beautiful Christmas wreath to adorn your bedroom door or wall.
Choose elements that resonate with the room's decor, like pinecones, berries, or even cozy plaid ribbons.
Design and sew your own Christmas stockings.
Personalize them with names or special patterns.