---
I absolutely love patterns. I could spend hours admire fabrics in an haberdashery.
I bet you too. Am I wrong?
But that doesn't mean we should choose them all for the decoration of our home, right?
Actually, less is more.
"Narrowing down our choices means less overwhelm, and more creativity" – Courtney Carver
You have to give yourself limits.
You need to have in mind the patterns that match the style you want to give to your home. Otherwise, your interior will just look like a mix of everything. A complete mess.
But do you know which patterns are most often found in French country homes?
Here are the 6 best French country patterns to use, how to mix them and where.
I. The 6 best French country patterns
1. Stripes
Stripes is a timeless pattern. It's a subtle way to add texture to a room without drawing too much attention.
2. Checks
Check print never goes out of style. It's easy to blend with anything.
Don't choose too large checks.
3. Toile de Jouy
Toile de Jouy is a gorgeous pattern to decorate around. You just have to find the right way to use it.
To learn more, check my post about Toile de Jouy fabric.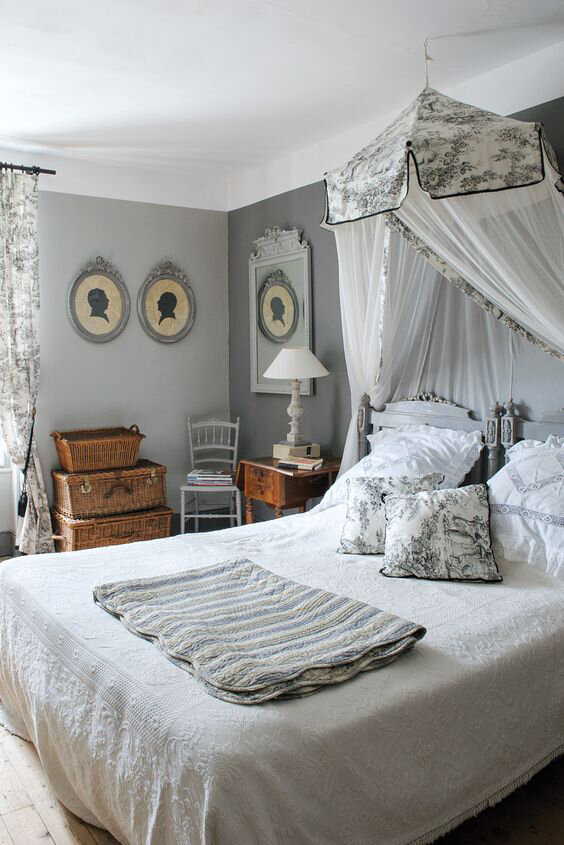 4. French floral fabrics
Floral pattern can also be hard to use in a French country home. Favor liberty rather than big flowers patterns that can become a bit stuffy.
5. French writings
I absolutely love antique French papers such as advertising cards and music scores. They always have an amazing typography and drawings.
They are now used as a print for throw pillows for example. What do you think?
6. Damask
Damask is classic and classy, especially in neutral colors. It's a perfect print for a wallpaper.
7. Provence patterns
Provence has so much wonderful patterns to offer. But it's better to use them sparingly. For outdoor tablecloth or for napkins for example.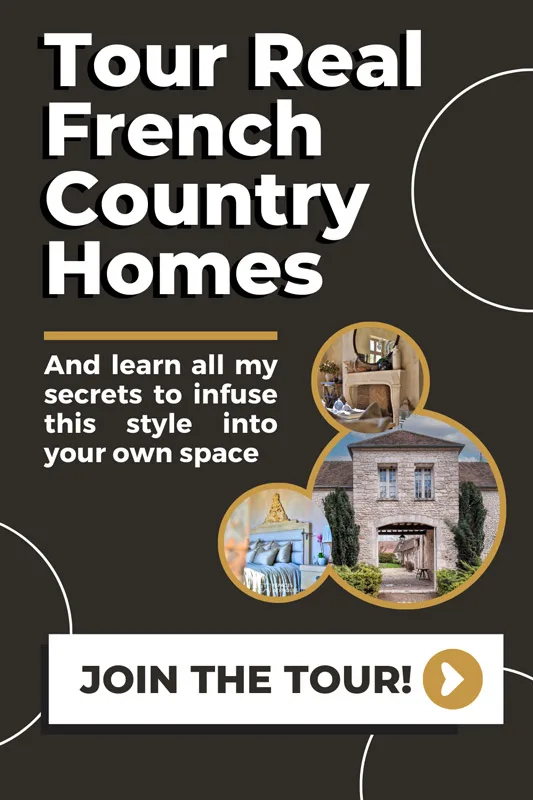 II. Where to put patterns in your French country decor?
Patterns can be used in every room of your home. On linen, furniture and even walls.
Let's see some examples.
1. Pillows
2. Bedding
3. Kitchen / Table linens
4. Chairs upholstery
5. Wallpaper
6. Curtains
7. Dinnerware
III. How to mix French country patterns
When it comes to mixing patterns in our home, we could very well draw a parallel with our clothing style. You can't mix all the patterns on the pretext you like them, right? There are 2 rules to respect:
1. Combine solid fabrics with simple geometric patterns (stripes and/or checks) and ONE fancy pattern (toile de Jouy, floral or damask)
As example:
2. Choose one or two colors max (+ neutrals). You can also mix only neutrals like beige and taupe.
When choosing two colors, opt for a shade reminder in the different patterns.
Find the right French country colors for your home here.
TIP:
Be careful, the more patterns in your room, the smaller and darker your room will appear
---