Are you ready to give your dining room a French country makeover?
Picture a cozy space that combines rustic charm and a warm ambiance, where you and your loved ones can enjoy delightful meals together.
If you're drawn to the allure of a French country dining room, you're in for a treat.
In this beginner's guide, I'll share tips and ideas to help you create an inviting and charming dining room inspired by the French countryside. From rustic elements to delicate touches, we'll explore ways to infuse your dining space with the timeless beauty of French country style.
So, grab a cup of coffee and let's dive into the world of French dining rooms!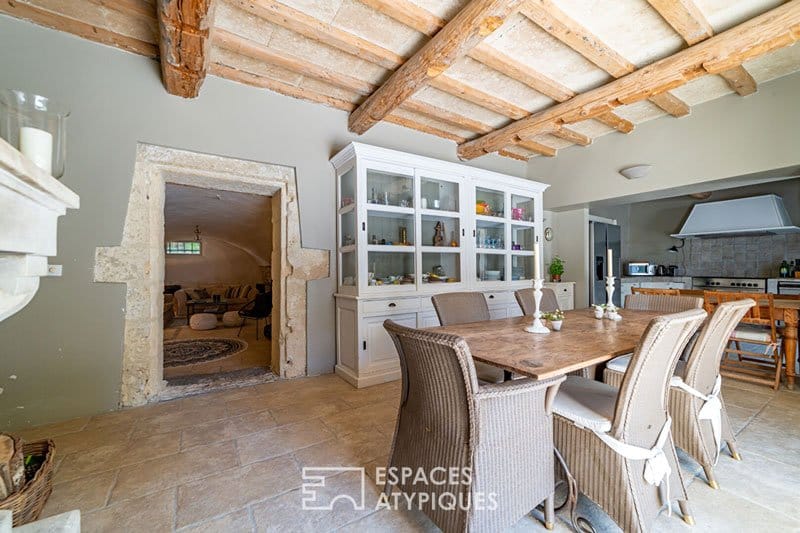 I have provided a direct affiliate link wherever possible, at no added cost to you, so that you can easily shop and decorate.
I. Understanding the French country dining room aesthetic
What exactly makes a French dining room so special?
It's all about striking the perfect balance between natural warmth and refined elements.
From weathered wooden furniture to delicate accents, a French country dining room embraces the beauty of imperfection. It's about celebrating the charm of vintage pieces and creating a relaxed and inviting ambiance.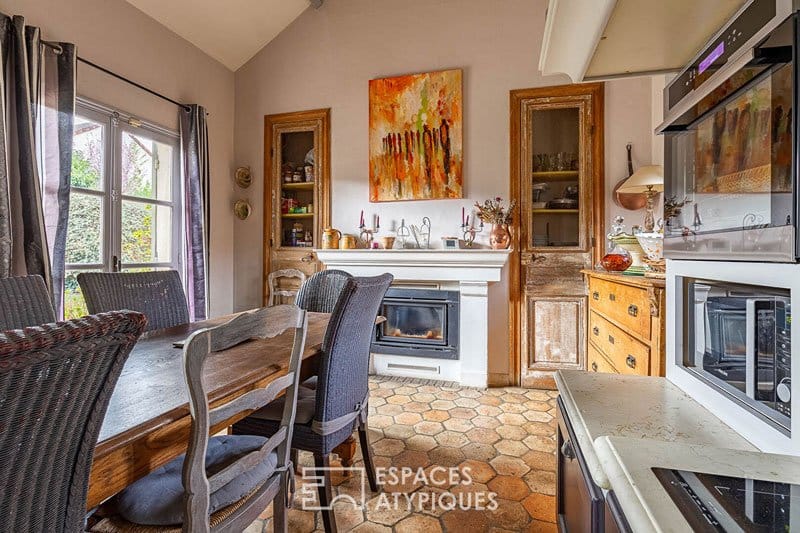 So, whether you're dreaming of hosting intimate family gatherings or hosting grand dinner parties, understanding the essence of a French dining room is essential.
II. French country dining room furniture
Ready to discover the perfect pieces that will bring your vision to life?
When it comes to designing a French dining room, choosing the right furniture is crucial.
1. French country dining table
One of the key furniture pieces is the dining table.
Opt for a table that showcases the rustic charm of the style.
A farmhouse table with a distressed or weathered wood finish is a popular choice, as it exudes a sense of warmth and authenticity. It becomes the centerpiece of the room, setting the tone for the entire space.
2. French country dining chairs
When selecting chairs, aim for a balance of comfort and elegance.
Upholstered chairs with soft fabrics like linen or cotton can add a touch of luxury while ensuring a cozy dining experience.
Look for chairs with rustic details or curved lines to capture the essence of French country style.
Don't be afraid to mix and match chairs for an eclectic and charming look.
3. French country dining room chandelier
Enhance the ambiance of your French country dining room with the perfect chandelier.
Consider different styles and materials, such as wrought iron, distressed wood, or delicate crystal, to achieve the desired look.
The chandelier will serve as a focal point, illuminating your dining area and creating a warm and inviting atmosphere.
4. French country dining room furniture
To complete the furniture ensemble, consider adding a buffet or sideboard.
These functional pieces not only provide additional storage but also serve as a display surface for decorative items like candle holders, vases, or vintage dishes.
A beautifully crafted hutch can also add a touch of sophistication and showcase your collection of fine china or antique glassware.
When it comes to materials, natural elements like wood and wrought iron are quintessential in French country dining rooms. These materials bring a sense of authenticity to a room.
5. French country dining room set
When it comes to designing a French-inspired dining room, you may come across the option of a complete dining room set that offers a coordinated look.
It may seem tempting to have everything matching perfectly but it's important to consider if this approach truly captures the essence of the French country style.
While a French country dining room set can provide a cohesive and harmonious appearance, it may lack the charm and character that comes with mixing different elements.
French country design celebrates the beauty of imperfection and the blending of different styles.
By mixing and matching chairs, tables, and other furniture pieces, you can create an eclectic and unique dining space that reflects your personality and showcases your creativity.
Now, let's explore the different style combinations such as the rustic French country, modern French country, and shabby chic French country, each offering its unique blend of charm and elegance to create a dining room that suits your personal taste and preferences.
III. Rustic French country dining room
Incorporating natural materials and textures is key to achieving a rustic French country dining room.
Embrace the beauty of wood, stone, and earthy elements.
Opt for a weathered wood dining table that showcases its natural grain and imperfections.
Complement it with chairs upholstered in linen or woven fabrics for a touch of rustic charm.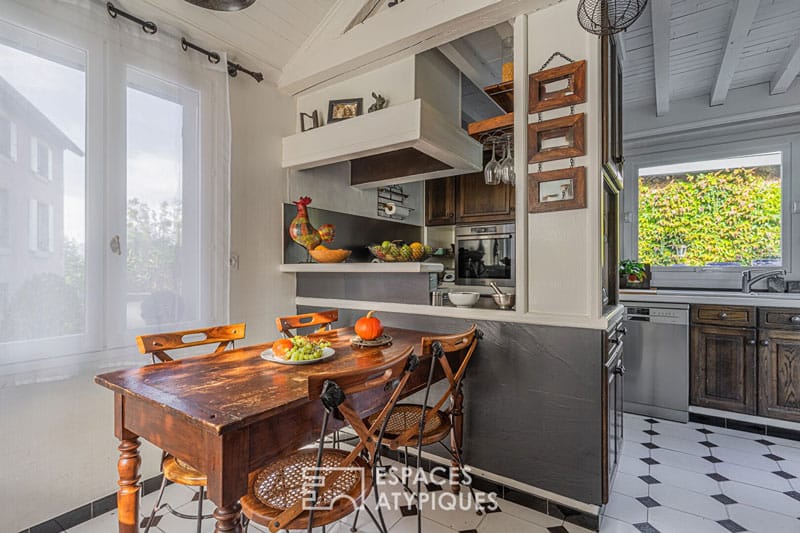 To enhance the rustic ambiance, consider choosing furniture with distressed finishes.
These give a sense of age and character to your dining room.
Imagine a worn sideboard or a vintage buffet, showcasing their history and adding depth to the space.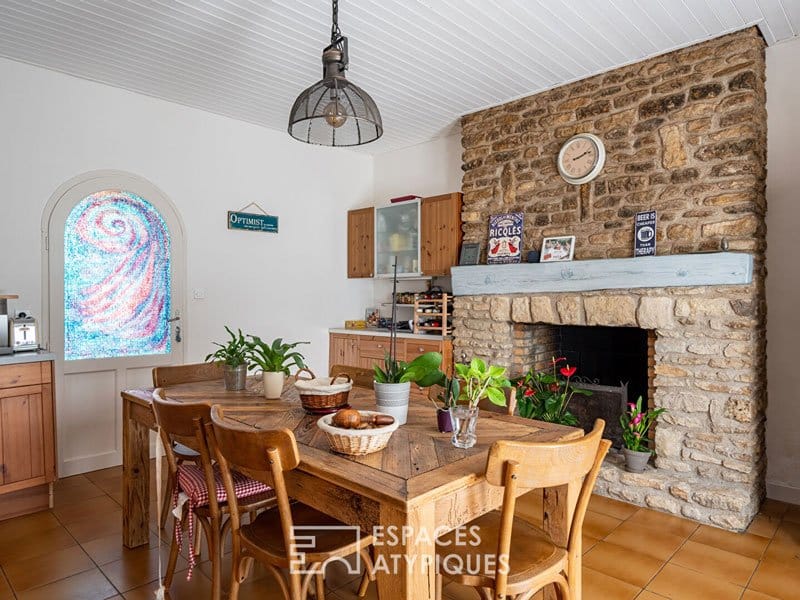 Adding vintage accents is another way to infuse a rustic touch into your dining room.
Look for antique chandeliers, old lanterns, or vintage wall sconces to create an atmospheric and nostalgic lighting effect.
Display vintage dishes, ceramics, or rustic earthenware on open shelves or a farmhouse-style hutch.
These pieces tell a story and evoke a sense of tradition and heritage.
Don't be afraid to mix and match textures and patterns.
Layer natural fibers such as burlap or jute with soft linens or cotton fabrics for your table linens and curtains.
Incorporate woven baskets for storage or as decorative elements.
These textures add depth and visual interest to your space.
Are you more drawn to contemporary influences and timeless elegance?
If so, a modern French country dining room might be a better fit for you.
IV. Modern French country dining room
By incorporating contemporary touches, you can create an updated look that still captures the essence of the French countryside.
To achieve a modern French country dining room, it's all about striking the right balance between rustic and modern elements.
You can start by selecting sleek furniture with clean lines that complement the overall aesthetic. Opt for pieces made from natural materials like wood or metal to maintain a connection to the rustic charm.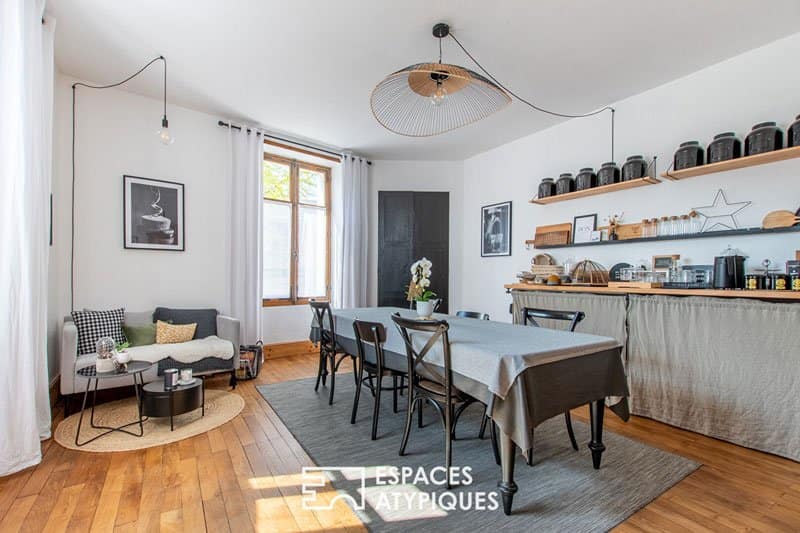 Incorporating modern accents and accessories can also help elevate the space.
Consider adding statement lighting fixtures, such as a sleek chandelier or pendant lights, to create a focal point in the room. You can also introduce contemporary artwork or decorative pieces that add a touch of modern flair.
When it comes to color palette, stick to neutral tones as a base and then add pops of color through accessories or artwork. This will help create a cohesive and balanced look in your dining room.
Remember, the key to achieving a successful modern French country dining room is finding harmony between the old and the new.
By blending rustic elements with contemporary touches, you can create a space that is both inviting and stylish.
Now let's see how to incorporate the charm of a French shabby chic style into your dining room.
V. Shabby chic French country dining room
Are you a fan of a romantic and slightly weathered look?
Then a shabby chic French country dining room might be the perfect style for you.
This charming aesthetic combines vintage elegance with a very feminine touch.
To achieve it, it's all about creating a romantic and distressed look.
Start by incorporating soft pastel colors into your color palette, such as blush pink, baby blue, or mint green. These gentle hues will help create a serene and tranquil atmosphere in the room.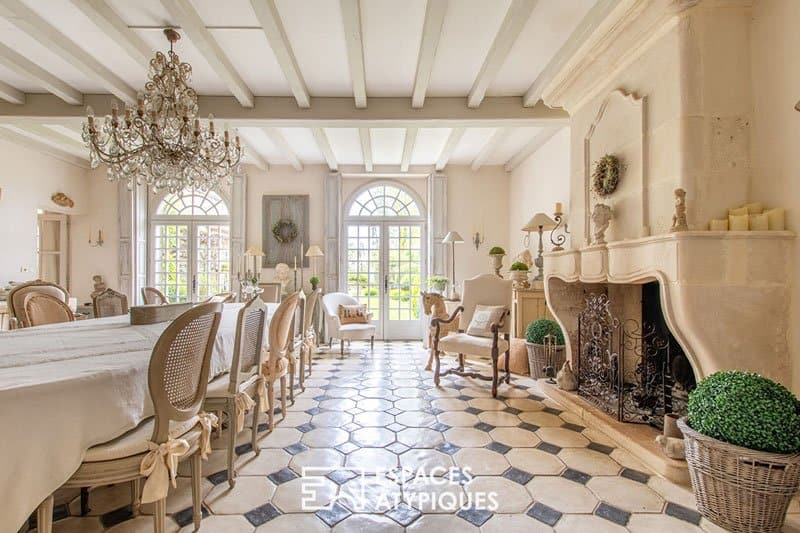 Another key aspect of this style is using floral patterns.
You can introduce floral prints through upholstery, curtains, or even wallpaper. This will add a touch of femininity and whimsy to the space, enhancing its shabby chic charm.
When it comes to furniture, mix vintage and repurposed pieces to create a unique and eclectic look.
Look for distressed finishes or weathered wood furniture that adds a sense of history and character to the room. Vintage china, antique silverware, and delicate glassware can also add to the overall charm.
To complete the look, incorporate soft lighting fixtures such as chandeliers or pendant lights with delicate details.
Soft, flowing curtains and plush cushions can also contribute to the overall cozy and inviting ambiance.
▶︎ Curious about your ideal French country style? Does Provincial, Farmhouse, or the graceful Chateau allure captivate you? Dive in and discover!
Now, it's time to put all that knowledge into action and create your own inviting and charming space.
But the journey doesn't stop here.
If you're truly passionate about the French country style and want to delve deeper, you can grab this comprehensive resource that covers all aspects of French country design.
It's packed with valuable tips, tricks, and inspiration to help you master the authentic style and bring its timeless elegance to every corner of your home.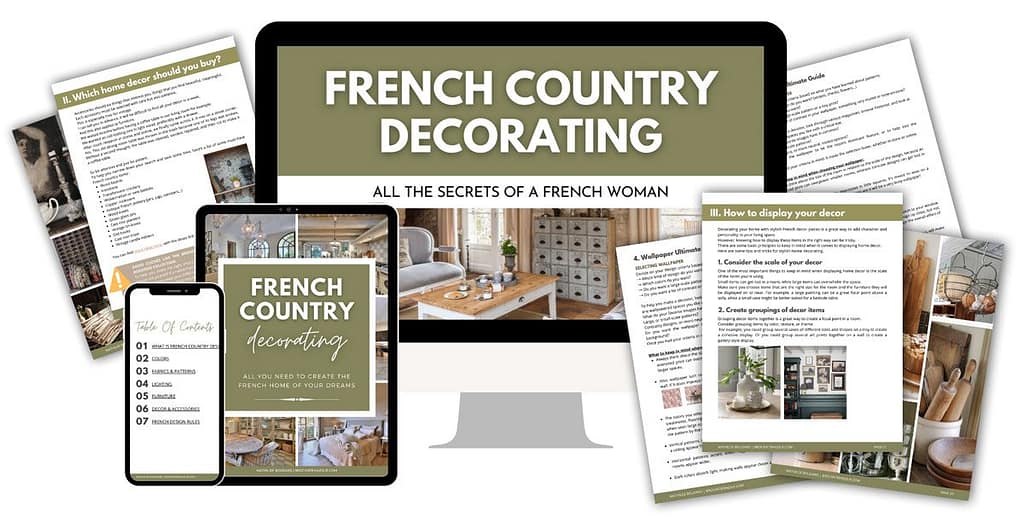 I can't wait to share this exciting journey with you!
Happy designing, and may your French country dining room become a space where cherished memories are made.