Do you ever feel lost watching all these different French country decor pictures?
I've been there too. Looking for French country images on pinterest and find a multitude of decor that doesn't look alike. From very rustic to very ornate.
That's hard to know what is REALLY a French country home.
That's because French country decor is inspired by the French countryside homes of the past.
But in France, depending on whether the house was located in the North or in the South, the style could be very different. It also changed according to social category. So we didn't have the same decor depending on whether we were a farmer or a bourgeois.
All these differences are now reflected in the French country style. But we can easily differentiate 3 « substyles » : French provincial, French farmhouse, and French château
Shall I show you how?
I. FRENCH PROVINCIAL
The magic word:
WARMTH
The provincial style refers to rural France of olden times. It's especially associated with the Provence region with its elegant furniture, typical patterns and earthy colors.
A warm, friendly and rustic atmosphere.
So now in France we talk a bit more about French Provencal style.
1. A little more elegant
The Provincial style appeared around the 16th and 17th centuries in Provence.
The peasants wanted to have furniture that was similar to that of kings. Altough they didn't have the same budget, they managed to create sumptuous furniture.
They create more delicate shapes furniture. More ornamental but not show-off.
I gathered for you affordable French Provincial furniture here.
Here's the kind of furniture we can see in a Provincial home:
2. The colors of the South of France
Adopting the Provincial style is evoking the sun, the singing accent and the landscapes of the South of France. A warm and cheerful style which – trough the choice of colors – recalls :
– the Provencal farmhouses with old exposed stones or whitewashed walls
– the fields of lavender and olive trees
– the markets with such special scents (spices, lavender, olives, lemons, cheese…)
➜➜➜ By the way, I created 6 French Country Color Schemes to help you decorate your home (with the exact paint names to use).
You can download them here for free.

If you want to get the Provincial look, the ocher color is essential.
Typical of Roussillon (South of France), you can see it in multiple tones. From saffron yellow to orange red.
It's a color that creates a welcoming environment.
Ocher can be admired when you take a walk trough « les sentiers des Ocres », in the heart of the Luberon. If you plan to go to Provence soon (you absolutely should!), I highly recommend you visit Roussillon and its surroundings.
It recalls the lavender which borders the roads of Provence and sublimates the landscapes during its flowering in summer. I haven't had a chance to see it with my own eyes yet, but it won't be long!
This color obviously recalls the olive, characteristic of Provence.
There are olive fields troughout the region.
Provence accounts for 70 % of French olive oil production. (mettre lien externe)
The olive tree finds everything it needs here: warmth, light and arid soil.
Olive green is one of my favorite color, and I think it goes very well with many interiors!
In summary, I'd advise you to choose a mix of ocher + green OR ocher + lavender blue / mauve.
Otherwise, you may end up with a profusion or colors that will no longer reflect the Provincial style.
Ocher can be chosen as one of the main colors of your home. You can cover one walls of your kitchen with ocher (a whitewashed wall is typical of south of France). Or you can use terracotta tiles.
Then, bring color with accessories such as pottery, fabrics, enamelware, dinnerware, and flowers & plants.
---
Tip: If you have the possibility of painting the exterior walls of your house in ocher color with green or blue shutters, your house will cry « Welcome to Provence » each time you return from work!
3. Provencal prints
How to talk about the Provincial style without mentioning the typical patterns of the region?
Imported from the Orient by Marseille (South of France) in 1580, the « Indiennes » are fabrics in warm and varied colors which recall the sun and nature.
In 1648, a first « Indiennes » workshop was created in Marseille. These fabrics became very popular in Provence region. Then troughout France, especially among the nobles.
The patterns of Provencal fabrics are:
– Nature related: cicadas, lavenders, olive trees, poppies…
– Geometric or stylized: stripes, circles, arabesques…
These patterns aren't absolutely necessary to get a Provincial style.
I find them difficult to decorate around. I'm always afraid of overdo it, because they have bright colors and impressive patterns.
They're to be used in moderation. Use them in the kitchen, for your kitchen towels or tablecloth for example.
Also, favor Provencal fabrics with faded colors like the olive pattern above. It will be easier to include in your French decor.
4. Provencal pieces
For a provincial look, here're some decorative items ideas:
French countryside or still life paintings

Ceramics & Pottery like pitchers, olive jars, confit pots, planters, garden urs… (ocher ones are a must)

Wrought iron pieces: lamps, mirrors, table, chairs, bed head and accessories

Savon de Marseille: a decorative and very useful green soap made from olive
I created a page with all the best French Provincial decor so you'll be sure to choose the right one.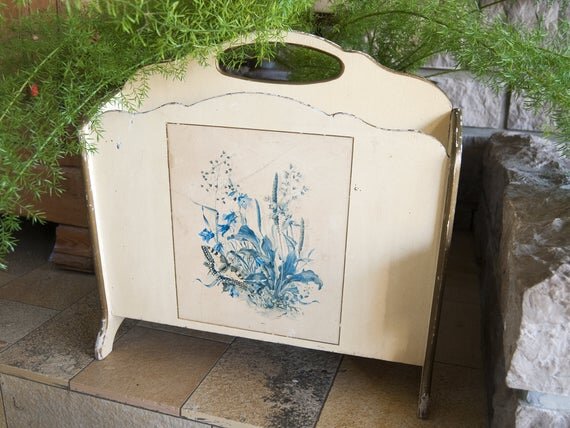 ---
And if you really want to feel like you're in Provence, don't forget the little cicada on the wall of your kitchen!
II. FRENCH FARMHOUSE
The magic word:
RUSTIC
French farmhouse is a decorating style that bring a bit more of rustic. As its name suggests, it's more representative of French farms.
To add some farmhouse touch to your French home, here are the 3 fundamentals:
1. Wood
Wood is really the key element of the French Farmhouse style.
Old and raw wood.
A parquet floor and/or exposed beams could be the basics of your decor.
Then, choose simple shaped furniture with few ornaments. The wood tones should stay light. But we can choose a little darker tones than in a classic French country home.
When your furniture is simple and has light wood tones, avoid repainting it. Or partially (we can repaint everything except the top for example).
To get a complete French Farmhouse look, decorate your home with wooden accessories like rattan baskets, bird cages…
Shop the French Farmhouse collection here.
2. Worn and distressed furniture & accessories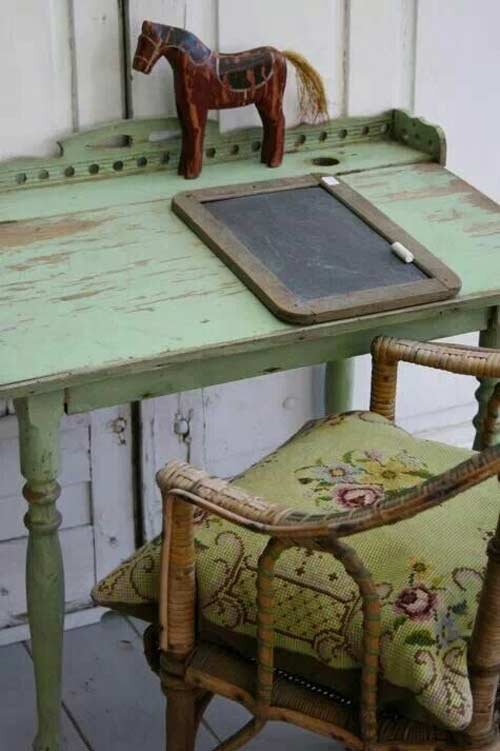 As in a classic French country decor, your furniture and accessories must be old. And who says old, says weathered and worn in some places.
But if you want to add a Farmhouse touch, choose even more time-worn furniture. A piece of furniture with damaged paint or a completely destroyed armchair for example.
3. Don't mistake « French farmhouse style » with just « Farmhouse style »
A lot of farmhouse decor I see on Pinterest or Instagram seem to have english quotes prints on their wall everywhere, cow portraits, roosters and so on.
These homes are often filled with brand new things bought from Target or Walmart.
Well. I have nothing against that but that's not French at all.
III. FRENCH CHATEAU STYLE
The magic word:
ORNATE
Many people believe French country style is necessarily very ornate and lush.
That's wrong.
As you have seen, French country decor is more characterized by a mix of elegance and rusticity. Very rustic for the French farmhouse style and warmer for the Provincial style.
French château style is, for me, on the verge of being considered French country. Because it can be too busy and not really representative of the country houses of yesteryear.
But if you like everything luxurious and ornate, this is definitely the right style for you!
You must have a larger budget and a lot of space.
Here's how to get the French Chateau look.
1. Luxury and quality
At the time, decoration was a means of showing social rank. The nobles then used furniture and pieces of great quality, synonymous with great wealth:
Quality materials such as bronze and crystal

Walls with moldings

Lots of paintings and portraits in all rooms

Several marble fireplaces

A large library full of old books

Antique armchairs

An XXL bed

A clawfoot tub

More imposing chandeliers

Sconces in the hallway

French antique furniture & pieces

Plaster statues and busts

A very large table to easily accommodate 10 people

Candle holders & Candelabra

A beautiful silverware

Porcelain tableware

Copper cookware
2. Ornate
The owners of castles also liked everything very ornate, usually golden, such as:
Very ornate furniture with elegant shapes

Large and ornate golden mirrors

Luxurious clocks

Large crystal lighting

Well made frames with golden details
3. Prints
Moldings and tapestries made up the interiors of these incredible mansions.
Prints were everywhere: walls, carpets, armchairs and sofas, curtains, bed linen…
You could find checkered patterns, flowers, stripes, toile de Jouy…
If you want to get the French château style, you can dare a bit more patterns and color mixing than in the classic French country decor.
But always in moderation.
Otherwise it will look dated and corny.
Here are photos of an old and dated French chateau VS a modern one
Tip: The smaller your room, the less you can play with prints. Because if you use too many patterns, your room will appear smaller and darker.
In short, French château style requires antique quality pieces, often large and ornate. But also a mixture of patterns and colors.
Not to be cheesy, don't completely copy the chateaux of yesteryear.
This is way too much. Add a bit of simplicity and modernity.
A lifestyle, more than a style
Today the name « French country » gathers all the styles from different rural regions of France together. Incorporating the rustic farm, the provencal home and the French château.
You don't need to know your specific « substyle » to decorate your home in the French country look.
And that's ok to have several French "subtyles" inside your home.
The most important thing is to stay authentic. Keep in mind that it's not only a style but a lifestyle.
I gathered all my best tips to add a French flair to your home in my French Country Design course. It's a complete step-by-step decorating process that teaches you how to bring French authenticity into your house, whether you start from scratch or just want to add a French feel.
Once you've finished the course, you'll walk away knowing:
the exact furniture and decor to buy so you never make costly mistakes

the 3 main steps to put all your stuff together cohesively

the right colors to use so you never go wrong with paint

my top tips to keep only what you need and love so you never feel embarrassed again when friends come visit

the 8 French secrets to get an authentic countryside home

and so much more!
---
And if you're into French Country style, I've got an exciting adventure lined up just for you!
How about taking a virtual tour of three stunning real French Country homes?
I'll be right there with you, sharing tips on how to infuse this charming style into your own space.
Ready to join the tour?
Click here to subscribe!

 

Keep reading…
• The 10 mistakes you may be making when styling your home
• Toile de Jouy: a chateau pattern?
FAQ
What is French farmhouse decor?
French farmhouse decor is a mix of elegance and a lot of rusticity. Old and raw wood is very present, from floor to ceiling, including furniture and accessories. It really feels like a French farm. The decor must be vintage. Furniture and accents are distressed and weathered by time.
What is French provincial style?
French provincial style is representative of Provence region atmosphere : the sun, the countryside landscapes and the special scents. To get a Provincial home decor, you'll have to mix typical colors, prints and pieces of this beautiful part of France. Ocher, olive-green and lavender blue are the 3 colors to use. Add some countryside paintings, terracotta pottery and ceramics, a few wrought iron pieces and you're done!
What is French chateau style?
French château style is obviously inspired by the ancient castles belonging to the French nobles. It's a decoration supposed to show richness. Each room is made up of quality, imposing and often very ornate furniture and pieces. There are imposing crystal chandeliers, large portraits and paintings, bronze candelabra, luxurious mirrors and clocks and much more… The patterns are also very present, trough tapestries, curtains and upholstery.