Unlike most French people, my family and I always hated spending hours at the table, and Christmas is no exception.
So what's the use of setting up a pretty table to spend 15 minutes there, right?
It was without taking into account my love for a lovely dining table decor, especially now that I understood how to set it easily and quickly (it's done in 30 minutes).
So here's how to get a beautiful French country Christmas tablescape (that's so simple, I promise!).
Before you start
You need a plan.
I know, plans are boring…
But without one, you'll be quickly overwhelmed and you may give up before you even display the plates.
1. Look at what you already have
– as silverware and dinnerware, including your serving dishes
– as table linen
– as Christmas ornaments and decor (from previous years, that you could use again)
Is there something you want to use for this year? If so, what?
Set aside whatever you might want to keep (already think about your color coding).
2. Choose your colors
You can choose your color coding according to your daily home decor and what you kept in the 1st step.
What color is your dinnerware? Your linen? Your decorations?
Try not to exceed 2 or 3 colors (without counting colors that come from natural elements such as wood or pine cones).
And avoid colors that are too flashy, such as off-white or sparkling pink.
Here how I created our color coding:
Our daily home color palette contains green (and that's my favorite color!)

The dishes I want to use for Christmas are blue transferware.

And I wanted to add a touch of shine that goes with these 2 first colors
So that's why this year our Christmas will be green, blue and silver (and since we had a few touches of lavender in the dining room, I chose to remove all items of this color to avoid overloading).
For a French country Christmas, the best is to use neutral colors + 1 or 2 colors. Here are a few examples:
SPECIAL WARNING: It's better to combine the colors of your table with the rest of your decor, especially the Christmas tree.
3. Your shopping list
You may already realized some stuff are missing for your Christmas table decor. Maybe you don't have a tablecloth in the color you want? Or some of your holiday glasses are broken?
To avoid having to go back and forth to the same store 3 times, you have to complete a shopping list.
To help you out, I've already created a simple shopping list that you can download here.
Ready to decorate your table? Let's do this!
Setting the Christmas table
If you want an authentic French country style, you HAVE to show up a vintage touch.
And when I say vintage, I mean real second hand stuff (avoid the badly made fake vintage that just gives a cheap looking style).
Try to have at least 2 or 3 vintage pieces on the table. You can find authentic French pieces here.
For my table decor, everything is vintage, timeless, but still elegant! Let's see.
1. Start by laying the table linen
You can choose to lay a tablecloth, a table runner and/or placemats.
Don't have a pretty tablecloth? Take an embroidered sheet. Don't have neutral placemats? Display a music score under each plate. In short: try to be creative by recycling things you may already have.
This year, I preferred not to cover my table because I wanted the wood to be seen, and I didn't want to overload the table.
2. Display the plates
For a French country table style, nothing beats transferware or white ironstone dinnerware.
It's quite difficult to find an entire set of the same transferware plates. So this year, whenever I saw a single plate or two, I still bought them, hoping I could pair them with others afterwards. And this is how I managed to create a collection of 6 mismatched pretty blue plates. Plus, it's a great conversation piece for the guests: who has the nicest plate?
If you also want to mix and match pieces, choose the ones that have similar colors and the same general aesthetic.
3. Then, the cutlery
I found these silver metal cutlery at a brocante (French for flea market) a few years ago, but I was too lazy to clean them. So they remained in their box in the cellar all this time. I finally had the courage to clean them a few weeks ago and what a joy! They are now perfect for my Christmas table decoration.
4. Add the glasses
These etched crystal glasses come from my mom's family. They add a lovely charm to the table!
Choose elegant and chic glasses. And once again, you can mismatch glasses as much as you want.
5. Don't forget the table napkins
Choose cotton or linen napkins. No more paper towels that are thrown away at the end of the meal (practical but neither environmentally friendly nor French country).
Prefer a neutral color so that they easily blend with the rest of your decor. Or add a touch of color in accordance with your color coding chosen at the beginning (for example, we really like the napkins with soft red or blue stripes).
For our table: mismatched embroidered white napkins are the done things.
6. Free up some space for your serving dishes
The first time I thought about my table decoration, I forgot an essential detail: the serving dishes!
In our family, we like to put the dishes in the middle of the table so that each guest helps himself to what he wants. It allows the hostess to be able to sit down at the table like everyone else and to enjoy her loved ones as much as possible.
So to avoid making the same mistake as me, consider giving a small place to your serving dishes or plan to put a small table on the side especially for this.
7. Think about a common thread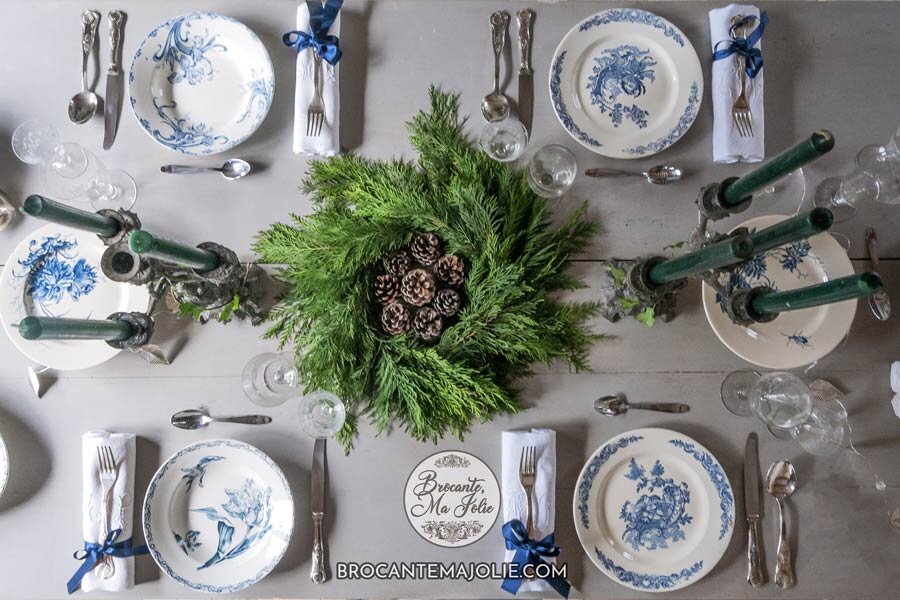 Your table decor needs a common thread. This will give consistency.
Choose something that will be repeated along the table: greenery garland, fairly lights, candle holders, wooden figurines… The list is endless.
To create our common thread, I arranged fairy lights, two antique candle holders, and two cake stands.
I left room in the middle for our centerpiece.
8. Add a centerpiece
There are as many possible centerpieces as there are artists.
But to give you some ideas, I rounded up 13 French country Christmas centerpieces to copy.
9. Dress the chairs
You can dress these chairs with fake animal skins (like sheep ones) or some greenery wreaths or bouquets.
For our chairs, I chose to create a pretty greenery bouquet coming with a bow.
Decorating the dining room
The rest of your room should also be lightly decorated.
No need to overdo it. Your table already lights up the room.
Create a Christmas atmosphere with these 3 fundamentals:
1. Greenery and nature
What to look for?
Search for cypress, pine, cedar, spruce, hemlock, magnolia, eucalyptus and juniper. Don't forget pinecones and winter berries!
Where can I find this?
It's often not worth going very far if you live in the countryside.
Arm yourself with secateurs and while respecting each living being, take a few branches of what you like here and there.
What to do next?
You can create garlands, bouquets, wreaths and even mini trees!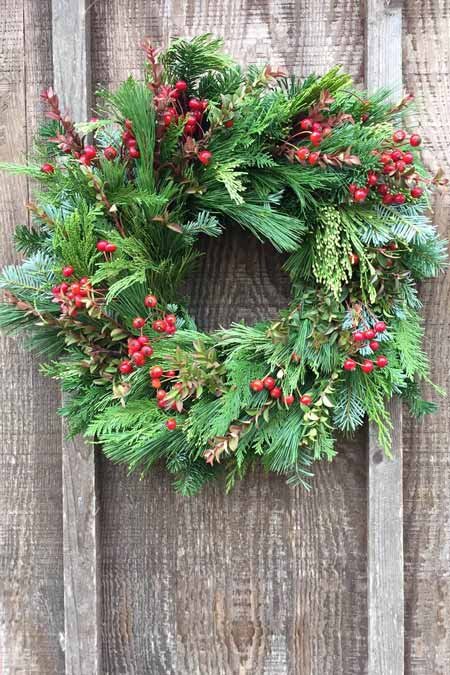 Be careful. After a few days, the green may look a lot less fresh. So try to cut the greenery as late as possible and make your DIY shortly before Christmas.
2. Christmas ornaments and decor
I like to use Christmas balls to add a touch of color. I added some on the Christmas gifts pyramid.
We haven't use a real Christmas tree for years, so my mum and I created a wall tree with some driftwood we have collected and ornaments.
If you want to decorate your wall as well, here are FREE French Christmas posters just for you

(click on the image below to download them)