Christmas is coming.
I bet you want a cozy and welcoming home for your loved ones, right?
Then what's best than a French country Christmas look?
Simple but elegant.
But it's hard to determine which color coding to choose, and especially what decor to buy…
This is why I take you with me for a tour of 7 lovely houses.
They will give you plenty of French country Christmas decorating ideas for your own home!
Let's get inside…
I have provided a direct affiliate link wherever possible so that you can easily shop and decorate.
1. A French Christmas inspired by nature
Sophie and Emmanuel live in a magnificent 19th century house in the Gard (South of France).
The first thing they think of when decorating their home for Christmas is wreaths.
Sophie always hangs one, made from boxwood branches, on the knocker of their large oak front door. For her, this wreath is synonymous with welcome.
If you don't have time to create one by yourself, I found this beautiful Christmas wreath on Amazon, which is very natural and which can be reused for years.
The couple also like to decorate their windowsills with resinous plants. "We collect a lot of branches or twigs, pine cones and seasonal berries". Then, they add a few rusty lanterns next to it.
The entrance is simple but welcoming.
Wooden letters forming the word Noël (Christmas in French) lie on a shelf in their buffet.
Sophie's favorite shades are white, grey, and natural tones, which she likes to pair with both transparent and colored glass.
In the center of the table, the runner table in boutis softens the tones to highlight the decoration of subtle and rustic details. You can shop the exact same table runner here.
When night falls, Sophie lights a few candles and string lights, as well as an open fire.
She doesn't buy anything in particular for Christmas, as her inspirations are often guided by her surroundings. She likes to bring out objects found in flea markets or offered by her family and friends, like these red vintage Christmas balls.
Shop Sophie's Christmas Decor
2. A traditional Christmas in an old farmhouse
Leny and Harrie bought this old dutch farmhouse in 1974. Leny takes her inspiration from all Europe, including France.
She really likes antiques and natural colors of wood and nuances of white and grey.
For Christmas, she likes to add a bit of green and glints of red. She says "Our Christmas decorations are quite modest on the whole, but the tree and table are definitely dressed to impress!". And they absolutely do!
You can find retro Christmas ornaments like Leny here.
Leny also loves to light on candles and hear the noise of the fire crackling when she prepares dinner.
At this time of year, there are bowls of red apples and cranberries on the garden table, and candle lanterns on the terrace to welcome guests to share Christmas feasts in this cozy home.
Shop Leny's Christmas
3. A vintage Christmas in the North of France
Bienvenue à la maison ("Welcome to my home").
For Chrismas, I like to keep my decor simple.
Simple and natural.
I often find a lot of my decor in the garden: branches, boxwood, pine cones…
I decorate my fireplace mantel with a homemade garland, small fake trees, lights and a "Joyeux Noël" banner (you can find the same one here).
Of course, they're also Christmas stockings hanging on the fireplace, made of linen and blue plaid fabric.
Next year, they will be in Toile de Jouy, a French classic fabric I love.
By the way, I created some Toile de Jouy stockings filled with pretty French products.
In short: a made for YOU Christmas stocking (you can shop it here).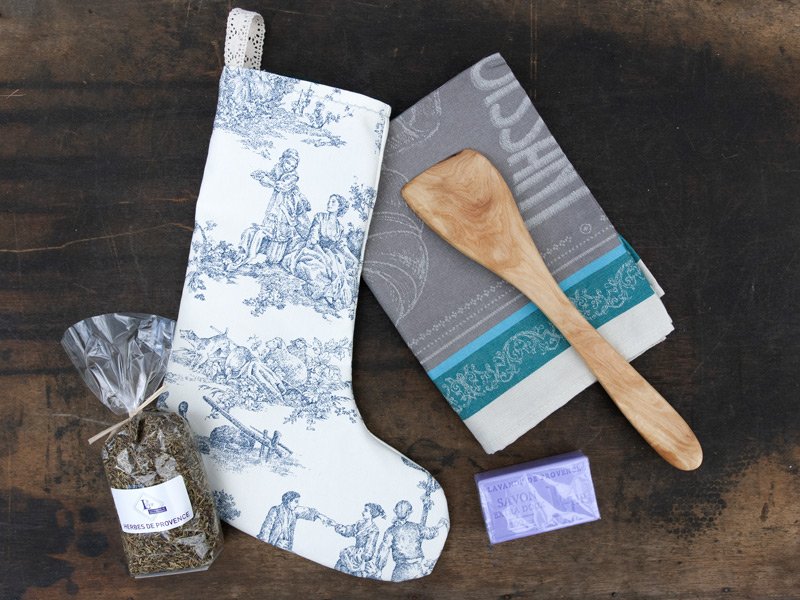 Using natural elements will allow you to save money, but inevitably it takes time to do it (I cleaned the branches before making the garland so that it resists longer), and time to clean up afterwards.
But no worries, there are also some really pretty fake garlands out there.
This one is particularly pretty and affordable.
In the family, we have decided to no longer have a big Christmas tree in the house (it may come back!).
Instead, I created a driftwood wall Christmas tree, which doesn't take up any space but still looks festive.
What do you think?
You can do the same with classic branches, it's quite easy to do and can dress up one of your empty walls.
I loooove to set a beautiful Christmas table (even if we hate spending hours at the table, unlike many French people).
I particularly like transferware dinnerware, and my table decor always depends on the color of my plates.
This year, my table was blue and green.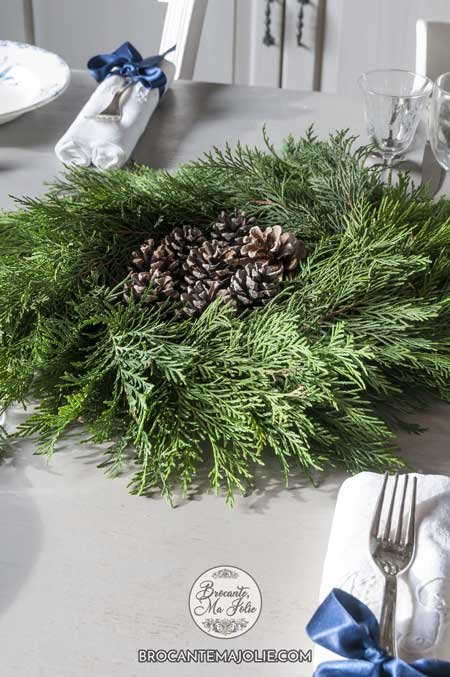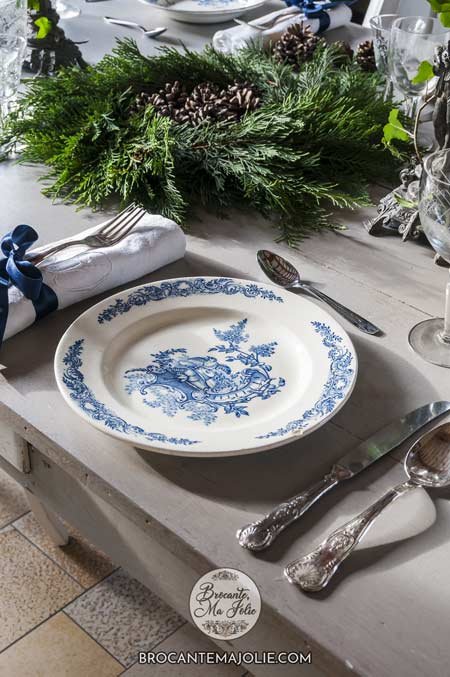 I did a round central wreath in the middle and displayed two big candle holders on the sides.
If I had to advise you anything, it would be to always start creating either your table runner or setting your plates. But it's important to keep consistency between the two.
Also, I use to dress the chairs with a branch, a pine cone and a little ribbon. Simple but elegant.
If you have open shelves or cabinet, it can be great to display some christmas touches in it, and lights!
Lights are so important to give a warm atmosphere to a room. Think about light garlands, candles, light ornaments…
Last but not least, let's move on to the Christmas gifts!
I know it's not always easy, but it can be a good thing to have a color code for the wrapping paper.
You can tell your loved ones some weeks before, your Christmas tree will be even prettier (neutral colors are always a good idea!)
Shop my Christmas decor
4. A chic and gold Christmas
This is Olga's living room, decorated for Christmas.
Olga decided to go for a classic Christmas color: gold.
But she warns "If you abuse it, it can quickly become obsolete and old-fashioned".
So she associated gold with touches of aged copper which brings elegance, and touches of white which gives light.
Bouquets, wreaths, garlands, centerpieces, trees… Green is omnipresent throughout the room.
It's an easy and economical way for her to decorate.
She tells us that the secret to a cheap Christmas is to use what you have in the house. Then, adding a bit of decoration, but without cluttering up the space too much.
Her tablescape is simple and chic.
Olga covered the table with two linen tablecloths, white plates and golden cutlery.
She then added some glass elements to bring lightness and delicacy.
Usually, Olga decorates with simple things, like candles, and small Christmas details, like these medallions with the initials of her guests.
This is how she manages to bring a festive atmosphere while respecting the spirit of her house!
Shop Olga's Christmas decor
5. An all white and blue French Christmas in the US
Who said all white decor was boring? If you share this opinion then follow me to Cami's house. You'll be surprised!
Cami lives in the United States, but for Christmas she wanted to get closer to a European evn French look, with elegance and minimalism.
From the start, the tone is set. Whites, fresh greenery, and soft French blues welcome us.
A few branches are displayed in French stoneware crocks, and white Christmas wreaths hang from the door of this perfectly distressed cabinet.
Cami added a small desk in the living room so she can work there while being close to her children playing.
And for Christmas, she added a mini Christmas tree, some candles, and a Christmas socking.
The look is very romantic, especially with this gorgeous caned chair covered with a white fabric.
At Cami's home, the small details are king. That's what makes her home so charming!
The bathroom is not to be outdone. It's elegantly decorated with some greenery and silver balls.
You feel it.
For a successful French country Christmas look, less is always more.
Shop Cami's Christmas look
6. An authentic European rustic Christmas
For Lieset, the Christmas holidays are a friendly and festive moment to share with family.
Every year they celebrate it at their beautiful renovated farmhouse in England.
Upon entering, we are greeted with an imposing illuminated Christmas tree and a pretty wreath hanging from the front door.
Logs are stacked on the other side, ready to be used for a future roaring fire.
Lieset likes to go hunting in flea markets and her decoration is clearly vintage.
The furniture in the house is French, Belgian or Swedish. The floors, fireplaces and tiles come mainly from salvage yards in England.
The magnificent and imposing clock is from an antique store, but you can find a similar Mora clock here.
In the living room, Lieset has created a cozy setting around the old fireplace, with many candles, pine cones and branches.
In the bedroom, rustic character is the done thing.
There are a farm stool, an animal skin rug, a wicker basket, and a stone fireplace covered with marble.
A boutis bed linen is a classic of the French country style, you can find an all quilt set here in queen or king size.
Only a few details like the wreath and the candles make us realize that this is Christmas.
That's also the charm of an European Christmas look: the simplicity!
A plus for our wallet. But also for our peace of mind, because the transition from a Christmas decoration in December to a winter decoration from the beginning of January is so easy.
Shop Lieset's house
7. A well designed French inspired Christmas
I will end this homes tour with this well designed French inspired house.
It's Marian's.
The beautiful staircase of her entrance is a great ally for its Christmas decor.
She swagged this cedar garland along the rail with a knit one for a prettiest result.
For Christmas, Marian decided to go for shades of green and blue, and especially lots of natural elements like pine cones and fir branches.
Next to the stairs, an armchair on which is placed a green Christmas pillow, as well as a mini Christmas tree displayed in a beautiful stoneware crock make way.
As you'll see, Marian likes to divert objects into something completely different, and that's what makes her decoration so charming.
We then have the surprise to enter this densely decorated dining room.
Marian put her big Christmas tree on a wooden rolling cart in a corner of the room.
And what a tree!
Look at this gorgeous one, with mini grain sack advent stockings and light garlands.
I don't think you'll find the same anywhere else.
Her cabinet, filled with white and green crockery (a mix of new and vintage), is covered with a faux pine garland and beautiful green dried hydrangeas.
The living room makes you want to sit down and enjoy some family time.
And do you know what gives her Christmas decor the French flair you're surely looking for?
It's simple and vintage. Her furniture and decor shows this patina and distressed look the French love!
Shop Marian's Christmas decor
To sum up, if you want to create French Country look this Christmas, you need:
1. A French Country style base
The key words are:
Simplicity: furniture and decorations with simple lines. Look at the furniture of the houses presented to get an idea.

Less is more. Try not to overdo it in terms of overloading but also perfectionism (the French and Europeans in general are not fans of everything that is symmetrical and too tidy)

Vintage: think of essential French vintage objects and decorations like ironstone crockery, French linen, antique candle holders, champagne buckets… (a wide selection is available here), and give way from time to time to heart-stopper and originality.

Patina: don't be afraid of imperfections on antique furniture, dishes and various objects. On the contrary, put them forward.

Personality: we don't want a show house. Consider adding a touch of yourself to your decoration. Have you loved Paris since you spent a week there? Bet on Eiffel Tower Christmas balls and French posters. Are you a music fan? why not use old sheet music as a common thread for your decor?
2. Consider having a color coding of neutrals + 1 or 2 colors
3. Finish your Christmas look
Add lots of natural elements, then some Christmas decorations and details.
If you don't know what to choose, there is plenty of ideas on the "Shop the look" sections after each home's tour.