Tell me if I'm wrong.
You LOVE France and all things French.
You'd like to add a French country feel in your home, but you don't even know where to start.
Actually, you feel a bit overwhelmed by all the different information out there.
On top of that, you may even live in a modern house, and you find it hard to create the old charm of French country style…
Don't worry.
Here in France, we mostly incorporate 5 basics in our country decor.
And that's all you need to bring the French country flair you're looking for! Let's dive in.
I. Vintage furniture and decor
This is surely one of the most important elements of French country decor.
The French love furniture and accessories with a soul and a story. Actually, they come quite often from a family heirloom.
We like to have vintage in every room.
We have a passion for one-of-a-kind objects. But if you had to choose, I'd say there are 7 must-haves to fulfill a French country look:
1. Light wood furniture with patina
Over the centuries, the appearance of furniture has changed according to the different successive kings and the economic situation of the country.
When you think of French furniture, you may visualize the Voltaire armchair or the Louis XV sofa, don't you?
But these furniture pieces don't always fit a country style, or at least not in their original state. Some antique furniture pieces need to be repainted or reupholstered to adjust to our more contemporary and less "rococo" interiors.
The main thing to remember is that the French country style of these days favors furniture with simple and refined lines, light shades, few ornaments, and no decorative overlay.
I gathered the best French vintage furniture and decor to choose on this page.
2. Vintage copper cookware
Here in France, we have a love affair with vintage copper: pans, cauldrons, stock pots, molds but also planters or vases. Villedieu-les-poêles, in Normandy, is THE city of copper.
They are gorgeous pieces, and some are still very useful. It's not uncommon to see chefs cooking with copper pots as they have many advantages.
3. Antique linen
Charming, right? Antique linens have so much potential.
They can be used as their first function, but they can also be repurposed in so many things like napkins, curtains, upholstery or clothing (especially if they show some flaws and you only want to keep the good parts).
Plus, they're wonderful pieces of history.
4. Antique candle holders
Little improvement was made in lighting from Antiquity until the 17th century.
In the West, we kept light up by candles. To hold them, we had to create supports in various materials: metal, wood, porcelain, earthenware, or glass. These candle holders had simple or more ingenious forms.
So now, we can find 2 arm glass candle holders or 6 arm bronze candelabra in the same French country home. It just depends on what you prefer (but favor white candles to put on).
5. Ironstone dinnerware (with or without transferware)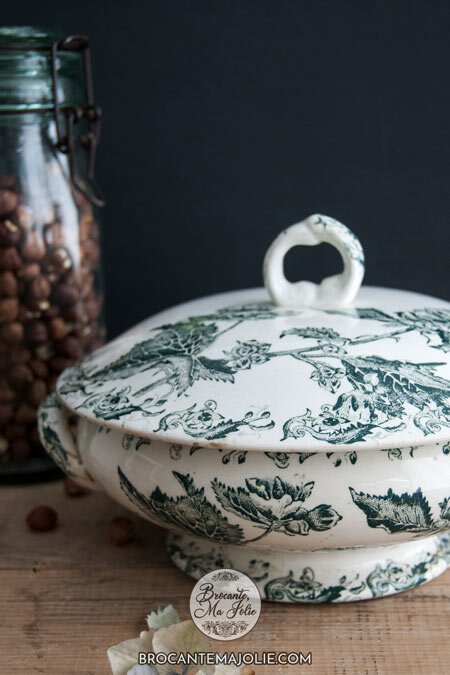 I like plain white ironstone pieces as well as those with transferware.
The transferware is an impression of decor (most often monochromatic, and more rarely polychrome) that can be found on plates, soup tureens, gravy boats…
6. Old French books
Oh, the old books! They have a charm that new books don't.
Covered with leather or decorated with arabesques, I love them all.
7. Vintage wall art
Have you ever wondered which artwork to choose for a French country style?
If so, here's what we love: oil paintings but also old photos, lithographs… with varied themes like portraits, flowers or countryside landscapes.
And the frame is almost as important. Try to avoid rococo or imposing ones, especially if the art is sufficient on its own. Or your guests will no longer know where to look!
Now you know what to look for in your home. But remember it's also important to leave room for a coup de coeur (heart-stopper). This is what will make your home unique, and not a pale copy of what you can find in your neighbors.
Where can you find French antiques & vintage?
Naturally, flea markets in France abound with French vintage furniture, lighting, kitchenware and more. But with the current health situation, you may not be able to rummage France's flea markets for treasures any time soon. So why not shop French decor online?
Brocante Ma Jolie vintage shop is a selection of items specially chosen to help you in your French country decorating project. You'll find all you need to create an authentic « petite maison » of France's countryside.
Do you struggle to add French charm to your home?
Then I've got an exciting adventure lined up just for you!
How about taking a virtual tour of three stunning real French Country homes?
I'll be right there with you, sharing tips on how to infuse this charming style into your own space.
Just tell me where to send you this amazing serie:
II. French country subtle colors
French interiors with a « campagne chic » decor (« French country » equal) only use neutral and subtle colors. Here's a little preview of colors you can use:
III. Distressed wood, imperfection & patina
If a great piece is cracked or dented, that's fine.
The French embrace patina. It's part of the story of an object, and it brings so much charm to a room.
Look at this wonderful dresser a bit distressed, this zinc pitcher with a rusted handle, or this lime wall showing superb color variations.
These photos summarize very well the flea market spirit of the French country style.
If you had to remember anything, it would be that if there's no imperfection, it's not French country.
So don't put aside all your pieces with a little flaw (don't turn your house into a recycling center either, that's not the point haha!).
TIP:
Be careful if you have a very modern house with brilliant countertops, marble and so on. On this case, it's better to have slightly distressed furniture & decor with a few imperfections, but not too much. Otherwise, the mix won't work. As I often repeat, it's all about balance.
IV. The French art of living
1. Light
You don't have to live in a very sunny area to have a bright house. Actually, I live in one of the less sunny regions in France and my house's living room is so bright.
Of course, the big windows help.
But you can also give an impression of brightness with light walls and decorative elements.
Since photos are better than words:
2. Simplicity & fluidity
French country style hates sophistication.
We choose simple furniture with flowing lines. And we favor home accessories that are decorative AND useful.
So, instead of adding more and more things to your home, put a few well-chosen pieces. They'll have a lot more impact in a room than lots of little ones.
Also, avoid all matching things: matching dinnerware, matching chairs, matching pillows…
That's fine to match some pieces in your home, but that can't be the foundation of your decoration.
3. Eclectism
You can mix antiques from different styles and eras.
Using eclectic furniture & decor items is the best way to bring an authentic touch to your home.
For example, you can mix a bit of industrial with rustic elements. Just keep your color palette consistent to keep the whole thing cohesive.
Also, don't be precious about using old things every day. It's such a shame to leave beautiful pieces in the closet!
V. Flowers & Greenery
This is a « countryside » style, so nature must be part of it. Gardens and fields shouldn't be far, flowers either!
Bring color and life with fresh garden flowers in spring and summer.
Use dried flowers the rest of the time.
Avoid buying flowers in your florist, which unfortunately often come from far away and grew in bad conditions.
Don't forget plants.
They completely change the atmosphere of home too!
Feel free to add one or two plants per room. Think of an olive tree, swiss cheese plant, ponytail palm, areca palm, pancake plant, fern…
French Vintage - Shopping list