Embracing the beauty of autumn doesn't always require vibrant hues and bold patterns.
This season, let's explore the enchanting world of neutral fall decor.
With its timeless elegance and calming palette, neutral tones can create a cozy and inviting atmosphere that complements any home.
From soft creams to muted grays, we'll discover neutral fall decorating ideas and showcase a handpicked selection of the best neutral fall decorations.
I have provided a direct affiliate link wherever possible, at no added cost to you, so that you can easily shop and decorate.
A Neutral Fall Bedroom of Wood and Cozy Fluff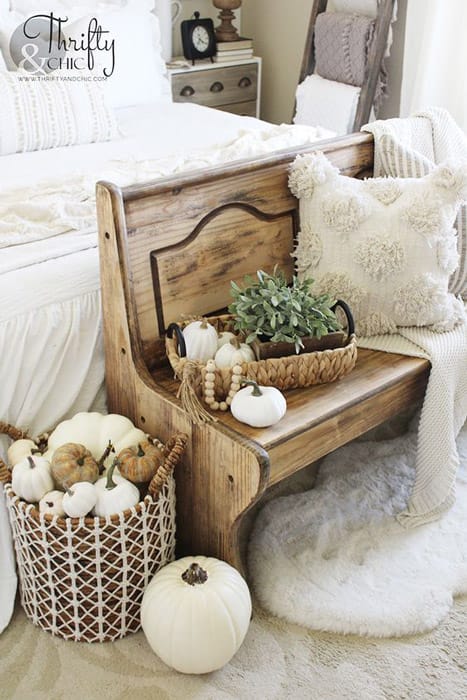 A cozy, white fluffy cushion atop a rustic wooden bench sets the tone. A natural woven basket houses lifelike greenery, delicate white pumpkins, and a rustic garland. At the bench's base, an inviting wicker basket, adorned with macramé, overflows with pristine white pumpkins. A soft and fluffy white rug completes the tranquil ambiance.
A Wooden Table Set with Autumnal Delights
This rustic wooden table exudes warmth with a fringed brown throw serving as the backdrop for a collection of earthy, autumn-toned pumpkins. Nestled among them, gentle candlelight adds a touch of enchantment. Beside the table, an antique wicker basket cradles dried branches, bringing a rustic, seasonal charm to the scene.
A Cozy White Bench Beckons with Autumn Comfort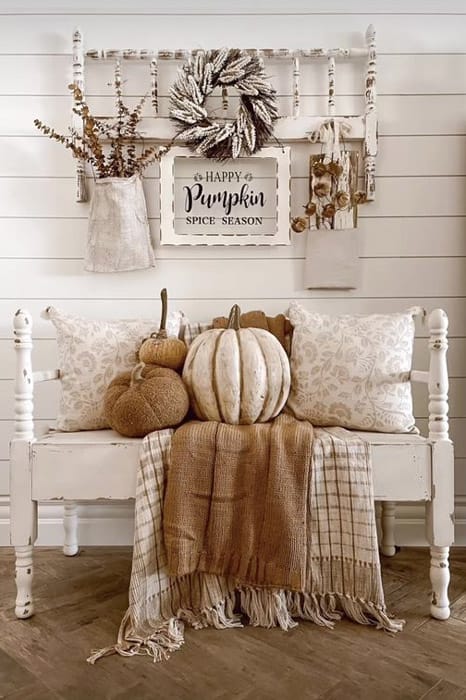 This inviting white wooden bench is adorned with two subtly floral cushions and draped with two rich, brown-toned throws for an autumnal touch. A trio of substantial pumpkins – one large white wooden and two plush brown fabric – adds to the cozy atmosphere. Above the bench, a 'Happy Pumpkin' sign, a neutral wreath, and dried branches grace the wall, creating an elegantly understated autumn vignette.
A Cozy Fireplace Nook Bathed in Autumn's Glow
This charming vintage fireplace exudes timeless warmth, adorned with a delightful array of green and orange pumpkins, some carefully encased under glass cloches. Above, a framed autumn still life painting captures the season's essence. The cozy sofas are adorned with plaid pillows in shades of brown and white, while two exquisite globe chandeliers lend an air of elegance to the scene.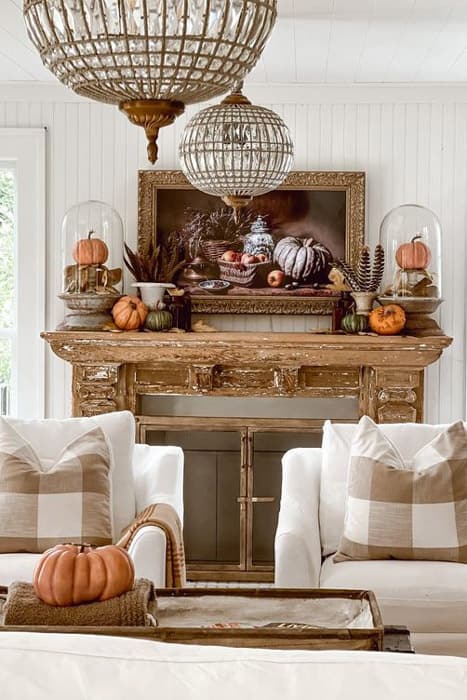 Expand Your neutral Fall decor Shopping List...
These understated hues and elegant touches can truly transform your living spaces into warm, inviting sanctuaries for the autumn season.
If you're seeking more fall decor inspiration, don't forget to check out my other fall decor articles: