This autumn, I had the pleasure of hosting a family dinner, presenting a wonderful opportunity to craft a charming fall-inspired table setting.
When we think of autumn, we envision the beauty of nature's transformation – the vivid yellows, rich reds, warm oranges, deep greens, and rustic browns.
This color palette, reminiscent of autumn's brilliance, never fails to captivate my heart.
Furthermore, I discovered that copper elements make for ideal additions to a fall-themed tablescape. 
While we don't celebrate Thanksgiving here in France, I realized this autumnal table arrangement could be wonderfully suited for that renowned international occasion.
I have provided a direct affiliate link wherever possible, at no added cost to you, so that you can easily shop and decorate.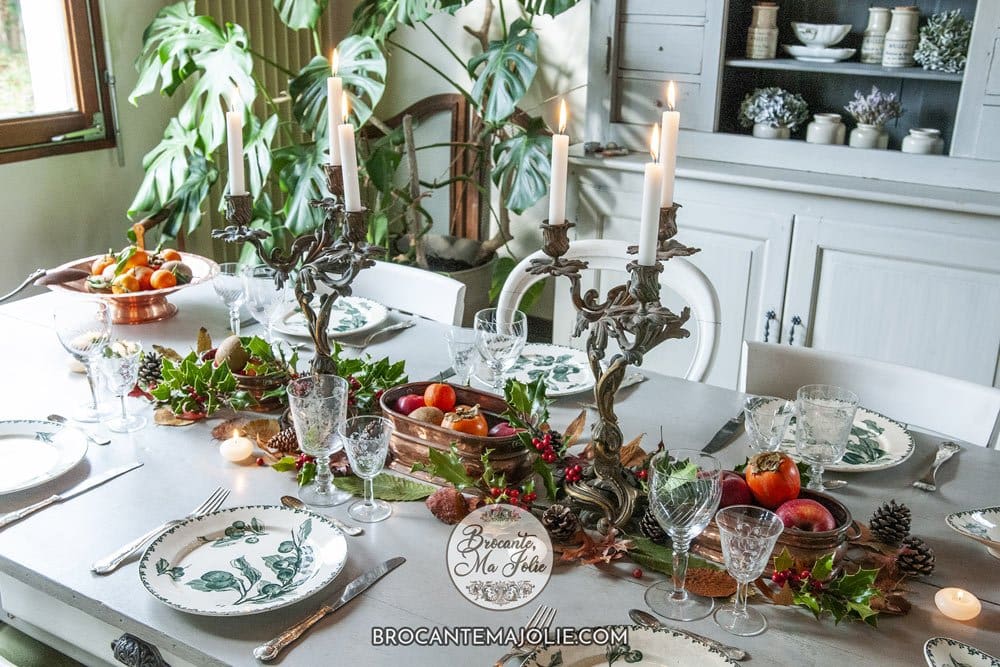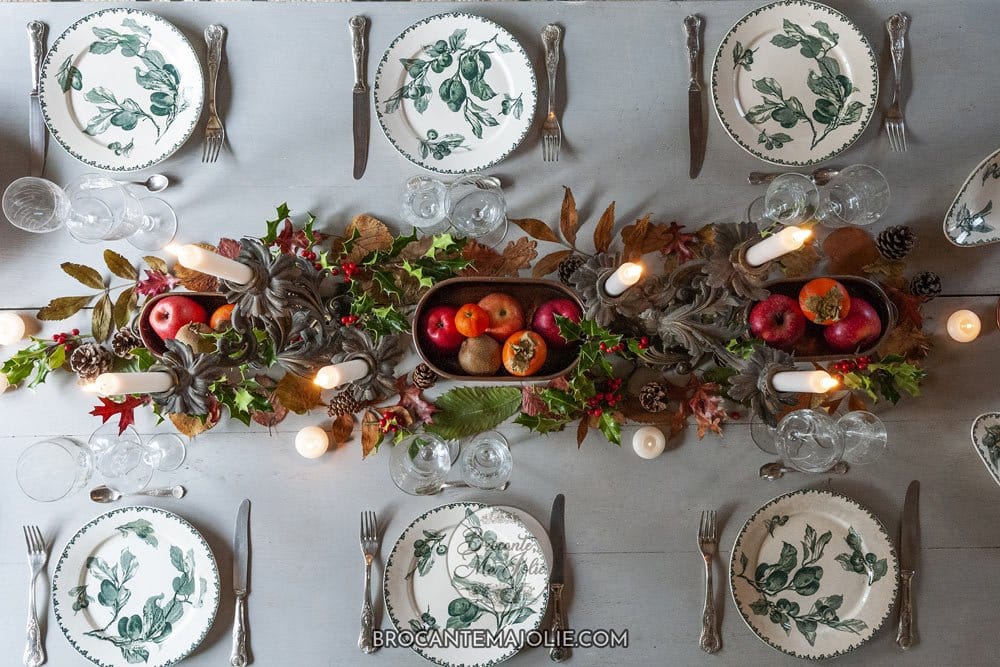 For this tablescape, I ventured into our garden to collect fallen leaves, which I carefully dried within the pages of books for several days. 
The dried leaves became the foundation for a natural table runner, artfully interspersed with pine cones and sprigs of holly that I gathered from the park just next door. 
It's truly a blessing to have such natural beauty at our fingertips.
To infuse a touch of rustic elegance, I introduced copper elements to the ensemble. 
Delicate copper planters and a charming salad bowl graced the table, serving as stylish vessels for an assortment of seasonal fruits – from juicy clementines and crisp apples to persimmons and vibrant kiwis.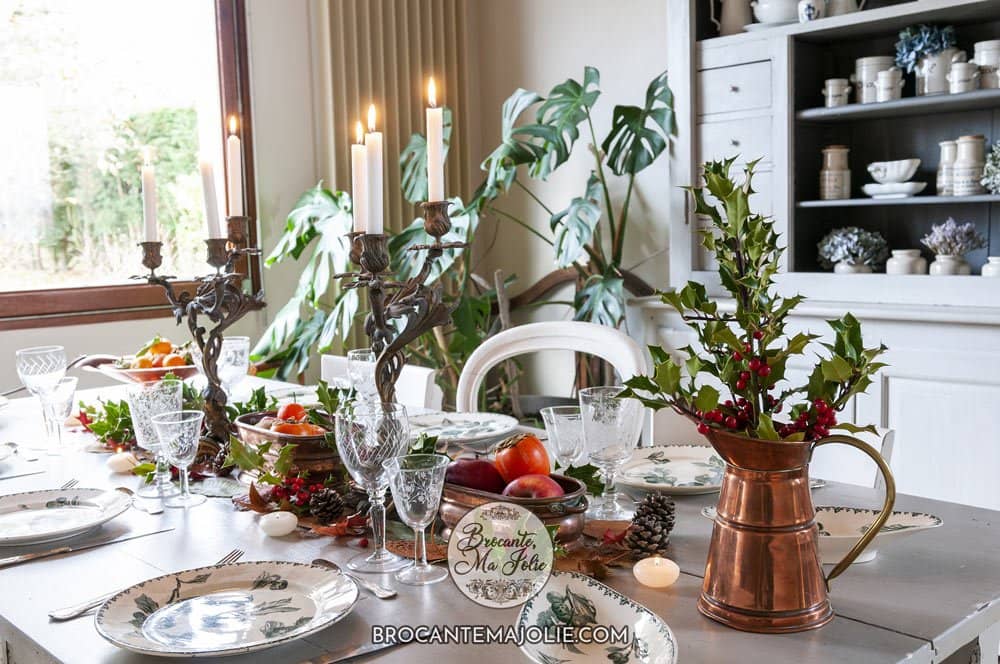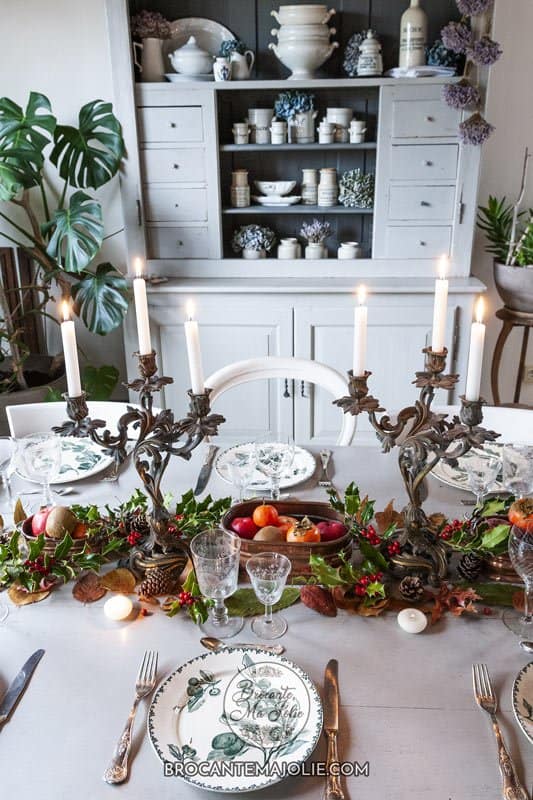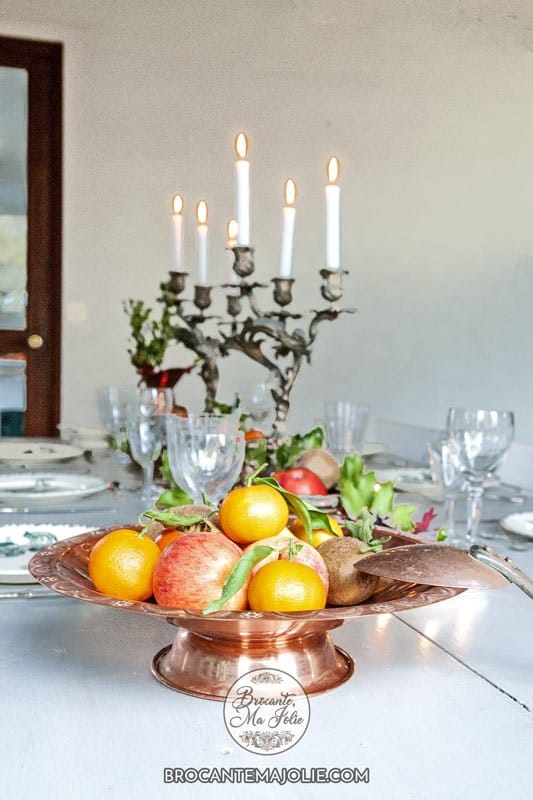 I couldn't resist incorporating soft candlelight for a warm and inviting ambiance. 
I arranged grand candelabras, which I stumbled upon in the enchanting flea markets of France, and added the soft glow of petite white candles. The flickering flames added a cozy, intimate feel to the setting.
As for the dinnerware, I stayed true to my penchant for vintage plates, glasses, and cutlery. 
I firmly believe that timeless pieces like these can seamlessly complement various table arrangements throughout the year, whether for autumn, spring, or even Christmas.
Allow me to indulge a personal favorite – the lovely green plates that graced our table. 
These have held a special place in my heart for quite some time. 
Despite my penchant for collecting vintage plates at flea markets, these particular plates caught my eye and captured my affection instantly. 
Their rich green hue, coupled with an elegant pattern, was irresistible to me.
I briefly contemplated adding fabric placemats to the arrangement but decided against it, believing that sometimes, simplicity is the ultimate sophistication.
How to copy this vintage fall decor idea?
Of course, there are countless ways to decorate for autumn and Thanksgiving 2023, with different color schemes, patterns, and styles. To inspire your creativity, I've curated a selection of the finest Thanksgiving table decorations, including tablecloths, table runners, centerpieces, and more.
Expand Your thanksgiving table decorations Shopping List...
I hope this post has sparked your imagination, whether you're looking for an effortless yet beautiful fall table decor or seeking inspiration for Thanksgiving 2023. Please feel free to share your thoughts in the comments, and if you already have ideas for your Thanksgiving table, I'd love to hear them!