It's time to welcome the cozy charm of fall into our homes.
And what better place to start than with your outdoor space?
Your front porch is like a canvas waiting to be adorned with the beauty of the season.
But I get it – with countless options out there, choosing the right outdoor fall decor can feel a bit overwhelming.
That's where I come in!
I've scoured the web, sipped my pumpkin spice lattes (of course), and curated a fantastic selection of fall front porch decor ideas that will instantly transform your home's exterior into a picturesque autumn wonderland.
I have provided a direct affiliate link wherever possible, at no added cost to you, so that you can easily shop and decorate.
Are you eager to discover how to make your porch the talk of the neighborhood this fall?
Ready to save precious time by exploring handpicked decor options that will leave your guests in awe?
Great! Make your home shine this season.
I. Outdoor fall decor essentials
Alright, let's dive into the heart of creating a fall-inspired outdoor oasis that will have your neighbors green with envy!
Picture this: You step outside, and you're greeted by the warm colors of fall. Your porch is decked out in all its autumn glory, and you can't help but smile.
That's the magic of outdoor fall decor!
So, what are the must-haves for achieving this picturesque scene?
1. Outdoor Fall Pillows and Rugs
Nothing says "cozy" like outdoor fall pillows and rugs.
These not only add a burst of color but also create a welcoming atmosphere.
From plaid patterns to pumpkin-themed prints, outdoor fall pillow covers and rugs set the tone for your porch transformation.
The centerpiece of any fall porch, outdoor fall wreaths are like a warm hug for your guests.
A wreath adorned with colorful leaves, pinecones, and berries hung on your front door is an instant mood lifter.
It's also a great way to preview the seasonal beauty that awaits inside your home.
3. Outdoor Fall Plants and Displays
Plants have a way of breathing life into your outdoor decor.
Consider pots filled with chrysanthemums, ornamental cabbage, or even small trees with fiery foliage.
Arrange them alongside charming outdoor fall mats and displays to create a visually appealing tableau.
Personalize your space with outdoor fall signs that carry heartwarming messages or witty fall-themed quotes.
These accents provide character and a touch of whimsy to your porch.
Plus, they make for great conversation starters with your visitors.
II. Fall Front Porch Decor Ideas
Cozy Autumn Porch Nights Await
Elegant Fall Entryway: A Vintage Pumpkin Oasis
Rustic Porch Delight: Mums and Glazed Stoneware
Purple Hues and Natural Tones
This inviting porch blends deep purples and soothing neutrals for a refined fall look. A chic anthracite door takes center stage, framed by a lush garland of rich purple leaves and two black lanterns. A subtle checkered doormat complements the look, while enchanting white and beige pumpkins add seasonal charm.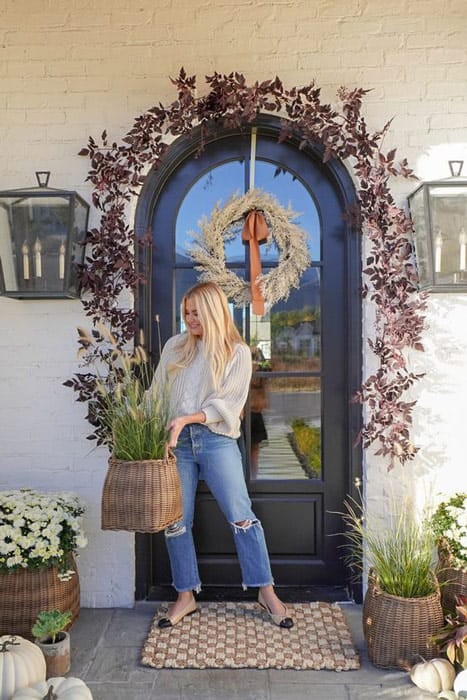 Harmonious Entryway: White and Green Simplicity
Remember that outdoor fall decor isn't just about decorations; it's about creating a warm and welcoming atmosphere that celebrates the beauty of the season. 
By carefully choosing elements like pumpkins, lanterns, and flowers, you can transform your front porch into an autumn wonderland.
So, are you ready to take your outdoor space to the next level?
Don't forget to check out these other blog posts about fall decor: