You absolutely love French country fabrics. You already heard about Toile de Jouy fabric.
But do you know exactly what it is?
And where to add it to your French country decor?
Here's everything you need to know, but feel free to jump to any section that interests you:
I. What is Toile de Jouy fabric?
Toile de Jouy is an antique fabric made of cotton, with repeated patterns of hunting scenes, rural landscapes, mythological characters, fauna and flora.
It's printed in a single color – usually blue, green, purple, gray or red.
Toile de Jouy fabric was originally produced in Ireland in the eighteenth century.
Christophe-Philipe Oberkampf opened a factory in Jouy-en-Josas (near Paris) in 1760.
What is now called toile de Jouy is in fact only a small part of the manufacturer's productions.
The toile de Jouy was inspired by the "Indiennes", these traditional oriental cotton fabrics with very bright colors and floral motifs printed by hand or with a stamp.
To illustrate his fabrics, Oberkampf called on renowned painters to create the traditional motifs of the Toile de Jouy.
A certain part of the History of France is depicted on these fabrics.
It's even said that the Toile de Jouy was the "first comic strip in history".
Some motifs reproduce scenes taken from philosophical or literary works such as the fables of La Fontaine.
Some illustrate exotic landscapes which feature wild animals still unknown in Europe.
The term toile de Jouy is not the registered trademark of a product only manufactured in Jouy-en-Josas. Even in Oberkampf's time, other factories produced identical fabrics and the term became somewhat of a generic name.
II. What does Toile de Jouy mean?
The French word « toile » means linen cloth.
Jouy comes from Jouy-en-Josas, the name of the French town where this fabric was made.
Jouy-en-Josas is located in the suburbs of Paris.
There is now a museum of Toile de Jouy, in the beautiful Chateau de l'Eglantine.
If you go to Paris one day, I think it's definitely worth the detour. You'll learn more about the history of Toile de Jouy fabric and you'll admire the gorgeous collection. There are more than 30,000 different Jouy patterns! That's crazy.
III. How do you pronounce Toile?
Toile is pronounced « twall » and Jouy « jwee ».
IV. What can you do with Toile fabric?
Toile de Jouy fabric became popular in France under the reign of Marie Antoinette and Louis XVI.
So today, when we think about Toile de Jouy, we associate it with French chateau decor.
At the time, the fabric was kind of everywhere…
Curtains and valances, chairs, pillows, sofas, bed sheets, duvets, canopy covers…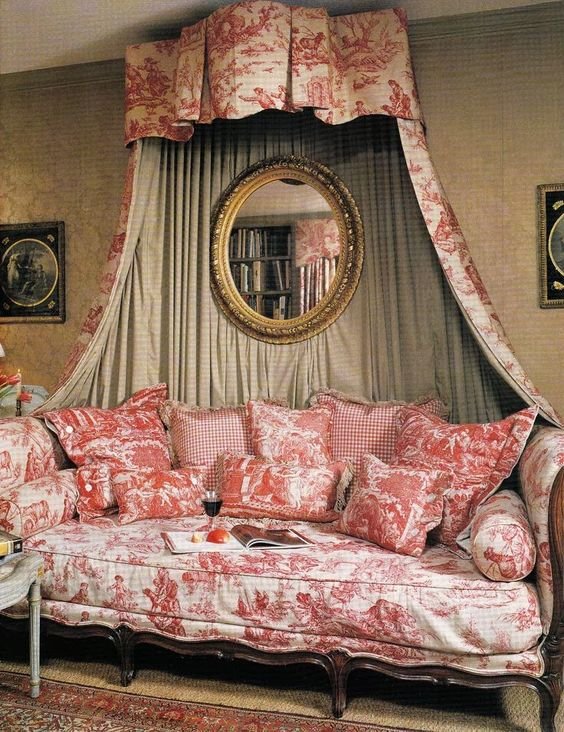 Please, don't do that! This is way too much. Use it in moderation.
Too much toile means too much visual information.
Tip: Choose the color of your Toile de Jouy fabric according to your own French country color palette. Stay sober for the rest of your decoration.
Here are some examples of where you can use Toile de Jouy print.
But again, resist the temptation. don't use them all! 1 or 2 per room is well enough.
1. In your kitchen
Kitchen towels

Curtains below the sink

Window valance

Inside the cupboards

Wallpaper on a small section of wall
TOO MUCH
GREAT
Get The Look
2. In your dining room
Chair linen

Chair upholstery

Inside the dresser
TOO MUCH
GREAT
3. In your living room
Chair upholstery

Frame mount

One or two pillows
TOO MUCH
GREAT
Get The Look

TOO MUCH
GREAT
Get The Look
V. How to combine Toile de Jouy with other French country PATTERNS?
Toile de Jouy can't be mixed easily because it's a fancy pattern.
It's better to combine it with simple geometric patterns like stripes and checks. And always choose no more than 2 pattern colors.
To learn more about mixing French country patterns, check this post!
---
Shop Toile de Jouy accents