You want to add French country to your living room, right?
You know you need to change a few things. But you don't know what exactly.
First thing first: you need to know what makes an authentic rustic French country living room.
Here are 37 ideas to make you feel like you're in France while in your own living room.
I have provided a direct affiliate link wherever possible so that you can easily shop and decorate #paidlink
French country living room atmosphere
1. A balance between comfort and elegance
In your French country living room, the best thing to do is to add soft textures like linen and cotton. They both are a bit rustic but chic.
2. Natural and rustic materials
Then, choose natural materials like wood, cotton, linen, brick, and metal.
They will bring authenticity to your room.
3. French country patterns
French patterns are really important to give your living room this French flair you love.
Mix stripes, checks and toile de Jouy for example. And choose no more than 2 pattern colors.
While you're here, I've got an exciting adventure lined up just for you!
How about taking a virtual tour of three stunning real French Country homes?
I'll be right there with you, sharing tips on how to infuse this charming style into your own space.
4. Less is more
I see a lot of overloaded home interiors on Facebook or Instagram.
There isn't a single empty square meter.
Furniture and objects are everywhere. And often in a very dark room.
I myself tend to put too much in my decor because there are some items I don't want to put aside.
But you really have to unclutter a maximum.
That way, the rest of your furniture and decor will only come out more.
5. A decor aged with love
Look at this repurposed pram from Marian of Miss Mustard Seed. It has just the perfect distressed look!
When you paint a piece of furniture, imperfection and patina are key (that make painting a lot easier, believe me!). So don't be afraid to distress your piece of furniture on the corners and edges.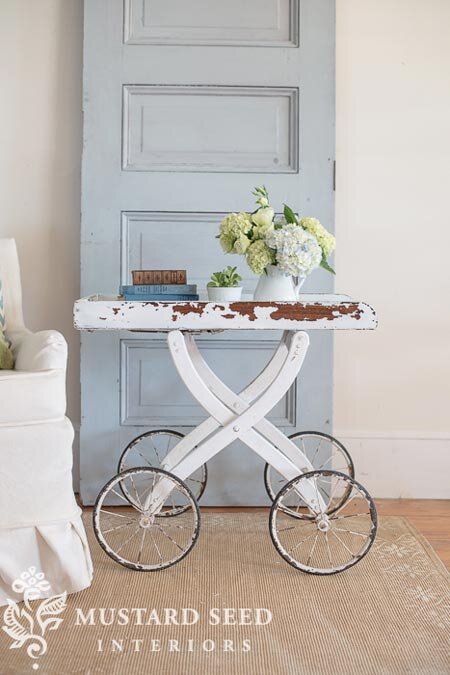 6. Vintage and French antiques
As in all rooms of the house, French vintage and antiques are required in a living room.
If you want to know which decor & accessories choose for an authentic French country home, this post will help.
French country wall
7. Neutral paint colors
This rustic French country living room is the perfect example of a great neutral colors use.
Full of white, beige, gray and wood.
8. Stone or brick
If you want to make a huge difference in your home decor, choose a stone wall. It will add texture and authenticity. Some imitation wallpaper do exist. Just choose a real looking one.
A brick wall can be a good option too.
9. Wallpaper
A French country wallpaper can help define a zone in your living room, like an office space.
It can also enlarge it visually.
Here are my favorite French country wallpapers to use in a rustic living room (you can all find them on Amazon):
10. Wooden exposed ceiling beams
These rustic exposed beams make this French living room absolutely stunning. If you're not afraid of major renovation work, know that there are fake ceiling beams.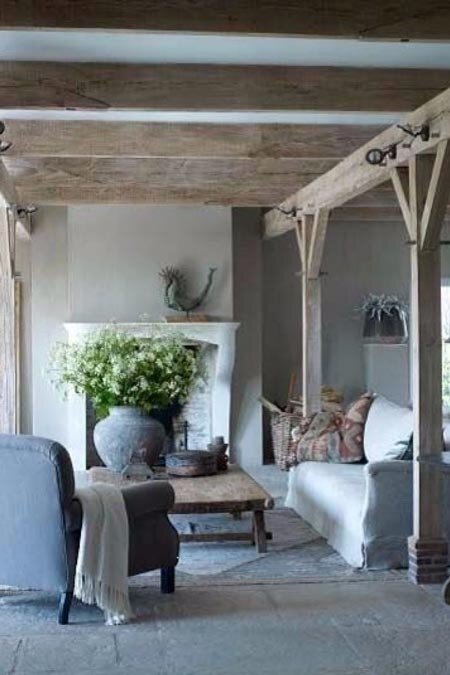 French country floor
11. A wooden floor
Remove that awful carpet, dust niche. Replace it with a wooden floor. So welcoming!
This is definitely the floor I prefer.
If you can't afford a real parquet, choose a fake one. Classic or herringbone pattern… but having a herringbone parquet is a must in France 😉
12. Tiles
When we don't have the chance to got a parquet, we may have tiles. Is it your case? Don't worry. That's mine too. And it can also be gorgeous! Look at this one…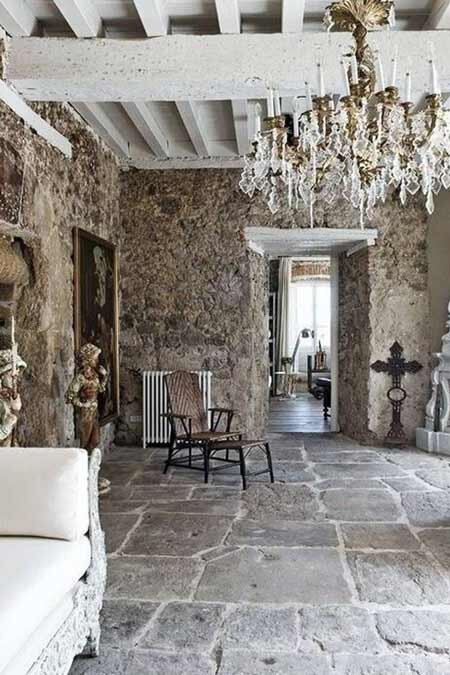 French country living room furniture
13. Sofa
Choosing a basic sofa with a linen cover is simple but effective.
You can also opt for a gorgeous Louis XV sofa or a French cane settee. But this 2nd one may be smaller and really less comfortable.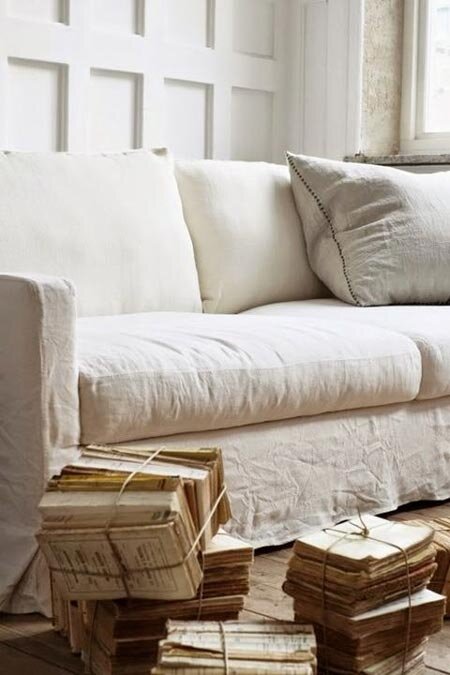 The 4 best French country sofas on Amazon
14. Chairs
An old destroyed armchair will add charm and rusticity to your French country living room. Look for one in a flea market or second hand shop.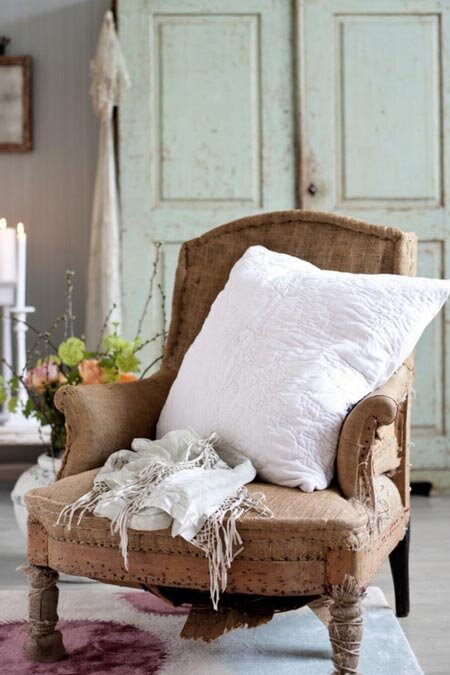 15. Coffee table
You can choose a classic coffee table in wood or play the card of originality by repurposing a trunk, a wooden case, etc.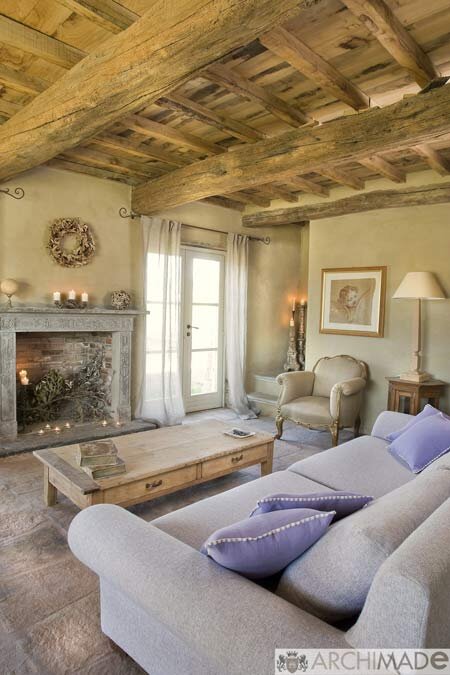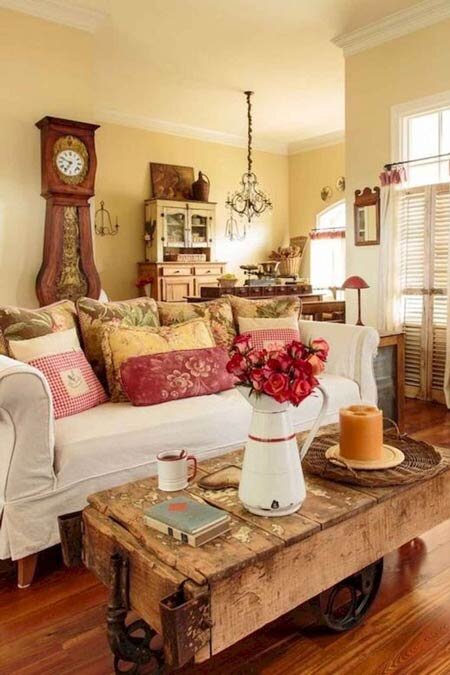 16. Tv stand
Did you notice than we won't see a lot of Tv's on Pinterest home decor pictures?
You can hide it inside a furniture or be comfortable to show it on a console table in wood or wrought iron.
17. Bookshelf
Do you have a large living room? Why not add an old bookshelf? You'll display some books of course, but also some frames or collectibles.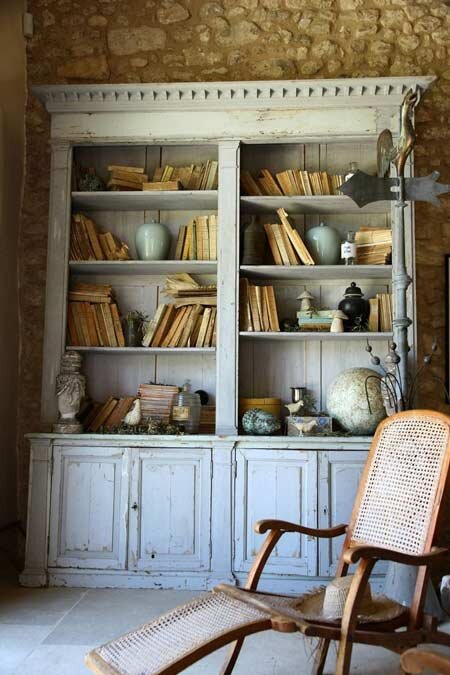 French country fireplace
18. A mantel
A beautiful fireplace is the central point of a French country living room. In brick or in wood.
You can also choose a fake mantel.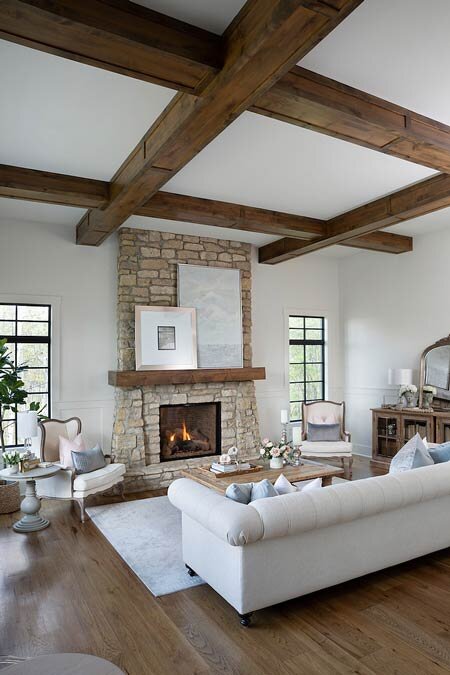 19. Accessorize it
Your fireplace deserves to be decorate. Candle holders. Sconces. Mirrors… Possibilities are infinite, right?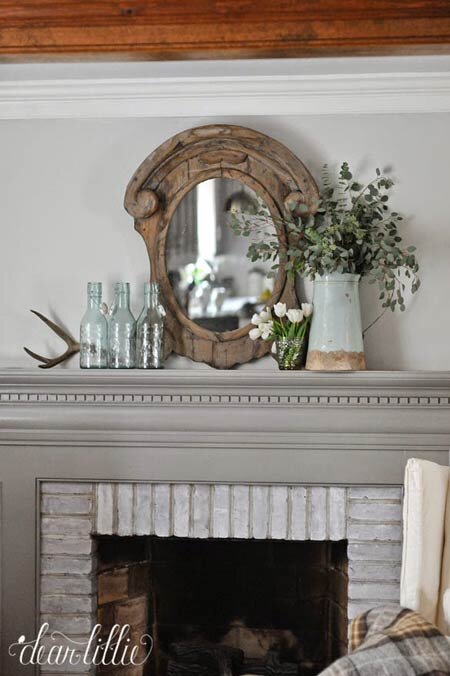 20. A vintage log holder
If you have a real fireplace, you need a log holder. A big rattan basket or a copper log holder will absolutely do the trick!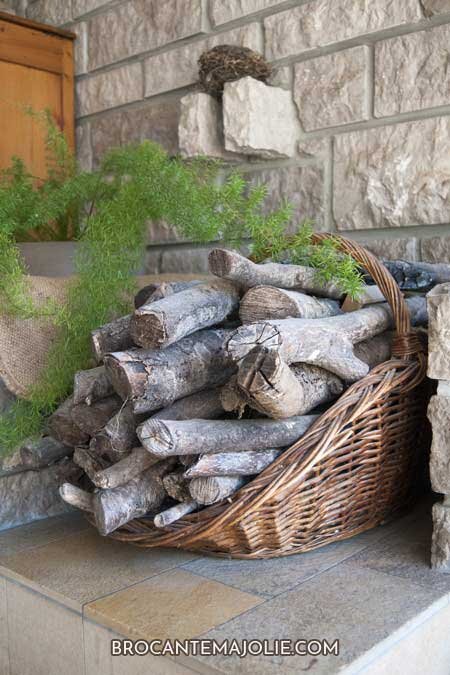 French country lighting
21. Antique chandelier
If you think a chandelier is the ultimate French light to have, you'll be right.
Choose an antique one as fake vintage chandeliers can be really poorly done and cheap looking.
Adjust the size of the chandelier according to the ceiling height and your living room size.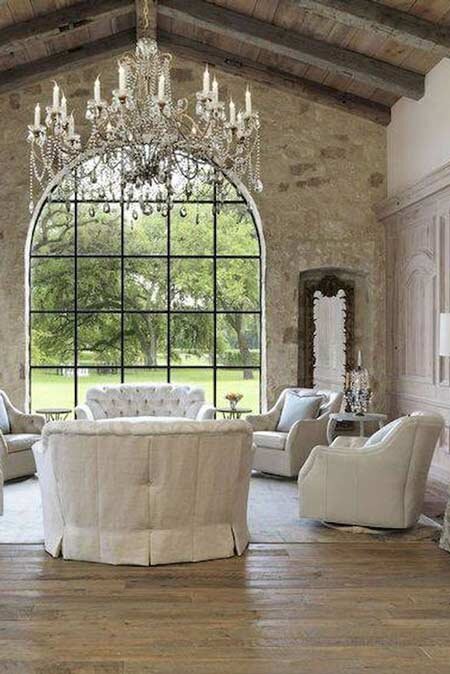 22. A French hanging lamp
A chandelier is an excellent choice… But this is not the only one that can be done.
A beautiful antique hanging lamp can also enhance your room.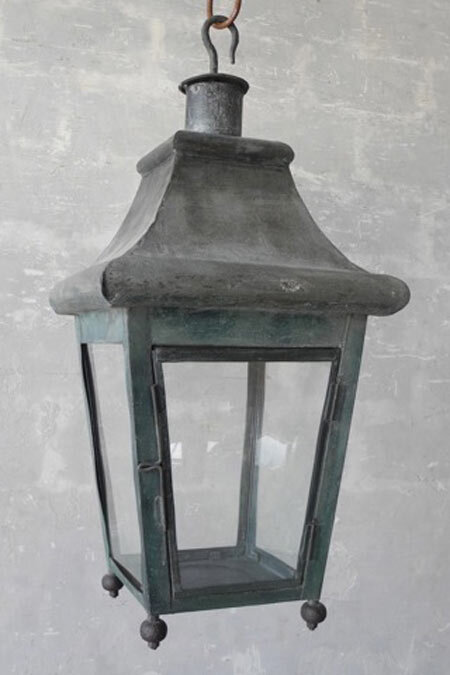 23. Floor lamp
In a French country home, we like to have several light sources. Why not add an extra floor lamp in your living room?
French country living room decor
24. Throw pillows
I absolutely love throw pillows, especially those with stripes, toile and/or French writings. What about you?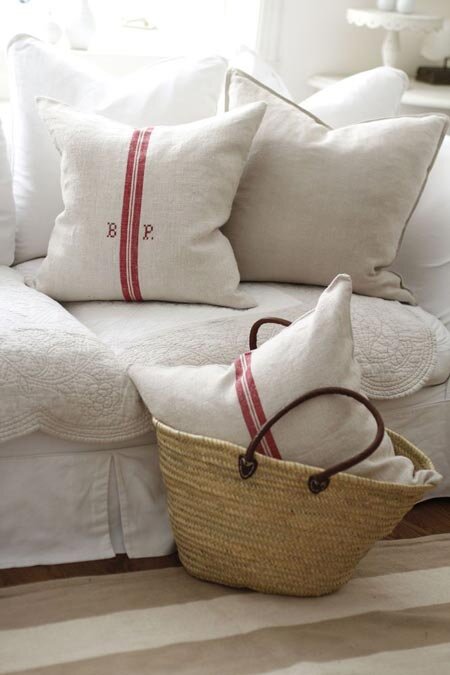 25. Curtains
I'll tell you. Linen curtains are the best choice. No matter what (but, yeah, cotton can be good too).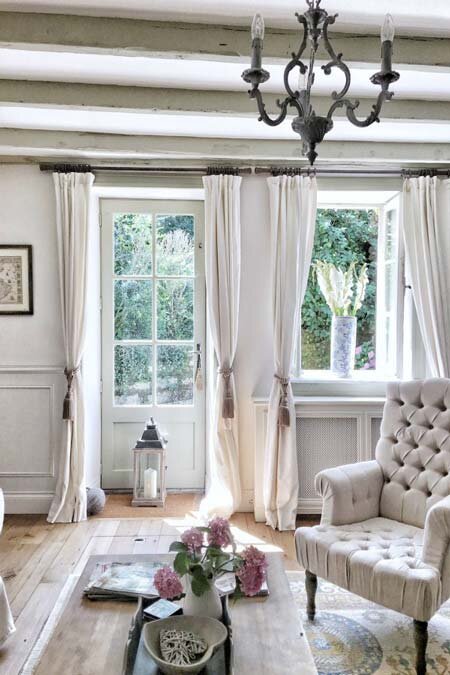 26. A rug
A rug will allow a cohesive look between your sofa, your coffee table and your chairs. Plus, this will add sensation of warm and comfort.
Choose it in jute, wool, or cotton. But always keep in mind the neutral French country color palette.
27. Coffee table decor
Display some vintage items on your table decor. Give free rein to your imagination and create a beautiful vintage vignette.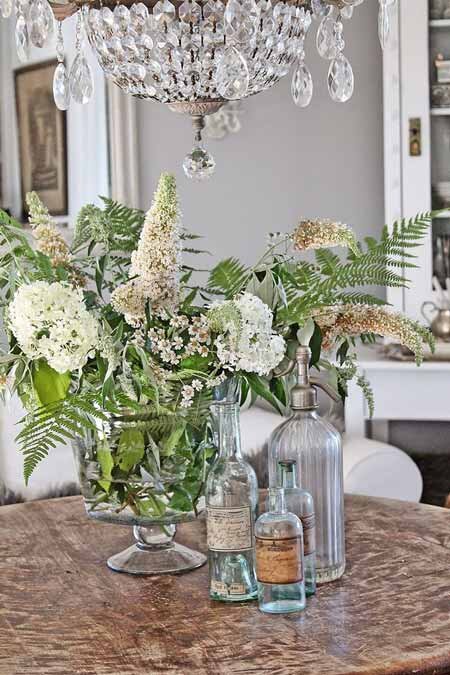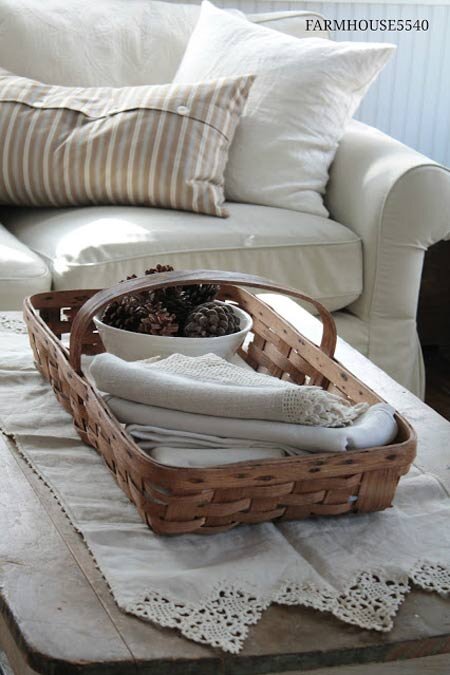 28. Antique baskets
Wicker and rattan baskets are decorative accents which I couldn't do without. They add so much warmth to a room.
I know many of you love French market baskets. Am I wrong? They look so great when filled with fresh fruits and vegetables!
Wire baskets are also nice, but maybe more for the garden or the kitchen.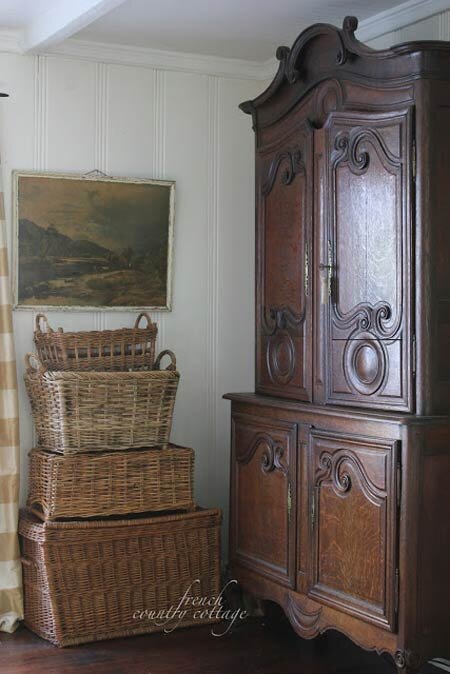 29. Planters in pottery, ceramic, or copper
 If you love plants, then you need planters, right? To get a French country look, choose those in pottery, ceramic, iron or copper.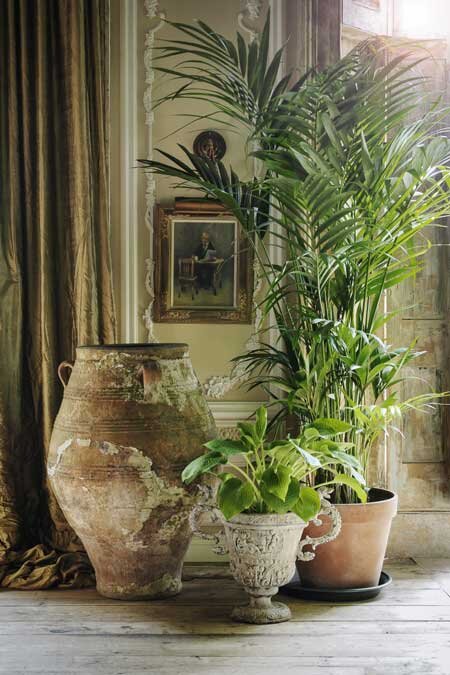 Want to buy a French planter? Get one here.
30. Old books
If you don't have enough space for a bookshelf, still display some old French books here and there in your living room. Look how Courtney from French country cottage did.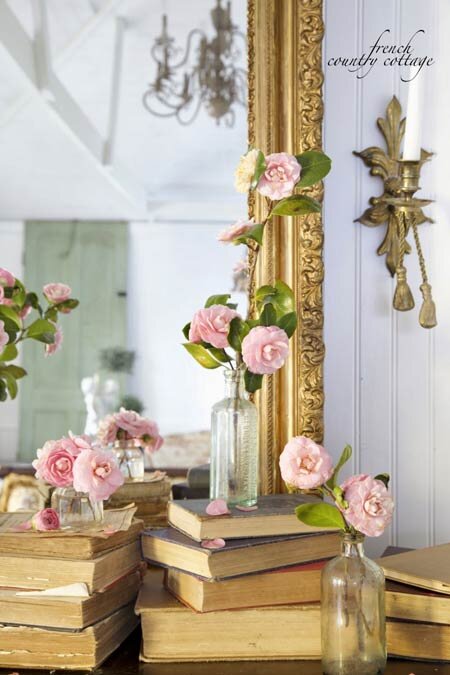 31. A plaid
Put a plaid in your sofa. It will be your best friend for the long winter evenings.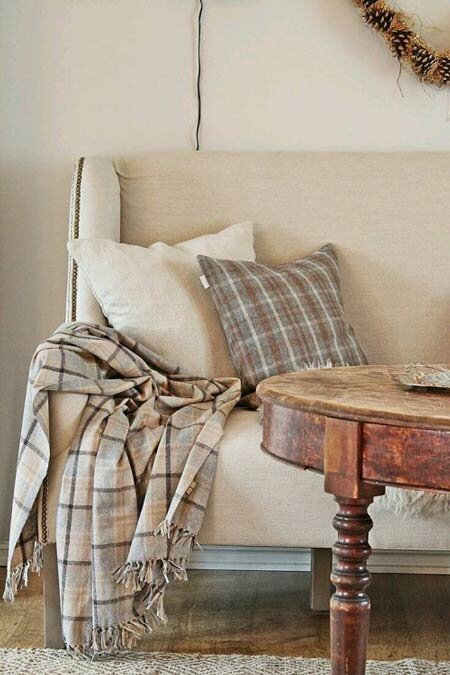 French country wall decor
32. A big clock or Mora clock
A repainted Mora clock is a gorgeous find. I don't have one but I love them. Their finesse make them very elegant.
Failing to have a Mora clock? Choose a big wall clock with a vintage style, like ours.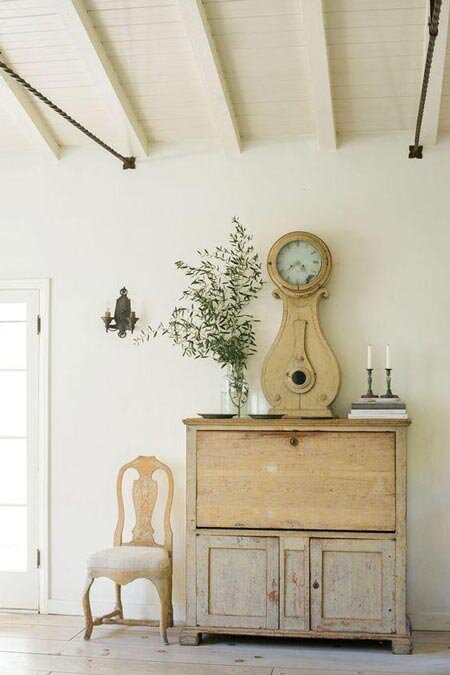 33. Vintage mirror
Golden vintage mirrors are the perfect wall accents to use for a French country living room.
Favor a big ornate one. Fake vintage mirrors can do the trick too, and you'll find them easily.
You'll find beautiful French antique mirrors here.
34. Old frames (portraits, paintings)
In France, we've always loved wall art. In the past, portraits of family members were hung on the wall, in more or less expensive frames, depending on the family social class.
We could also find lovely countryside paintings, representing villages houses, pastures, or even forests.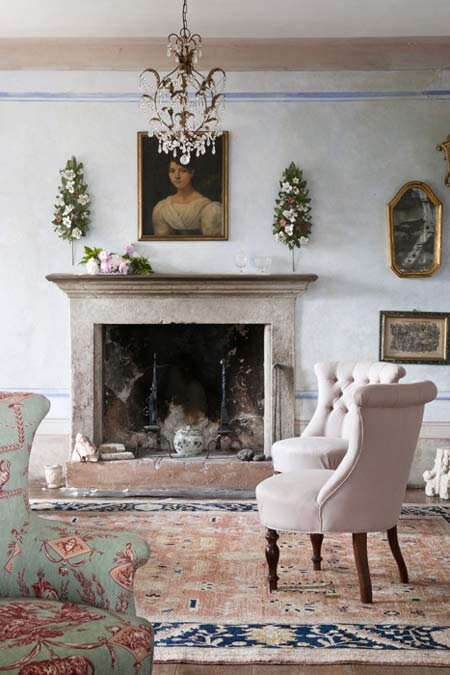 35. An old door, shutter or window
To add texture to your living room's wall, an old door, rustic shutter or window could be perfect. The more weathered, the better (yes, that's my motto!).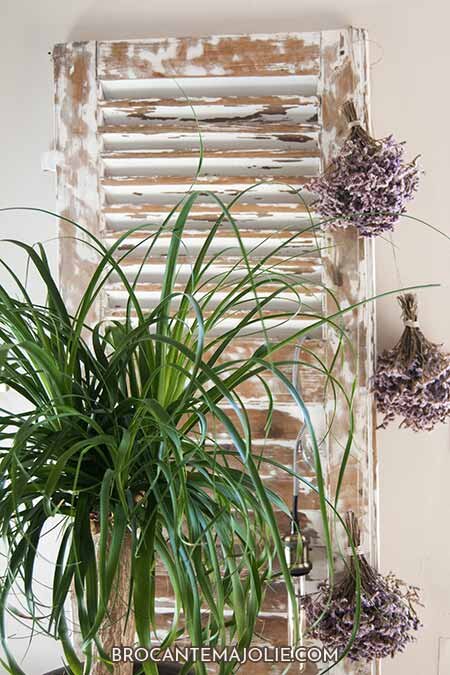 Greenery
36. Plants
A big plant like this one will bring nature in your living room and make the difference.
37. Flowers
"Flowers are like friends; They bring color to your world."
There're no limits when it comes to plants and flowers. Put as many as you want!