For the past several months, I've been on a house-hunting journey, and guess what? 
I keep stumbling upon these adorable kitchens with vintage plates and platters hanging on the walls!
How French is that, right? 🇫🇷
It's such a charming touch, but here's the thing: we need to be careful not to make it look outdated or "ringard."
In this extended guide, I'll share some tips on using vintage plates and platters as unique wall art while keeping it stylish. 
Whether you're new to the French country style or looking for fresh ideas, you'll find inspiration to add a touch of elegance to your home decor.
So, let's dive into the enchanting world of French country decor, where vintage plates become art pieces on your walls, bringing character, history, and a touch of France to your space.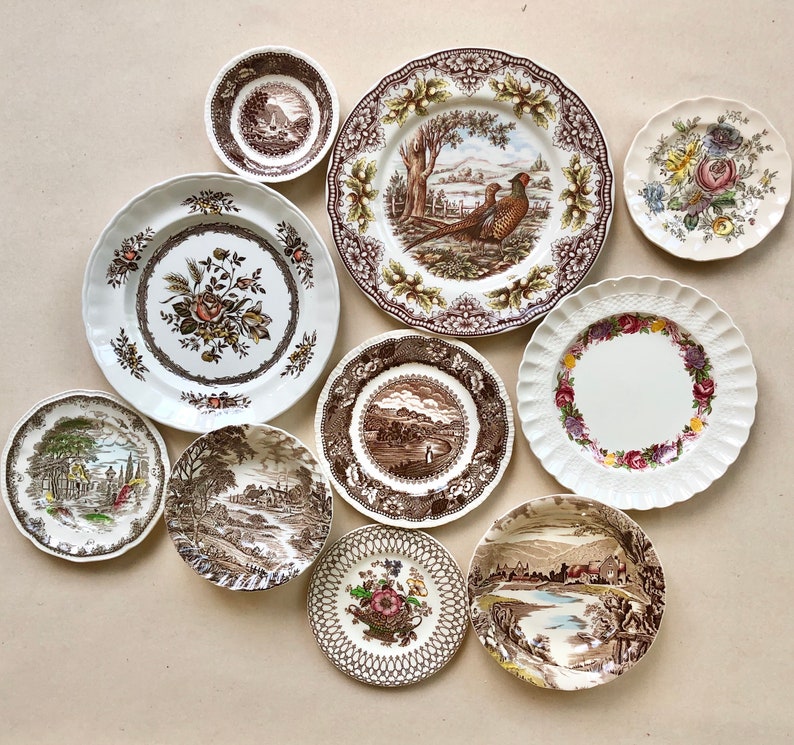 I've included direct paid links in this blog post. Clicking these links may earn me a small commission, which helps keep the blog running, all at no extra cost to you. Rest assured, I only endorse products I personally trust.
Vintage plates in the kitchen
French country style effortlessly blends the old-world charm with modern comforts, and the kitchen is the perfect spot to display these beautiful plates. It's where they truly shine.
Classic French Blue Plates Above the Sink
Picture this: a bunch of mismatched vintage French blue plates, casually hanging out on a wooden shelf right above your kitchen sink.
It's like bringing a slice of that French charm straight into your cooking space.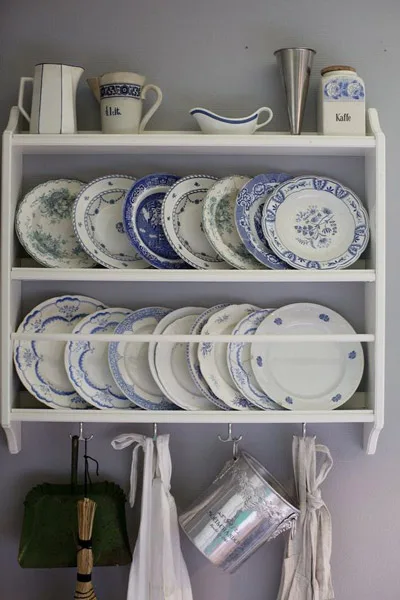 Now, what's cool about these blue plates is their chameleon-like adaptability.
They can vibe with just about any color scheme in your kitchen.
That soft, calming blue? It's like a little zen oasis in the midst of your culinary adventures.
But hey, if you're feeling a different color vibe, that's cool too.
Mix it up with plates in the same color but with all sorts of funky patterns and shapes. Or go wild with plates in two or three different colors.
It's your kitchen canvas to play with!
Vintage plates in the kitchen aren't just about lookin' good – they bring some serious practicality to the table.
In good old French homes, plates didn't just sit there looking pretty.
They were the real deal for serving up family dinners and throwing awesome dinner parties.
Now, if you want to keep that French country vibe alive and kickin', think about using antique plate racks or some reclaimed wooden shelves to show off your plate collection. 
Not only do they play nicely with the vintage style, but they also make your antique plates look like the stars they are.
Oh, and here's the kicker: French country style is all about embracing the quirks and loving those well-worn, aged pieces. So, if your vintage plates rock a little wear and tear, no biggie – that's just part of their charm.
Vintage plates in the dining room
Now that we've had a blast exploring vintage plates in the kitchen, let's shift our focus to the dining area.
This space provides a fantastic canvas to showcase your plates and inject a dose of French country style into your home.
Creating a Harmonious Layout
Before you start hanging up your vintage plates, it's fun to play around with different layouts. 
Lay those platters down on the floor and experiment with various arrangements until you find the one that makes your eyes smile.
This is your chance to adjust the placement of each plate until it feels just right.
Skip the typical symmetrical patterns and embrace some asymmetry. 
Let your creativity run wild because French country style is all about being unique and real, so no need to follow strict design rules.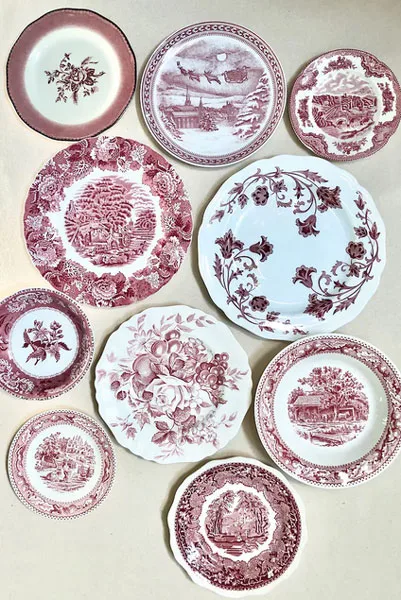 To keep your arrangement feeling unified, consider working with a color theme. 
You could go for earthy tones that vibe with the rustic and charming aspects of French country decor. Or, dive into the classic French blue and white combo for an everlasting touch of elegance.
If you're on the hunt for the perfect shelves to flaunt your vintage plates, you can find some similar ones here.
An eye-catching display of vintage brown plates
imagine an open shelf in your dining area, decked out with a collection of vintage brown platters.
These earthy, rustic tones add warmth and character to your dining space, creating a captivating focal point that tells a story of tradition and timeless beauty.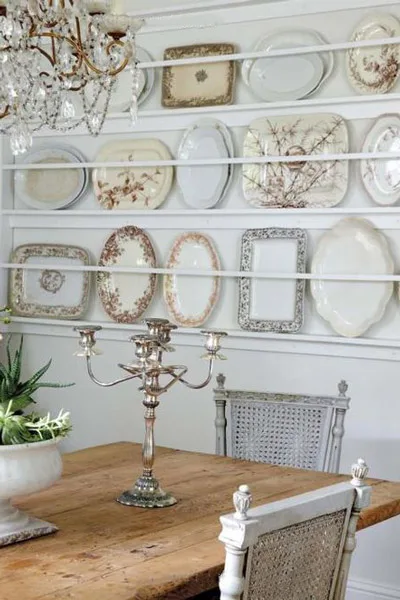 Now, when it comes to making it look extra special, it's all about mixing and matching different designs.
The key here is to balance unity and diversity in your arrangement.
For instance, think about pairing large, ornate platters with smaller, simpler ones. 
It's all about creating a harmonious visual contrast.
This variety of sizes and styles is a hallmark of the French country style, echoing the charming diversity of the countryside.
If you're still searching for the perfect vintage brown platters, look no further than these wonderful shops.
They have an amazing collection of plates ideal for dressing up your walls.
Minimalist Plate Displays
In the world of French country decor, simplicity often speaks volumes.
When it comes to using vintage plates as wall art, going for a minimalist approach can create a stunning impact on your wall.
Stacking Plates for a Simple and Elegant Look
If the idea of a clean and minimalist design appeals to you, think about stacking three or four vintage plates on top of one another. 
This approach celebrates simplicity and allows the inherent beauty of each plate to shine. 
Stacked plates bring a neat, organized look that radiates timeless elegance.
Unconventional Arrangements for a Touch of Authenticity
While symmetrical plate displays are charming, the French country style values uniqueness and authenticity.
So, feel free to embrace asymmetry and have a blast arranging your plates in a creative and unconventional manner. 
This not only adds a personal touch to your decor but also captures the countryside's charm.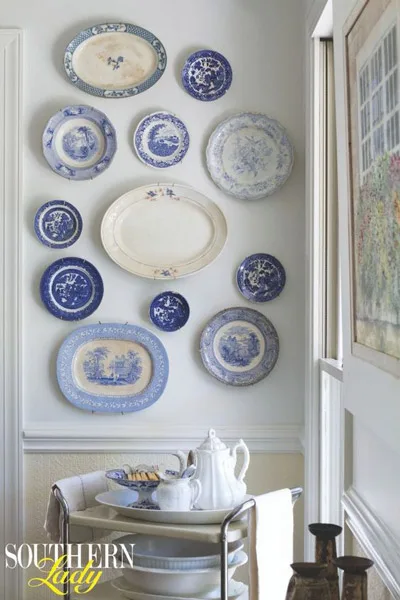 Incorporating Decorative Elements
Asymmetrical plate arrangements also open the door for adding other decorative elements. 
Think about incorporating antique frames, bread boards, vintage mirrors, trays, or botanical prints between your plates to craft a dynamic and eye-catching composition. 
It's all about letting your creativity run wild in your French country decor journey.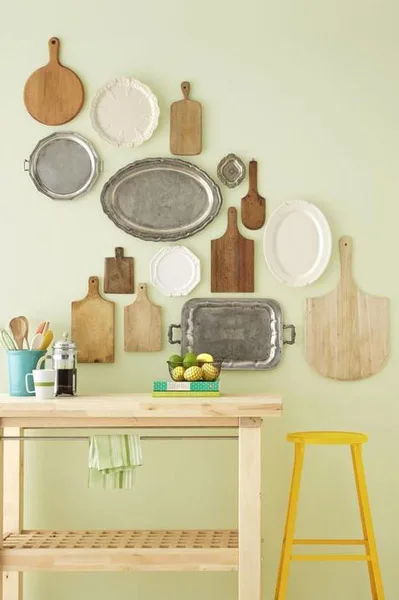 Just a quick tip for the road: when it comes to the bedroom, you might want to consider other decor options. The bedroom is a personal sanctuary, a place of serenity and rest. While we adore the French touch in many areas of our homes, plates may not be the best match in this intimate space. Let's keep the ambiance cozy and focused on relaxation.
Alright, I could go on and on, but you get the idea. 
French country decor is all about adding personality and a touch of history to your space. 
Feel free to mix, match, and arrange your vintage plates in a way that speaks to your heart.