Step into the extraordinary realm of the Loire Valley, where a treasure trove of captivating châteaux awaits your discovery!
With a rich history dating back centuries, these architectural wonders have become emblematic of the region's grandeur and cultural heritage.
So, prepare to be swept away by the beauty and allure of these iconic French landmarks.
I'll unveil the crème de la crème of châteaux, share insider secrets on experiencing a château stay like never before, and guide you through unforgettable tours.
Are you ready to explore the wonders of the châteaux of the Loire Valley?
Let's begin our unforgettable expedition together.
I've included direct affiliate links in this blog post. Clicking these links may earn me a small commission, which helps keep the blog running, all at no extra cost to you. Rest assured, I only endorse products I personally trust.
I. Exploring the Châteaux of the Loire Valley
The Loire Valley, also known as the "Garden of France," has a rich and storied past that dates back centuries.
It was during the Renaissance period that the valley became a hub of artistic and intellectual inspiration, attracting the attention of French nobility and royalty. 
They were drawn to the region's idyllic landscapes, fertile vineyards, and the opportunity to create opulent retreats away from the political intrigues of Paris.
The châteaux of the Loire Valley stand as lasting testaments to this golden age of French history.
From fortified medieval fortresses to elegant Renaissance palaces, each château tells a unique story of power, ambition, love, and artistic expression.
Marvel at the intricately designed facades, the majestic towers that reach for the sky, and the sprawling gardens that evoke a sense of serenity.
Beyond their architectural splendor, the châteaux of the Loire Valley offer a glimpse into the lives of the people who inhabited them.
Imagine the extravagant banquets, the whispered conversations in lavish salons, and the grand celebrations that once filled these halls.
In addition to their historical significance, the châteaux are surrounded by a region that captivates visitors with its natural beauty and cultural heritage.
The Loire Valley is known for its idyllic countryside, where vineyards stretch as far as the eye can see, producing some of the finest wines in the world.
II. The Best Castles in the Loire Valley
While this region is known for its abundance of châteaux, some truly stand out from the rest. 
But you can count on me, I will be your guide, helping you navigate through the multitude of options and highlighting the absolute must-visit castles that should be at the top of your list.
Whether you're a history enthusiast, an architecture aficionado, or simply seeking a dose of enchantment, the best castles in the Loire Valley will leave you spellbound.
Majestic and awe-inspiring, Château de Chambord is a true masterpiece of Renaissance architecture.
Its distinctive French Renaissance style, with its stunning double helix staircase, intricate details, and expansive grounds, will leave you in awe.
Known as the "Ladies' Castle," Château de Chenonceau spans the Cher River with grace and elegance.
Its arches and gallery stretch across the water, creating a breathtaking sight.
Explore its beautifully manicured gardens and imagine the lavish parties that once took place within its walls.
Perched atop a hill overlooking the Loire River, Château de Amboise offers panoramic views of the surrounding countryside.
As the final resting place of Leonardo da Vinci, this castle holds a special place in history.
Step into the past and admire its Gothic and Renaissance architectural elements.
Immerse yourself in the rich history of Château de Blois, which served as the residence of several French kings.
This castle showcases a unique blend of architectural styles, from Gothic to Renaissance.
Explore its opulent rooms, including the magnificent King's Chamber.
Known for its stunning gardens, Château de Villandry is a true horticultural masterpiece. 
Lose yourself in the meticulously designed Renaissance gardens, featuring geometric patterns, vibrant flowers, and serene water features. 
Don't miss the enchanting water garden with its ornate fountains.
6. Château d'Azay-le-rideau
Nestled on an island in the Indre River, Château d'Azay-le-Rideau exudes elegance and charm. 
Its graceful turrets, reflecting in the water, create a picture-perfect scene.
Step inside to discover its beautifully furnished rooms, showcasing the artistry of the Renaissance.
Step into the world of Tintin at Château de Cheverny, said to be the inspiration for Captain Haddock's Marlinspike Hall.
Explore the lavishly furnished rooms and admire the collection of art and tapestries.
Don't miss the daily spectacle of the feeding of the hounds.
Prepare to be enchanted by Château de Ussé, often associated with the tale of Sleeping Beauty.
Its fairytale-like architecture and idyllic setting make it a true gem of the Loire Valley.
Stroll through its charming gardens and discover the history and legends that surround this castle.
These are just a few of the best castles the Loire Valley has to offer!
III. Tips for Visiting the Châteaux of the Loire Valley
To ensure you make the most of your visit to these remarkable castles, here are some tips.
Timing is key when visiting the châteaux of the Loire Valley.
To avoid large crowds and fully immerse yourself in the beauty and tranquility of these historical wonders, consider planning your visit during weekdays or during the shoulder seasons of spring or autumn.
This will allow you to enjoy a more intimate experience and appreciate the intricate details without feeling rushed.
To make your visit even smoother, it is advisable to reserve your tickets in advance.
This can help you bypass long queues, especially during peak tourist seasons.
Many châteaux offer online ticket booking options, allowing you to secure your entry and save valuable time on the day of your visit.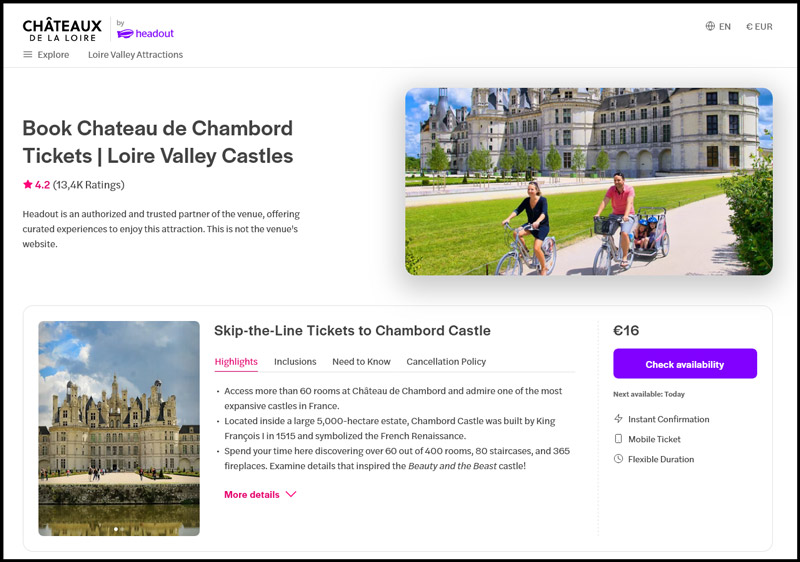 To truly immerse yourself in the grandeur of the Loire Valley, consider dedicating ample time to each château.
Rushing through the sites might leave you yearning for more.
Instead, allocate sufficient time to explore the vast grounds, wander through the lavish halls, and soak up the ambiance of these architectural gems.
Additionally, don't forget to explore the surrounding areas of the châteaux.
The Loire Valley is renowned for its picturesque landscapes, charming villages, and local gastronomy.
Take the opportunity to indulge in delightful regional cuisine, visit local markets, and savor the serene beauty of the countryside.
Lastly, keep a map of the Loire Valley châteaux handy during your journey.
This will help you navigate the region more efficiently and ensure you don't miss any hidden gems along the way.
The map will serve as your guide, leading you from one enchanting château to another.
IV. Loire valley châteaux tours
Guided tours are an excellent way to discover the hidden stories and intricate details of the châteaux of the Loire Valley.
With knowledgeable guides leading the way, you'll gain valuable historical insights and a deeper appreciation for these architectural marvels.
One of the key benefits of guided tours is the access they provide to hidden gems within the châteaux. 
While exploring on your own can be delightful, guided tours often unlock doors that are otherwise closed to the public.
Some tours focus on specific châteaux, allowing you to explore in-depth, while others offer a comprehensive itinerary, providing a taste of several remarkable sites.
While guided tours offer many advantages, it's essential to choose a reputable tour operator.
Look for companies that have experienced guides, positive reviews, and a strong knowledge of the region.
EXEMPLE DE TOURS
If you prefer a more personalized experience, consider hiring a private guide.
This allows you to tailor the tour to your specific interests, spend more time at the sites that captivate you, and delve even deeper into the stories and legends of the Loire Valley châteaux.
EXEMPLE DE TOURS
V. Map of loire valley châteaux
To help you plan and navigate your visit to these magnificent castles, here is a visual map of the Loire Valley.
This handy map will allow you to pinpoint the locations of the châteaux and chart your course through this historic region.
When planning your itinerary, take note of the proximity of the châteaux to one another.
Some are clustered closely together, allowing for easy exploration of multiple sites in a day, while others may require a bit more travel time between visits. Consider your interests, time constraints, and the highlights you wish to experience as you chart your course on the map.
VI. Staying in a Château in the Loire Valley
Can you imagine yourself staying a night in a chateau of the Loire Valley?
Believe it or not, this dream can become a reality.
Imagine waking up in a lavishly adorned room, where every detail has been carefully curated to transport you to a bygone era. The soft morning light dances through the grand windows, casting a gentle glow on the antique furnishings and elegant decor.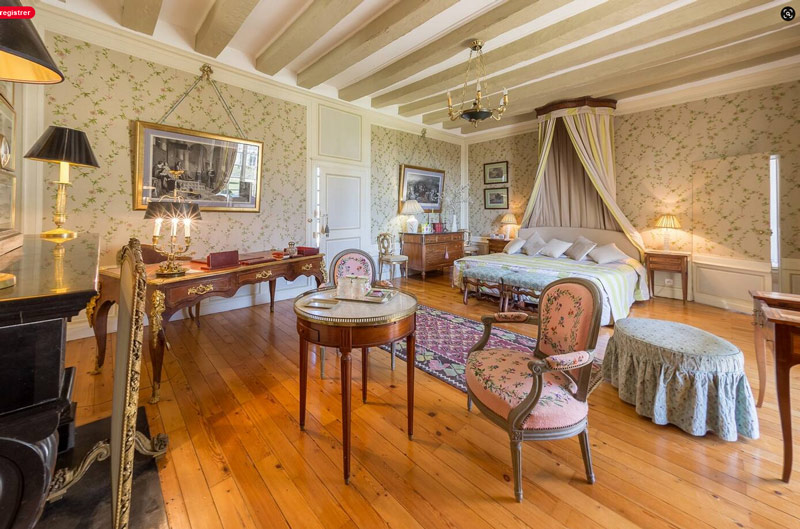 Château Hotels offer a range of amenities and services to enhance your stay.
Unwind in the spa, where skilled therapists will pamper you with indulgent treatments and rejuvenating therapies.
Take a dip in the sparkling swimming pool or engage in outdoor activities such as horseback riding, cycling, or even hot air balloon rides, allowing you to fully immerse yourself in the beauty of the Loire Valley.
Staying in a château in the Loire Valley is an experience like no other.
It allows you to connect with the rich history and cultural heritage of the region while indulging in the finest luxuries.
So, why not let your dreams of living like royalty come true?
Here is a selection of the best chateaux where you can spend the night.
Imagine this – staying in a real French château that's not only super cozy but also perfectly located to explore all those jaw-dropping Loire Valley castles.
Yep, that's Château de Pray for you!
Here's the scoop: fantastic restaurant, a cool outdoor pool, and rooms that'll make you feel like royalty with their canopy beds, elegant chandeliers, and those cute patterned curtains.
Château de Pray is your gateway to a touch of royal living.
Imagine spacious rooms adorned with vibrant colors that still capture that beloved château essence.
Nestled near the most stunning Loire Valley chateaux, including the illustrious Château d'Amboise, your adventure starts right at your doorstep.
Seeking tranquility? This charming château offers more than just elegance.
It's tucked away in a serene location, surrounded by a picturesque forest and a stunning park – perfect for leisurely strolls.
Have you ever envisioned waking up to the breathtaking view of a 30-hectare park right outside your window?
Allow me to introduce you to Château des Arpentis, where dreams become reality.
Picture yourself enjoying a refreshing dip in the expansive pool or relaxing on a charming terrace.
And guess what? The famous Château de Chenonceau is just a stone's throw away, perfect for exploring.
The elegantly decorated rooms exude the enchanting French country style with exposed beams, parquet flooring, and fireplaces.
Imagine stepping into a 5-star haven that embodies the very essence of Renaissance architecture in the heart of the Loire Valley.
This is no ordinary stay; it's a royal experience that transports you back to the era of Louis XIV.
Indulge in the finest of cuisines at the exquisite gastronomic restaurant, where every dish is a masterpiece, and picture yourself lounging by an outdoor pool, heated year-round!
Each moment spent at Château de Louise de La Vallière is an immersion into luxury, with every corner echoing the grandeur of a bygone era.
Chateau Louise de la Vallière
Picture this: stepping into a garden straight out of the Renaissance era, where the past meets modern comfort. At Château de Jallanges, this dream comes true!
Wake up in a room overlooking stunning gardens, a private retreat with all the modern perks.
As soon as you arrive, the château's grand architecture will whisk you away. And for ultimate relaxation, dive into the indoor and outdoor pools – your refreshing getaway is complete.
Chateau de Jallanges also have a charming store filled with local goodies. It's like a piece of the region's magic you can take home.
Looking for an affordable yet charming stay in the Loire Valley? Look no further!
This welcoming château is all about comfort and modern coziness.
With warm and friendly owners, you'll feel like you're staying with friends.
The rooms blend modern design with comfort, giving you the best of both worlds.
And oh, breakfast!
Indulge in a delightful morning spread featuring top-quality French products. From the first sip of coffee to the last bite of croissant, it's a taste of authentic France.
Chateau de Saint Ouen les Vignes
VII. Château Loire Valley Hotels
If staying in a luxurious château hotel for the entire week isn't within your budget, fret not!
The Loire Valley offers a range of accommodations that will suit your needs.
Whether you're looking for a grand experience or a cozy retreat, there's something for everyone.
I will guide you through a selection of hotels that are not only ideally located for visiting the enchanting châteaux but also offer excellent value for your money.
So let's find the ideal hotel for your unforgettable stay.
This charming hotel boasts rooms designed in a shabby chic and French country style, creating an ambiance that's perfect for a romantic escape.
Awaken to the quintessential French experience with a breakfast that mirrors the charming countryside. Savor croissants and pain au chocolat on red gingham tablecloths, all set on a grand farmhouse table.
Enjoy the budget-friendly prices, so you can experience the magic of the Loire Valley without breaking the bank.
This bed and breakfast offers a simple yet charming ambiance that invites you to unwind.
The generously sized rooms come with a terrace, providing a perfect spot to soak in the tranquility of the surroundings.
You can also enjoy a refreshing swim in the spacious pool, surrounded by lush trees.
The owners are delightful hosts, always available to share insights about the Loire Valley and help make your stay memorable.
Immerse yourself in modern comfort with tastefully decorated rooms offering garden views. Unwind by the spacious pool, soaking up the peaceful atmosphere that surrounds you.
Warmth and hospitality define this haven, with owners who ensure you feel right at home.
And the cherry on top? All of this comes at an affordable rate that fits your budget.
Nestled just a 5-minute walk from the iconic Château d'Amboise, this hotel offers both convenience and style.
The rooms are a harmonious blend of modern furnishings and antique touches, complete with spacious bathrooms featuring standalone bathtubs. The friendly staff adds a welcoming touch to your stay.
Last but not least: you will start your day with a satisfying breakfast that will keep you energized for your adventures.
A cozy getaway that's a real gem.
Tucked away in the picturesque countryside, this 18th-century treasure brings together nature and comfort like no other.
The rooms are a perfect blend of stylish and comfy, and each one comes with a terrace that overlooks a heated pool – talk about a relaxing view!
Plus, you've got an inviting restaurant on-site for those delightful meals.
A charming B&B that's a feast for the eyes both inside and out.
Picture a stunning stone building with blue doors and windows that's as inviting as it gets.
And once you step inside, the magic continues with French country-style designed rooms. The raw materials like stones and wood create a warm atmosphere that feels like home. Oh, did I mention it's built within a cave?
And wait for it, the breakfast here is a legend – guests can't stop raving about it.
A gem of a B&B that's all about offering you the best experience: a beautiful building with a pool that's ready to whisk away your worries.
And that's not all – they've got spa facilities, a game room, and even bicycles for you to explore.
The food is absolutely delicious, the garden is a tranquil haven.
Rooms here are modern and comfy, ensuring you a great night's sleep.
And here's the icing on the cake: La Blanchetière's location makes visiting several chateaux a breeze.
As we reach the end of our exploration of the enchanting châteaux of the Loire Valley, I hope this guide has sparked your curiosity and piqued your interest in visiting these wonderful landmarks.
Did our journey inspire you to plan a trip to this French region?
I would love to hear your thoughts in the comments below!