If you're a fan of French vintage and the unique ambiance of brocantes, then the flea markets of Paris are a must-visit attraction during your stay in the City of Lights.
But what exactly are flea markets?
In French, they are known as "marchés aux puces," and they are outdoor markets where you can find a wide array of second-hand goods, antiques, and vintage items.
Visualize yourself strolling through bustling stalls filled with charming furniture, retro fashion pieces, antique jewelry, and quirky collectibles.
The flea markets of Paris offer a glimpse into the city's past, where you can uncover hidden gems and stories behind each vintage item. 
From old Paris flea market photos to the best Paris flea market recommendations, I'll guide you through the exciting world of these iconic markets.
So, ready to explore?
I. Exploring the Exceptional Flea Markets of Paris
In Paris, flea market world, there is an abundance of vintage and antique treasures awaiting your discovery.
These remarkable markets are a haven for collectors and enthusiasts alike, offering a vast array of unique items.
Whether you're searching for a vintage fashion piece, a rare piece of furniture, or a one-of-a-kind antique jewelry, you're almost guaranteed to find what you desire—and even uncover something unexpected!
Here's what you can find at the flea markets of Paris:
All kind of furniture: French château chairs, Provincial wrought iton bench, old farmhouse tables…
Copper cookware: look out for copper from the famous Dehillerin brand
Antique jewelry with intricate craftsmanship and timeless beauty
Collectibles: Browse through a diverse collection of items from different eras
Vintage clothing: from lesser-known brands to renowned names like Dior, Givenchy, and Hermès.
Porcelain or ceramic dishware with renowned designs.
Silverware including cutlery and decorative items
Old toys that would look great in a kids' bedroom
Paintings and artwork
And so much more!
Alright, but where should I go exactly?
Let me share with you some popular flea markets in Paris:
1. Marché aux puces de la porte de vanves
This bustling market, located in the charming Porte de Vanves neighborhood, is the second-largest flea market in Paris. With around 380 stands, it attracts tourists, locals, and even celebrities.
You'll discover a treasure trove of 18th and 19th-century furniture, Art Deco objects, glassware, silverware, porcelain, vintage jewelry, mirrors, books, paintings, crafts, lace lingerie, designer clothing, and even coins, medals, and stamps.
The joyful and relaxed atmosphere here is welcoming, and the prices are affordable.
2. Marché aux puces de Montreuil
Established in 1860, this market is a hidden gem with a distinct character.
It may not be as touristy as other flea markets in Paris, but it offers an exciting array of second-hand goods. Whether you're hunting for vintage clothing, unique accessories, or ancient books, this market has it all.
It's a treasure trove waiting to be explored.
3. Marché aux puces de Saint-Ouen
This renowned flea market is a treasure trove of vintage delights, spanning over several distinct markets.
It's the largest flea market in Paris and an absolute must-visit.
In fact, I've decided to dedicate an entire section to it, which you'll find just below.
II. The Famous St. Ouen Flea Market: Unveiling Vintage Treasures
Let's dive into the crown jewel of Parisian flea markets, the famous St. Ouen Flea Market.
St. Ouen is a treasure trove of hidden gems, offering a wide array of unique and rare finds that will transport you to the bygone eras of French history.
As you explore the market, be sure to visit these must-visit sections and areas:
Step into the past at Vernaison Market, the original market established in 1920.
This authentic venue has preserved the spirit of traditional flea markets.
It offers a wide range of specialized stands, including vintage furniture, antique toys, glassware, and fashion. Immerse yourself in the nostalgia of bygone eras.
Known as the "Faubourg Saint-Honoré of the Flea Markets," Biron Market showcases the finest selection of high-end objects.
With 220 antique dealers and art merchants, you'll discover exquisite jewelry, furniture, paintings, mirrors, and lighting pieces.
As one of the largest sections in the Saint-Ouen Flea Market, Dauphine Market features 180 merchants spread across two levels.
On the ground floor, you'll encounter classical antiques from the 18th and 19th centuries, as well as pieces from the 20th century, such as Art Deco and industrial art.
Upstairs, a more eclectic atmosphere awaits, offering vintage clothing, vinyl records, ancient books, and engravings.
The distinctive feature of Entrepôt Market is its collection of "oversized" items.
Here, you'll find voluminous pieces like stairs, libraries, woodwork, and castle grilles.
Explore this market to discover unique and statement-making treasures.
III. Mastering the Art of Flea Market Shopping in Paris
Ready to navigate the enchanting world of Parisian flea markets like a pro?
Here are some insider tips to help you bargain, negotiate, and score the best deals, ensuring a successful vintage shopping experience.
1. Embrace the art of negotiation
Bargaining is an integral part of the flea market culture in Paris.
Don't be afraid to negotiate the price with the vendors, but do so respectfully and with a smile.
Remember, it's all part of the experience.
2. Bring cash and small bills
Many vendors at flea markets prefer cash transactions, so be sure to bring enough euros with you.
Additionally, having small bills handy will make it easier to negotiate and pay for smaller items.
3. Dress comfortably and wear practical shoes
Exploring the flea markets can involve a lot of walking, so dress in comfortable attire and wear shoes that can handle the cobblestone streets.
With countless stalls and a variety of unique items, it's easy to get overwhelmed.
Carry a tote bag or backpack to store your purchases.
5. Arrive early for the best selection
If you're looking for specific items or hoping to snag the best deals, arriving early is key.
Beat the crowds and have first dibs on the vintage treasures that catch your eye.
6. Take breaks and refuel
Flea market shopping can be exhilarating but also exhausting.
Take breaks at quaint cafes or food stalls within the market to recharge and savor the authentic Parisian atmosphere.
Remember, the joy of flea market shopping lies not only in the treasures you find but also in the experience itself. Soak up the lively ambiance, strike up conversations with fellow vintage enthusiasts, and revel in the charm of Paris's flea markets.
IV. Navigating the Treasure Hunt: Paris Flea Market Map
When it comes to exploring the vast world of Paris flea markets, having a map in hand is essential.
The flea markets of Paris are sprawling and labyrinthine, with different sections and areas to explore.
A map allows you to navigate through the maze-like alleys and helps you find specific sections or vendors that pique your interest. It ensures you don't miss out on any hidden gems and makes your experience more efficient.
There are several resources available to obtain a Paris flea market map.
One popular option is to visit the official website of each flea market, where you can often find downloadable maps or information on where to pick up physical copies.
Additionally, tourist information centers or local vintage boutiques in Paris may provide maps or brochures that highlight the flea market locations.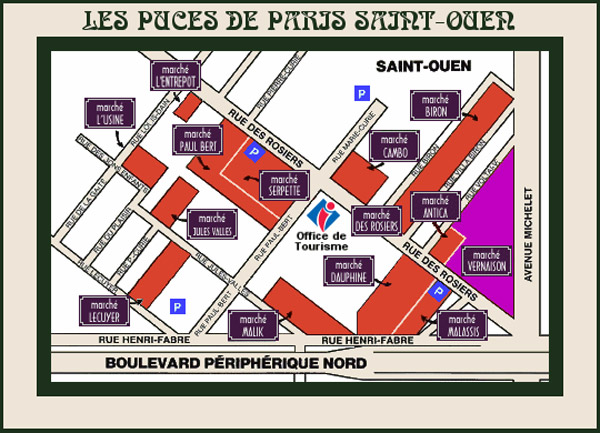 Once you have your flea market map, it's time to plan your route.
Take a moment to study the map and identify the sections or areas that align with your interests. Note the opening days and hours of each market, as they may vary. Planning your route in advance will help you make the most of your time and ensure you visit the markets that cater to your preferred style.
Of course, leave room for spontaneity and allow yourself to wander through the alleys, following your curiosity and intuition!
V. Enhancing Your Experience: Vintage Flea Market Tours in Paris
If you don't want to bother with looking at a map to decide which market to visit, or if you're afraid of getting lost in the maze of alleys, why not consider a flea market tour with a guide?
A vintage flea market tour allows you to delve deeper into the world of Parisian flea markets with the guidance of knowledgeable experts. These guides are passionate about vintage treasures and can offer insights into the history, stories, and craftsmanship behind the items you encounter.
Also, guides often have established relationships with vendors, which can lead to special discounts or access to hidden gems. They can also provide valuable tips on bargaining, identifying authentic pieces, and navigating the markets like a pro.
There are several reputable tour operators that offer vintage flea market tours in Paris.
Lucien, known for its immersive experiences, will take you on a journey off the beaten path, unveiling hidden treasures at the Paris-Saint-Ouen flea market. Their private tour promises an unforgettable adventure filled with remarkable discoveries.
Another fantastic option is The Real Emily in Paris, a tour that captures the essence of the brocante spirit.
VI. Where to Stay for Paris Flea Market Shopping
I've selected a range of hotels and apartments to rent that not only boast top-notch ratings but also offer a prime location for your flea market adventures.
Situated in the vibrant neighborhood of Montmartre, these accommodations ensure you're just steps away from the bustling flea markets and a short stroll from renowned attractions like:
The awe-inspiring Sacré-Cœur Basilica
The artistic haven of Montmartre itself
The lively Moulin Rouge
They are all within a 30-minute walk or a quick metro ride.
So, settle into your comfortable lodgings and get ready to uncover the treasures of both the Puces de Saint-Ouen and the enchanting city of Paris.
VII. Capturing the Essence: Old Paris Flea Market Photos
Flea markets have been a part of Parisian culture for centuries.
The first flea markets in Paris were established in the 18th century, where they were known as "marchés aux puces," or "markets of fleas."
These markets were held in the open air, and vendors sold second-hand goods, including furniture, clothing, and household items.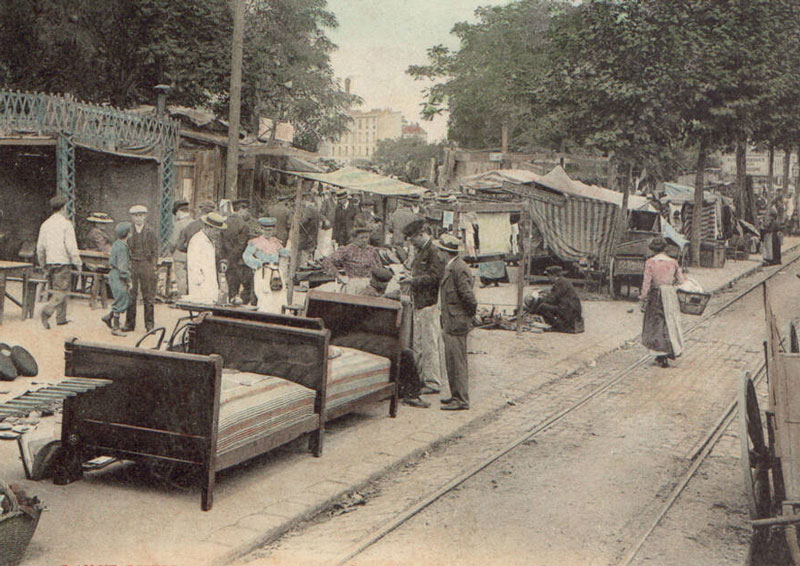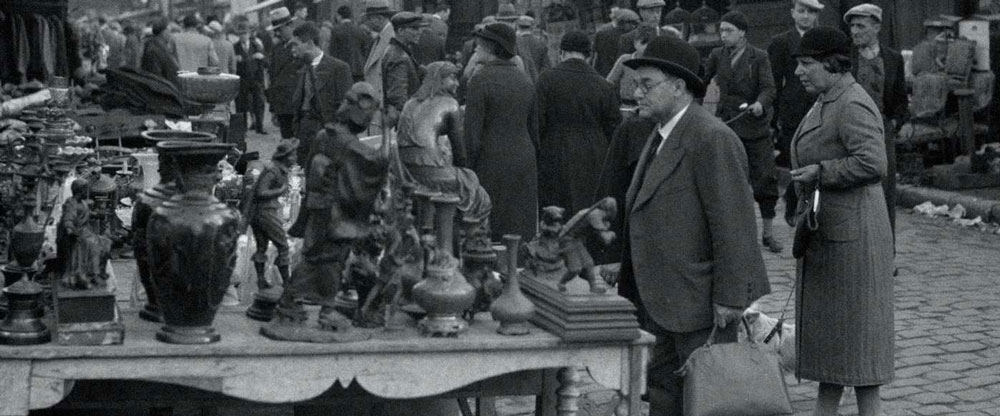 The name "marché aux puces" was derived from the fact that many of the items sold were infested with fleas, which were common in the unsanitary conditions of the time.
Over time, the flea markets of Paris became more organized and specialized.In the 19th century, the Saint-Ouen market was established, and it quickly became the largest and most popular flea market in the city.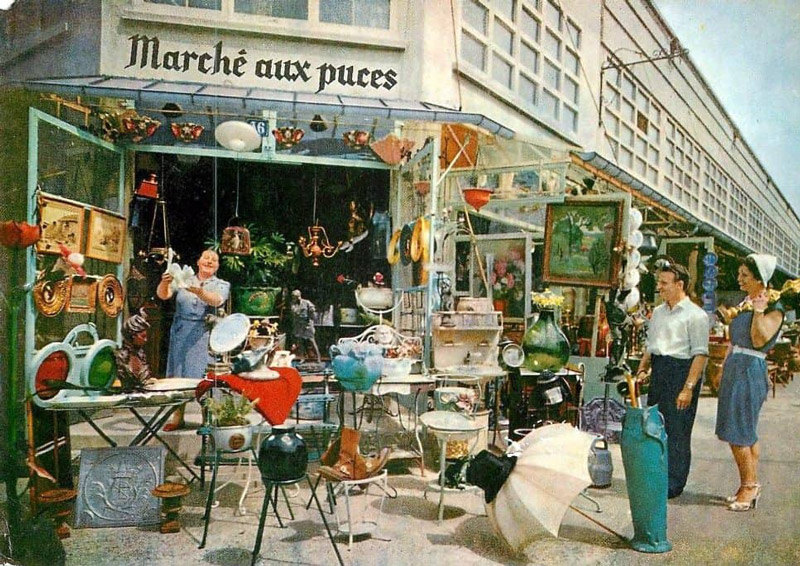 Today, the market covers more than 17 acres and is home to over 2,500 dealers.
To wrap it up, the flea markets of Paris offer a captivating journey through time, style, and cherished treasures.
From the bustling stalls filled with vintage delights to the hidden gems waiting to be discovered, these markets hold an irresistible allure for vintage enthusiasts.
If a trip to Paris isn't in your plans, worry not!
If you're unable to indulge in t
he wonders of Parisian flea markets, why not explore my online vintage boutique
? I offer an array of
French country decor and unique finds
that capture the essence of flea market treasures.