The French Provincial style has always been very popular, in France and abroad.
But do you really know what this style is?
I am often asked this kind of question:
How can you tell if furniture is French provincial?

What is and what is not considered French provincial?
Let's see.
What is French Provincial?
The three words immediately come to mind when discussing the French provincial style are elegance, simplicity, and romanticism.
But how was this style born?
The Provincial style finds its origin in the south of France, around the 16th and 17th centuries. The peasants wanted to have furniture that was similar to kings. Even without the same budget, they worked the wood to create sumptuous and elegant furniture. They have worked the edges of each piece of furniture.
So this look reflects the simplicity of peasant life, seasoned with French taste and complemented with warm southern colors.
And to create a French Provincial home, choosing the right furniture, decorative objects, and colors is important.
French Provincial Furniture
In Provence, you won't find any shiny finish on furniture surfaces.
Better bet on furniture made of natural and/or old materials:
solid wood: prefer old and authentic furniture

leather or fabric, especially for chairs or armchairs

and even steel or cast iron for certain pieces of furniture
Knowing how to identify French Provincial furniture can be tricky without any experience.
That's why I gathered for you the best French provincial furniture and decor I could find here.
French Provincial decor
French Provincial decor was intended to be a functional part of the home, and because of that, you'll usually find sturdy and high-quality pieces, like:
pottery and ceramics in ocher, green, or terracotta tones

wicker or rattan baskets

fabrics with Provençal motifs

rounded edge mirrors

paintings representing the French countryside

aromatic plants and herbs…
Once again, you'll find the best French provincial decor to shop right here.
French provincial colors
Properly chosen, colors can create the atmosphere of a warm Provence in your home: the sun, the singing accent, and the landscapes of the South of France.
But which ones to choose?
The base colors for the Provincial style include light and neutral pastel tones like beige, cream, sand, gray, taupe, etc.
So forget the heavy and dark shades!
You can also add slightly brighter colors like olive, lavender, ocher, muted greens, and blues…
These shades are perfect for textiles, decorative elements, or furniture painting.
For the rest, it's usually best to leave the walls, floor, and ceilings neutral.
There are also many prints, ranging from classic floral and/or striped patterns to typical Provencal ones.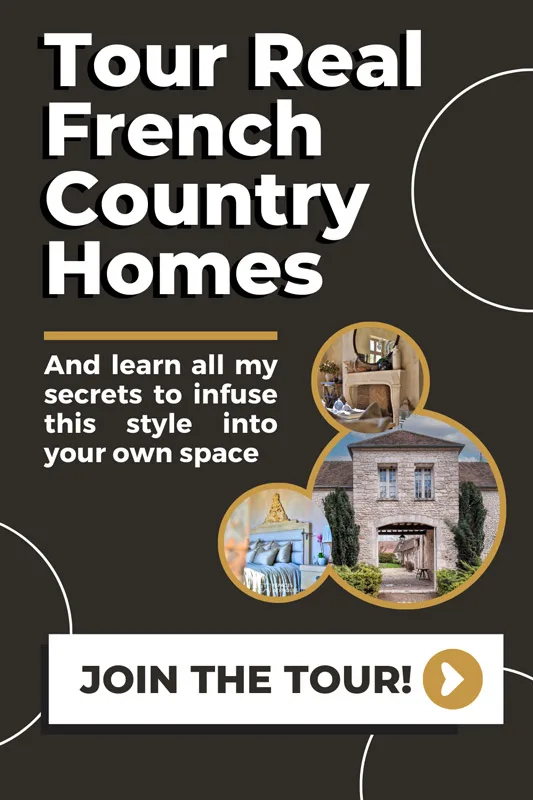 French provincial house
You may also want to try the Provincial look outdoors.
For this, it's important to take inspiration directly from the facades of houses in Provence.
Thus, we can see that the houses and buildings often have ochre-colored walls painted with lime, or stone walls, colored shutters, and wide staircases with wrought iron balustrades.
Also, as the weather is very sunny in this region of France, French Provincial houses often have one or more terraces decorated with comfortable wicker or wrought iron furniture. Ideal for enjoying a cup of freshly brewed coffee and two croissants in the early morning!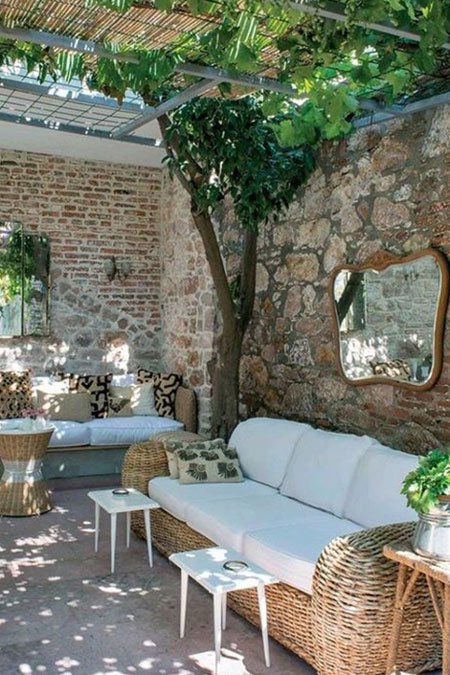 French provincial kitchen
The kitchen is THE place where we meet for moments of sharing.
Furnishing a Provincial kitchen means choosing a traditional, refined and timeless decor.
So look for noble materials like wood, stone, marble, wrought iron…
The wooden sideboards and patinated dressers will bring a touch of authenticity to the room.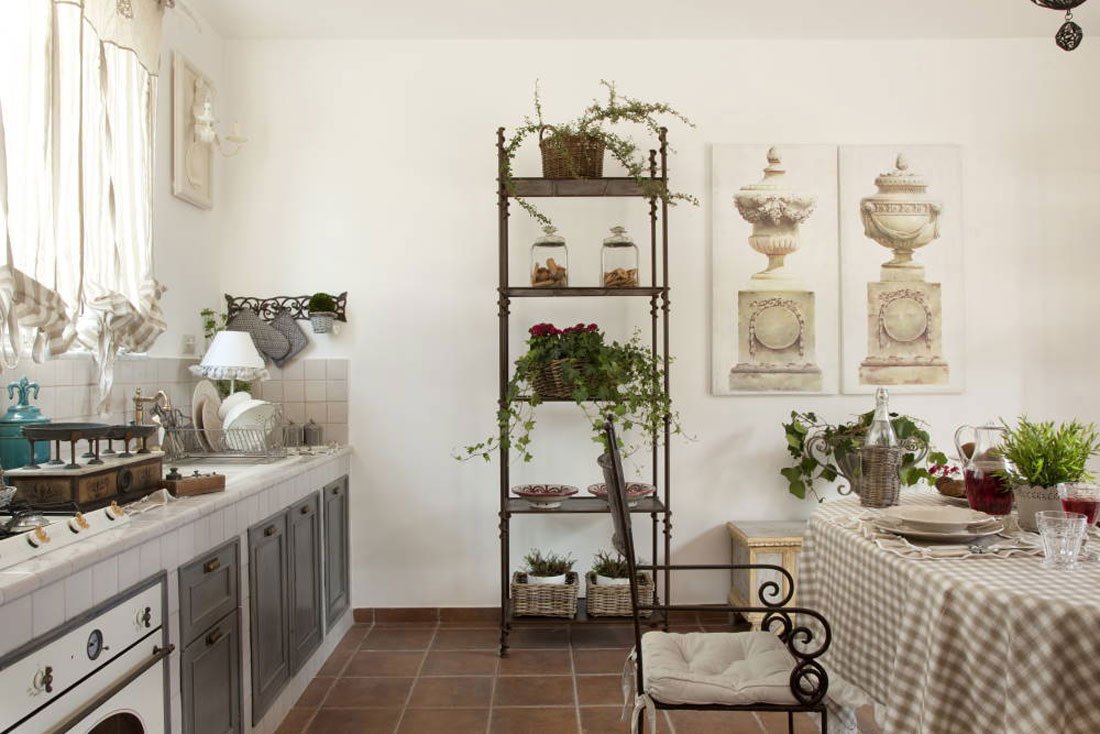 In general, you'll find moldings on all Provincial kitchen furniture.
It's also common for the low kitchen units to have no doors, generally replaced by simple curtains.
And to perfect the traditional style, add vintage elements such as copper or ceramic accessories and pottery.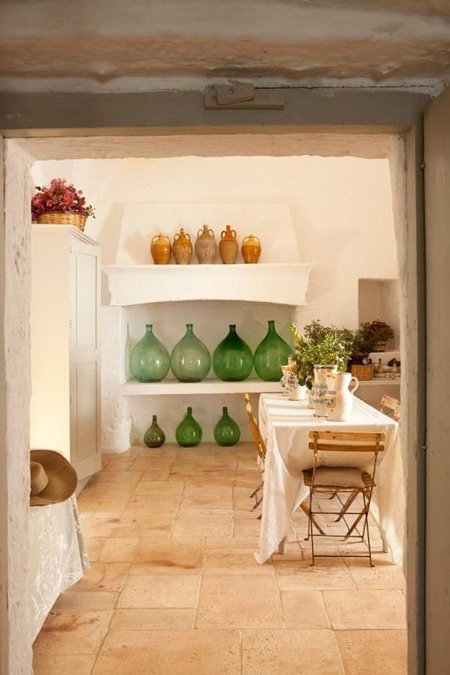 French provincial bedroom
As with the other rooms in the house, the idea is to introduce an atmosphere of simplicity and charm.
So avoid too luxurious.
The main attribute of a French Provincial bedroom is its bed. Its shape should be quite simple, but at the same time, a carved ornament on a wooden headboard will not be out of place here. You can also opt for a wrought iron bed.
Don't forget to add a bit of charm with fabrics: a small canopy, embroidered pillowcases, linen bedding, boutis and lace inserts for even more lightness.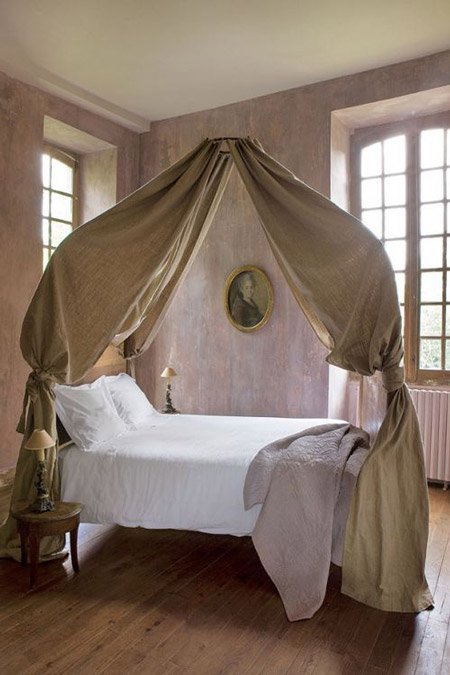 Another indispensable attribute of a bedroom is one or more bedside tables, as well as an armoire.
The aesthetics of Provincial-style furniture is provided by carved, delicately curved elements, made of wood, wicker, or wrought iron.
But at the same time, nothing is deliberately luxurious, delicately openwork, with perfect proportions.
Curtains should be long and made from natural fabrics. Coarse linen or calico curtains are perfect.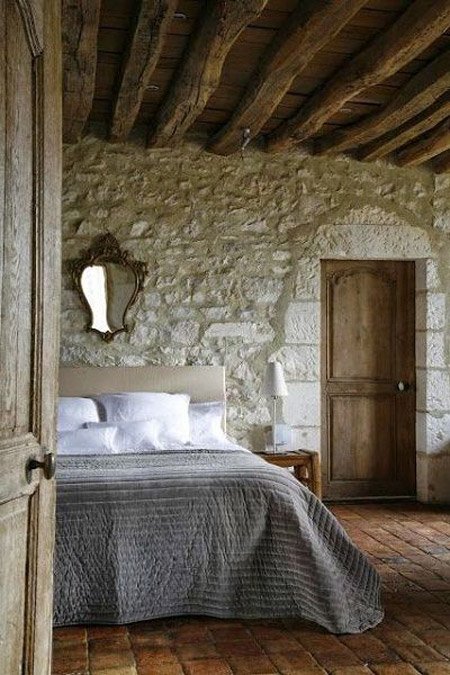 And if you're into French Country style, I've got an exciting adventure lined up just for you!
How about taking a virtual tour of three stunning real French Country homes?
I'll be right there with you, sharing tips on how to infuse this charming style into your own space.
Ready to join the tour? Enter your first name and email address just below.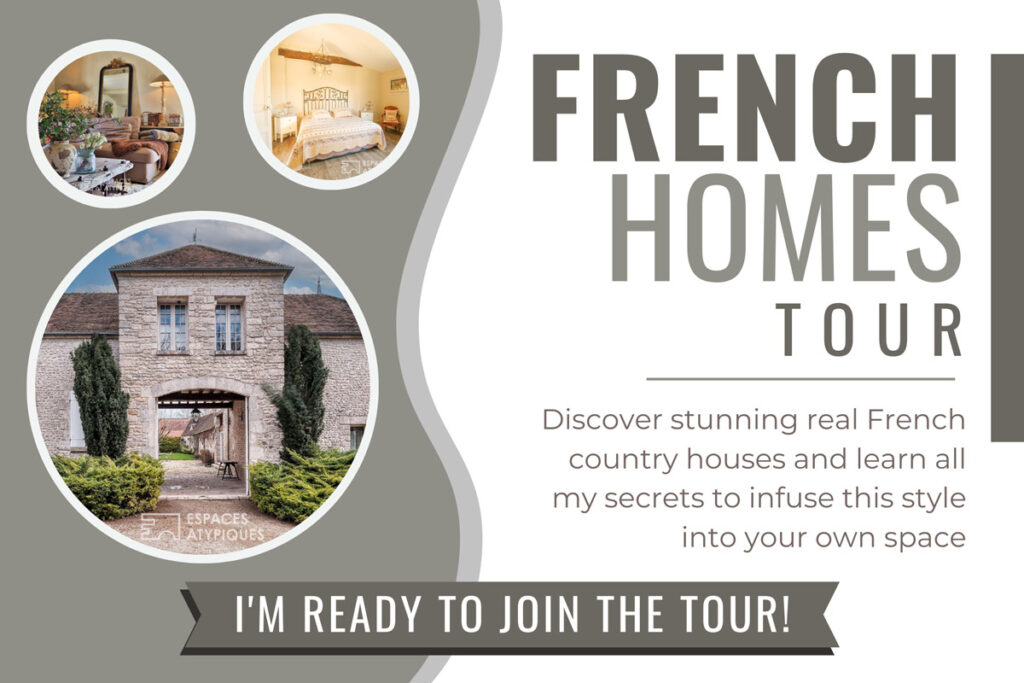 FAQ
Is French provincial the same as French Country?
The French Provincial look is part of the French country style. If you want to add some Provincial flair to your home, you need to know the basics of French country first as they share a lot of similarities. Then you'll just have to bring some French Provincial furniture, terracotta pottery, South of France paintings and a bit of feminine touch et voilà!
How can you tell if furniture is French provincial?
French Provincial furniture combines carvings, curved details, and gentle tones to give each piece an elegant silhouette. The pieces are mainly made of wood, raw or painted, and other natural materials like wrought iron or linen. They often show graceful details and ornaments.
The most recognizable feature is the classic cabriole leg, which forms an S shape, often ending with an ornamental foot.