Paris is said to be the city of love.
In any case, it's one of the most touristic cities in the world and there is a good reason for that.
Paris is famous for its culture, historical places, gastronomy, monuments…
There are so many places and things to see that it's difficult to know which ones to choose if you're visiting the city for only a few days.
But no worries, I gathered for you the top sights to see in Paris France.
Let's discover them!
Monuments & Architecture
1. The Pantheon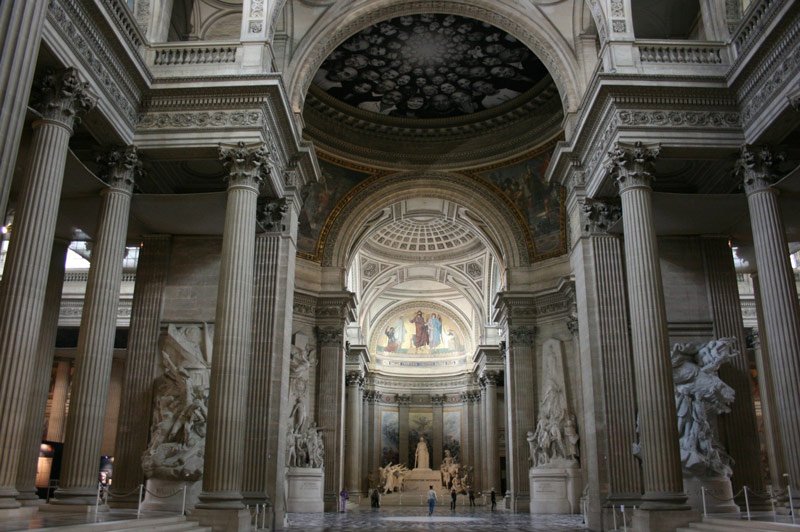 The Pantheon is one of the must-see places in Paris. The exterior architecture and its grand interior really deserve to be seen.
The Pantheon is above all a church in the neo-classical style but since the French Revolution, its main vocation is to honor great figures who have marked the history of France.
The visit to the Pantheon could be divided into two parts: the interior of the building, absolutely grandiose, both for its size and for its decoration, and on the other hand, the crypt, where the tombs of the most famous people are located. such as Voltaire, Rousseau, Victor Hugo, Marie Curie, Louis Braille, Jean Monnet or Alexandre Dumas.
Online reservation beforehand is highly recommended while visiting the Pantheon.
Openings:
April – May: 10:00 AM- 6:30 PM

June – September: 10:45 AM- 7:00 PM

October – March: 10:00 AM- 6:00 PM
2. The Opéra Garnier
The Opéra Garnier is also one of the top things to see in Paris.
Classified as a historical monument, you'll be amazed by its magnificent facade, its grand staircase, and of course its majestic auditorium with its huge canvas on the ceiling painted by Chagall.
Openings:
Open every day from 10 am to 4.30 pm.
Closed on January 1st and May 1st.
3. The Eiffel Tower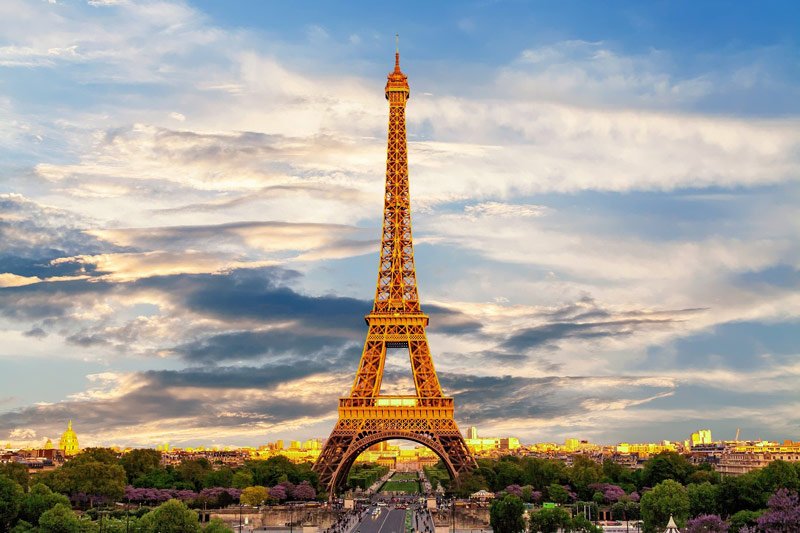 The Eiffel Tower has established itself as the most emblematic monument of Paris.
Since 1889 it watches over the capital and its inhabitants.
A breathtaking view of Paris awaits you whether you are on the 1st or top floor!
Today, the Eiffel tower is certainly most beautiful at night with all the lights.
Heavily visited, expect to queue to get to the top unless you buy « skip the line tickets ».
Open every day from 9.30 am to 10.45 pm.
4. L'Arc de Triomphe
At the entrance to the Champs-Elysées, the Arc de Triomphe opens its doors to all visitors who love beautiful views and altitude.
You'll have to climb the 284 steps of the arch to admire a breathtaking 360-degree view of the city (or you can take the elevator).
It's also a great place to observe the driving techniques of Parisians!
Openings:
From April to September: open every day from 10 am to 11 pm

From October to March: open every day from 10 am to 10:30 pm
5. Le Pont Alexandre 3
The Alexandre III bridge is one of the most legendary bridges in Paris, due to its architecture and its view of the Eiffel Tower.
It's decorated with 32 bronze candelabras, 4 pillars surmounted by gilded fames, rich cast iron decoration in the Louis XIV style and beautiful lion statues at each end.
A must see place of Paris, to be seen day and night!
6. La Place des Vosges
La « Place des Vosges » is another great historical place in Paris.
It's one of the oldest in Paris, and also one of the most beautiful.
You can stroll there and admire the gorgeous red brick facades.
It's also the ideal starting point for a walk in the « Marais », one of the most charming historic neighborhoods of the capital, for the heritage treasures it houses and the atmosphere it exudes.
7. Le Grand Palais
Built in 1897, the Grand Palais is best known for its glass roof, covering the entire ceiling.
Today, the establishment mainly hosts the most popular exhibitions in the city, as well as certain key events such as Fashion Week.
8. Les Invalides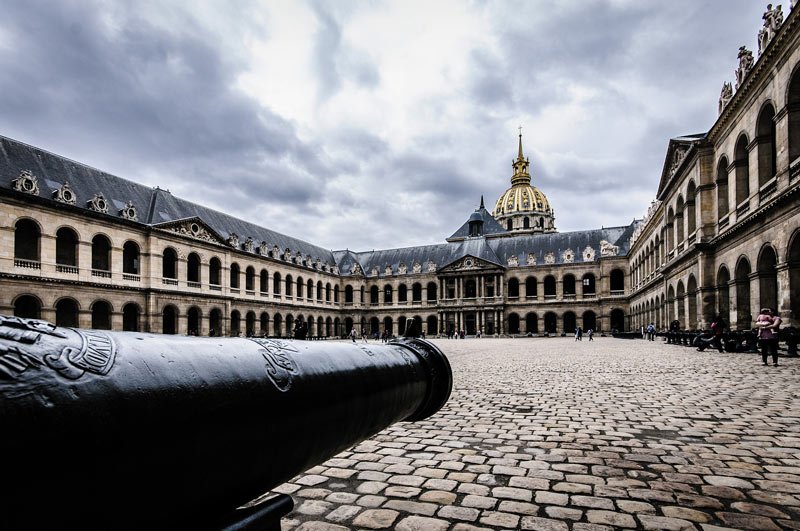 Originally built to house the invalids of the army, the hotel now welcomes, in addition, invalids of war.
It is one of the most important masterpieces of French classical architecture.
So think about visiting it.
Today, it includes museums and monuments, but also a hospital and a retirement home for war veterans. There is in particular the Army Museum, a must-have if you like army stuff.
Open every day from 10 a.m.–6 p.m. from April to October and 10 a.m.–5 p.m. from November to March.
9. Père Lachaise cemetery
The Père-Lachaise cemetery is the largest cemetery in Paris and covers 43 hectares (about 105 ac).
It's a unique place.
The Père-Lachaise is the cemetery of celebrities. Almost every talented and dead Frenchman that can be named is buried there: from Balzac to Chopin to Oscar Wilde.
It's really a place to add to your list of things to do if you come to visit Paris.
Free Entrance.
Openings:
November to mid-March from 8 am to 5.30 pm Monday to Friday, from 8.30 am to 5.30 pm on Saturday, and from 9 am to5.30 pm on Sundays and public holidays.

Mid-March to October: 8 am to 6 pm Monday to Friday, 8.30 am to 6 pm on Saturday and 9 am to 6 pm on Sundays and public holidays.
Holy places
10. Notre-Dame de Paris
Notre-Dame de Paris Cathedral is one of the capital's must-sees. A place of worship as much as a monument.
Napoleon was crowned here, and many kings and queens have exchanged their wedding vows at its altar. Before the terrible fire that occurred on April 15, 2019, you could come and discover the incredible interior of the Gothic cathedral, but also it's exterior with its superb architectural details and the unforgettable view of Paris, between a few gargoyles.
Today, guided tours allow you to follow how Notre-Dame will be rebuilt and why it must be protected.
11. The Sacré coeur
The second most visited religious monument, the basilica built in the 19th century is a delight for the eyes. She is on the heights of the city.
Also, consider discovering the Montmartre neighborhood, which surrounds the basilica: an authentic village in the heart of Paris.
The Basilica is open every day from 6.30 am to 10.30 pm. The entrance is free.
The access to the Dome is outside the Basilica on the left.
Warning: there are 300 steps to climb and no lift! but the panoramic view of Paris is stunning.
Opening hours: every day from 10.30 am to 7.00 pm as of March 1st.
12. The Sainte Chapelle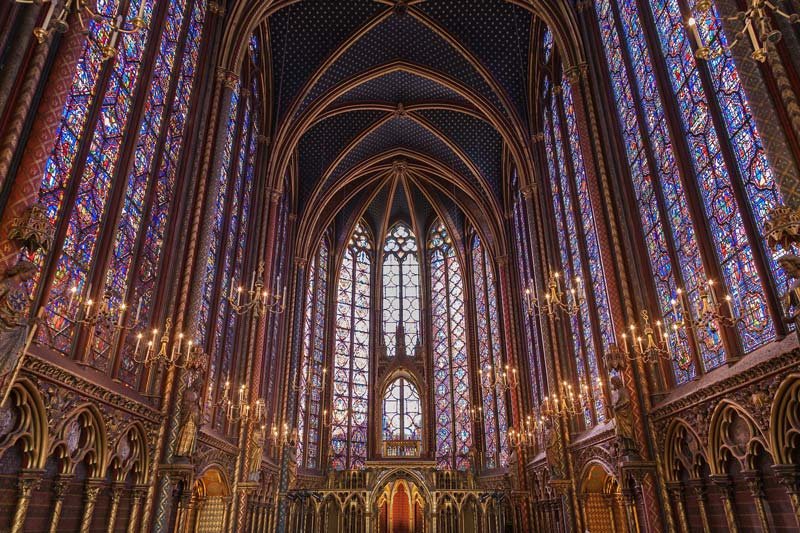 The Sainte Chapelle is a Gothic-style church that was built in the 13th century in 7 short years (a record time!) to house the relics of the Passion of Christ.
You can see stained glass windows representing 1,113 scenes relating the history of humanity, from Genesis to the Resurrection of Christ.
Free entry with the Paris Pass and Paris Museum Pass.
Openings:
January – March: 9 am to 5 pm
April – September: 9 am to 7 pm
October – December: 9 am to 5 pm
13. Eglise de la Madeleine
The Church of the Madeleine is a paradoxical monument. All Parisians know it, but very few have visited it. Because this church doesn't have much of a church.
Its appearance, atypical for a religious building, has the shape of a Greek temple without a cross or bell tower.
Napoleon's wish was to make it a pantheon to the glory of his armies.
Inside, there are a magnificent great organ, sculptures, paintings, and a famous mosaic in the neo-Byzantine style.
Throughout the year, day and night, the church programs high-quality classical music concerts.
Free entry.
Open every day from 9.30am to 7pm.
Museums
14. Louvre museum
The Louvre Museum, a must-see museum in the capital, promotes French and European culture through the permanent exhibition of numerous masterpieces of art, such as the Mona Lisa, the Venus de Milo, and the Victory of Samothrace.
The Louvre is also a monument since the pyramid which is now an integral part of the building delights tourists who take their pictures in front of it.
Beyond these essentials, the best thing to do is to know where you are going, and what you want to see first.
But don't be afraid to get lost, because you might stumble upon something memorable!
Anyway, you'll have to come back more than once to know all the secrets of the Louvre Museum.
Open every day except tuesday, from 9 am to 6 pm.
15. Musée d'Orsay
This building is a beautiful old train station which is also worth a visit.
The Orsay museum exhibits the richest collection of impressionist and post-impressionist paintings in the world.
You can also relax in the café behind the museum's giant transparent clock.
Orsay Museum hours are between 9:30 am to 6:00 pm from Tuesday to Sunday.
16. Rodin Museum
Once the workshop of the great sculptor « Rodin », this imposing 18th-century residence is one of the most beautiful museums in Paris and contains more than 7000 sculptures by Rodin.
The charming park of the museum, with a fountain, rose bushes and a pleasant outdoor café, makes it an ideal choice to spend a pleasant afternoon too.
The museum is open Tuesday to Sunday from 10 a.m. to 6.30 p.m. The last entry is at 5.45 p.m.
17. Carnavalet Museum
An essential visit for lovers of Paris who wish to discover its history, from its origins to the present day.
The museum brings together more than 625,000 works, from prehistory to the present day.
Paintings, sculptures, models, signs, drawings, engravings, posters, medals and coins, objects of history and memory, photographs, woodwork, decorations and pieces of furniture…
Open Tuesday to Sunday from 10 am to 6 pm. Free entrance.
18. Le Petit Palais – Beaux Arts Museum
The Petit Palais gathers the collections of the Beaux-Arts of the city of Paris – from ancient art to works from the 19th century.
In addition to its collections, the Petit Palais is an architectural gem.
Open from Tuesday to Sunday between 10 am to 6 pm.
Closed on January 1st, May 1st, July 14th, August 15th and December 25th.
19. Sainte Geneviève Library
If there's one library in Paris that you absolutely must visit, it's definitely the Bibliothèque Sainte-Geneviève.
In a word, it is sublime.
The origin of this library dates back to the 6th century.
Open Monday from Saturday between 10 am to 10 pm; Sunday between 1 pm to 7 pm.
Gardens
20. Luxembourg gardens
The Luxembourg gardens in Paris is a park very popular with both Parisians and tourists.
A bucolic and very lively garden that delights those who have chosen to stroll there, especially with the arrival of fine weather!
The Jardin du Luxembourg is one of the most visited Parisian gardens and it's not for nothing! Surrounded by beautiful terraces, gourmet tea rooms and tasty brasseries, it's a very lively park where nature rub shoulders with the beauty of architecture.
There is an orangery and greenhouses which contain more than 400 species of orchids.
People also come here to admire the various statues that adorn this garden, including the very beautiful Medici fountain.
21. Tuileries garden
The Tuileries Garden is an unmissable place in Paris!
This 23-hectare (57 ac) green space was classified as a Historic Monument in 1914.
There are gorgeous historic statues, accompanied by works of art.
It has the advantage of being in the center of the capital, between the Louvre Museum and Place de la Concorde.
Created in 1564, it is the oldest French-style garden in Paris.
When you walk there, you take a real leap in time.
22. Parc des Buttes Chaumont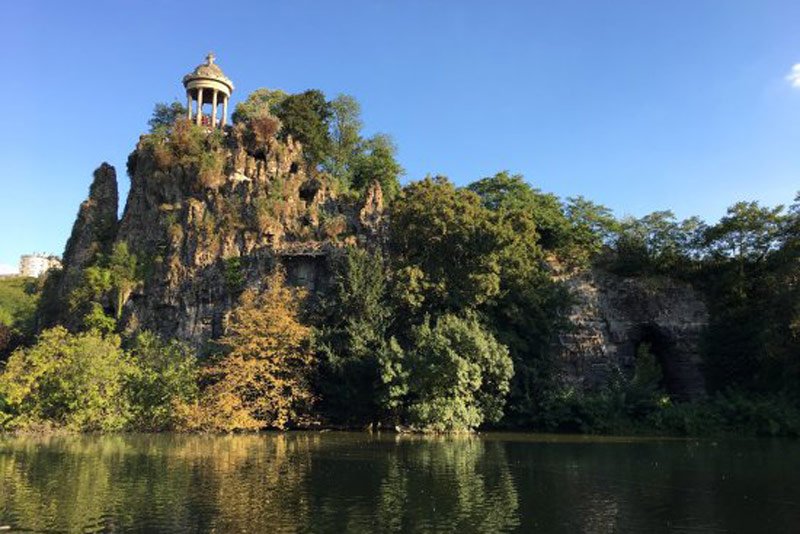 The Parc des Buttes Chaumont, located in the northeast of Paris, is one of the largest green spaces in Paris (about 62 acres) and one of the most original.
This garden is entirely artificial and was built from 1864 at the request of Napoleon III, who wanted to offer large green spaces to the popular districts of Paris.
Very hilly, it has great views of the capital, especially the Montmartre neighborhood.
Its layout, with its caves and waterfalls, its suspension bridge gives it a special charm.
If you go around the lake, you will even see a copy of the famous cliffs of Etretat dug into the rock!
Shopping
23. Les Puces
Paris has three flea markets: the Porte de Vanves flea market (Paris 14), the Saint-Ouen-Clignancourt flea market (Paris 18) and the Porte de Montreuil flea market (Paris 20).
The markets of Vanves and Saint-Ouen-Clignancourt are more oriented toward vintage & antiques: art deco furniture, lighting, silverware, old jewelry phonographs, coins, paintings…
On the other hand, that of the Porte de Montreuil is simpler. In its huge bric a brac, you can find new and old, trinkets, spare parts, second-hand clothes, etc. for smaller purses.
Openings:
Saint Ouen: open on Saturday and Sunday from 10 a.m. to 5:30 p.m. and on Monday from 11 a.m. to 5 p.m.

Vanves: open on Saturday from 7 am to 2 pm, and on Sunday from 7.30 am to 6.30 pm.

Montreuil: open from Saturday to Monday from 8 am to 6.30 pm.
24. The Bastille market
The Bastille market is a vast market with a multitude of very varied stands.
Every Thursday and Sunday morning, we jostle in these wide aisles, crossing the stalls of olives, fresh bread, seasonal vegetables and fruits, farm eggs, natural wines, organic products or even oysters, directly sold by their producers.
Prices vary from stand to stand, as does quality. So be sure to compare them before you take out your wallet.
Thursday from 7 am to 1 pm, Sunday from 7 am to 2.30 pm.
25. The Champs-Élysées
Nicknamed "the most beautiful avenue in the world", the Avenue des Champs-Élysées is an essential stop on a visit to Paris.
Tourists and Parisians stroll at all hours of the day and night, summer and winter, on this emblematic stretch of almost 2 kilometers (1.2 miles), between the Place de la Concorde and the Arc de Triomphe.
Every year, the biggest popular events take place here: July 14 parade, arrival of the Tour France, Christmas lights…
In terms of shopping, the Champs-Élysées has a large number of brands.
A walk on the "Champs" is an opportunity to discover the iconic products of French brands: the crocodile polo shirt from Lacoste, the cult folding bag from Longchamp, the timeless cotton panties from Petit Bateau or Éric Bompard's cashmere sweaters.
Several luxury houses have also taken up residence there, such as the mythical perfumer Guerlain, established since 1913 in a listed building, or even Louis Vuitton, whose "store-cathedral" surprises visitors with stagings imagined by contemporary artists. Other major jewelers and luxury watchmakers are also present, such as Cartier or Mauboussin.
There is also Ladurée and its famous macaroons.
26. Galeries Lafayette
A visit to Paris couldn't be complete without a visit to the Galeries Lafayette Haussmann which is spread over three buildings. You can admire the extraordinary dome, an icon of Galeries Lafayette.
On the shopping side: 45,000 m² (484,375 sq feet) of fashion, beauty, accessories and watches and jewelry for women among more than 3,500 brands: Chanel, Dior, Louis Vuitton, Saint Laurent, Céline, Cartier, Chaumet, Longchamp, Guerlain, Sisley…
Open Monday to Saturday from 9.30am to 9pm, Sundays and public holidays from 11am to 8pm.
27. Flowers market
Friends of flowers, Paris has several perfectly charming flower markets.
The magnificent flower market on the « Île de la Cité » offers a very wide variety of flowers, plants, shrubs… A very nice walk !
Open every day from 8 am to 7.30 pm.
Most of these sites are concentrated in fairly restricted areas and in the heart of Paris.
The Louvre, the Orsay museum, and Tuileries gardens are for example very close.
So just plan your itineraries as well as possible by district and by zone!