Do you want a French country kitchen decor but feeling overwhelmed by all the decorating advice on the web?
Perhaps, you've spent time on Pinterest searching for the perfect French kitchen. And you've subscribed to the most popular decorating blogs.
But still …
It's hard to know where to start, right?
You're not alone. One of the most often asked questions is: "What does a French country kitchen look like?"
I live in the French countryside, I can help you. Let me give you the 23 more effective tips you need to know.
Colors of a French country kitchen decor
Colors are the basics. If you don't have the right color palette, you'll never get an authentic French country kitchen.
1. Neutral palette
Use a lot of neutral colors like white, cream, beige, linen, gray, taupe, chocolate or anthracite.
I gathered the best neutral paint colors to use here.
2. Faded colors
Faded and chalked colors are perfect for accent decor. Check my French country color post to know which ones to choose.
3. Copper accessories bring brightness
Copper is the number one essential of a French country kitchen decor.
If you don't have copper accessories, you're missing something!
French country kitchen floors
The floor is as important as the colors. If you renovate your house, you'll have the chance to choose your kitchen floor. These 2 would be perfect:
4. French country kitchen tiles
Terra cotta tiles are a great choice.
5. Wood floor
Parquet will warm your French country kitchen.
While you're here, I've got an exciting adventure lined up just for you!
How about taking a virtual tour of three stunning real French Country homes?
I'll be right there with you, sharing tips on how to infuse this charming style into your own space.
French country kitchen furniture
Kitchen furniture is not hard to choose in a French country home. Remember that a French kitchen is often furnished with these 4 furniture pieces:
6. French country dining table
A big old wooden table is a must.
7. French country dining chairs
You can mix and match your seating with wood chairs, stool and/or bench.
8. French country kitchen cabinets
If you have dark wood kitchen cabinets, repaint them in a light neutral color if you can.
Replace knobs can also easily change the look of your kitchen.
9. Distressed furniture
Choose antique furniture, worn out by time.
French country kitchen accessories
Kitchen accessories will make the difference. They'll make your kitchen unique, especially if you choose old ones.
10. Vintage and French antiques
Sale Price:
$65.00
Original Price:
$75.00
Sale Price:
$55.00
Original Price:
$69.00
French country kitchen lighting
Lighting can be a game changer.
We do have about ten led spots on our kitchen ceiling. So you hardly see them. They're practical as they light the whole room uniformly. But I'm sure our kitchen would be so much prettier with a big hanging lamp.
Here are the 2 lamp types I wish I could have in our kitchen:
11. A French country kitchen chandelier
A chandelier will bring elegance to your kitchen. Choose a simple one, with or without crystal.
12. Hanging lantern
For a more authentic kitchen, opt for an old hanging lantern in metal or wood.
French country fabrics
Fabrics add texture and warmth.
Choose them at the end of your decorating processus, so they can match your kitchen walls and furniture.
13. French country kitchen curtains
Choose curtains in cotton or linen, in a French country solid color, or with stripes, checks or toile de Jouy print.
Curtains instead of closet doors is gorgeous.
14. French kitchen towels
Take advantage of the towels to add some color and prints to your French country kitchen decor.
Sale Price:
$55.00
Original Price:
$69.00
15. French country kitchen rugs
A rug is optional but can cover the floor or define a space like your eating area.
French country dinnerware
I'm in love with antique dinnerware. I particularly like when they have this beige patina, reminding us they have been there for decades… I mean, they spent years in other kitchens. They're the witness of time passing, right?
16. White dinnerware
White and beige dinnerware is a safe bet. Just display them in a shelf and superimpose them.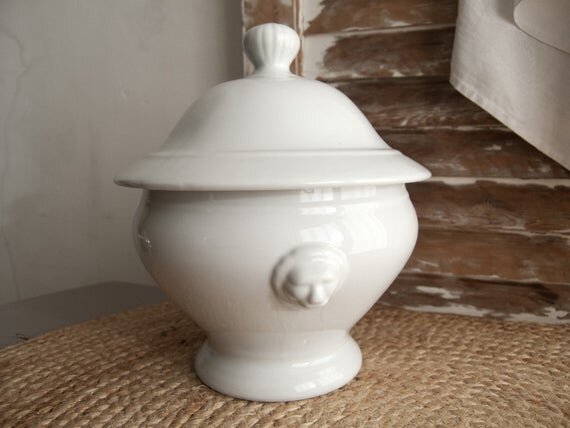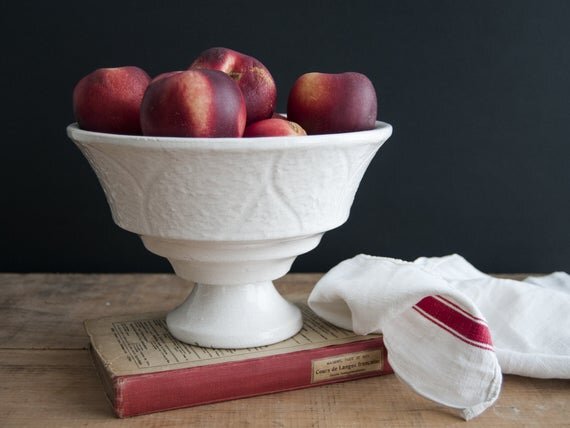 17. Colored transferware
I absolutely love transferware, especially blue and green one. Choose no more than 1 or 2 colors to display.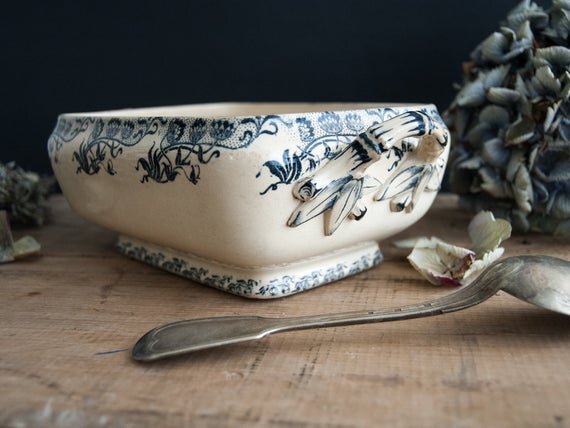 French country kitchen wall decor
In our kitchen, we don't have much empty space on the wall, as we have a lot of cabinets and shelfs. Is it your case too? I'm sure you'll still find a place for any of these pieces:
18. Vintage kitchen clock
Every kitchen needs a clock, right? In addition to giving the time (which isn't bad…), it dresses the wall elegantly with its rounded lines.
19. French kitchen words
Use French words rather than English. Everywhere you can. Jam jars, canisters, kitchen signs…
20. French paintings
You can add 1 or 2 oil paintings of still life or French countryside landscapes.
Greenery & flowers
I like my home look likes a jungle. I absolutely love nature and like to be surrounded by green. I can't get enough. They add life but can also purify the air and bring calm.
22. Flowers
Fill the room with flowers and opt for copper or white ceramic vases for a French country look.
23. Plants
Plants will add some green and clean up your kitchen.
FAQ
• What does a French country kitchen look like ?
A French country kitchen is a rustic and inviting space with neutral and faded colors. The floor is made of tiles or parquet. Now, imagine a big old wooden table in the center, a linen table runner on it, and ironstone plates. Vizualise the hanging copper pans on the wall, and the striped cotton valances. Voilà. You're in a French country kitchen.
• What makes a French country kitchen ?
A French country kitchen is bright with light neutral colors, and rustic with distressed wood furniture like an old table. Vintage pieces are essential : use antique dinnerware, copper cookware, embroidered kitchen towels… Finish the look with fresh or dried flowers as a centerpiece.
• How do I paint my kitchen cabinets to look French country ?
If you have dark wood kitchen cabinets, repainted them with bright neutral colors like white, beige or light gray. If you want to add colors, think about a faded green or blue, but not in a total look. Changing the knobs can also help you to make your kitchen cabinets look French country.